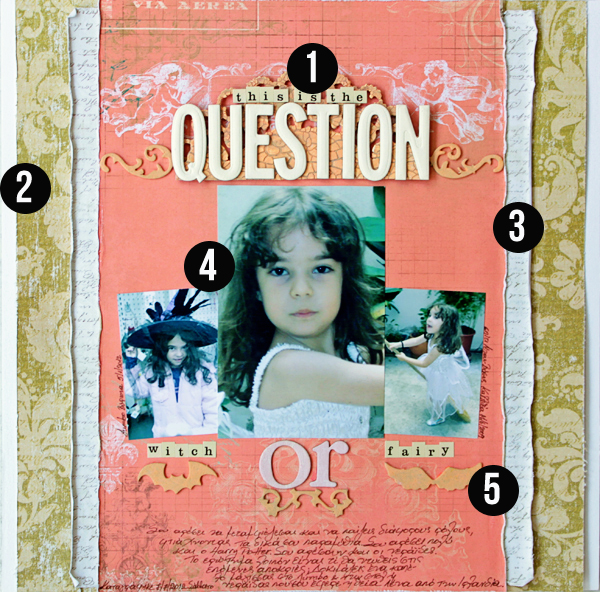 It's the accumulation of well-chosen and carefully crafted details that create a masterful scrapbook page. Check out 5 details on "This is the Question" by Kiki Kougioumtzi  and see if one or two of them can inspire your next page.
Kiki says, "The inspiration for this page came from the main photo and the expression my daughter has. We don't have Halloween celebrations in Greece but we have Mardi Gras. She's always between a witch or a fairy costume for the last 3 years. She ends up dress like a pirate but that's a whole other story. . ."
1. Arrange elements in a symmetrical composition.
Symmetrical compositions can be more difficult to pull off with success than asymmetrical ones. Kiki kept everything balanced here with two smaller photos on each side of a central, focal-point, photo. Her title, embellishment and journaling all maintain the symmetry.
2. Layer three subtle patterns. Tone-on-tone and tone-on-neutrals will work.
Mixing patterns is always easier when you work with subtle patterns. Kiki used a reddish-orange paper with subtle grids and flourishes on a faint script pattern. Her base is a tone-on-tone damask.
3. Tear and curl page edges.
Add texture and dimension with this simple technique. In keeping with the symmetry of her page, Kiki curled papers on the side edges only.
4. For a three photo page, use two same-sized smaller photos with one larger photo.
Choosing one photo to emphasize gives your page an immediate focal point and adds supporting details that make a rich page. Notice that Kiki kept her central photo straight and orderly while tilting the photos on either side. It's important to have something straight-on to give those tilty photos a solid foundation. Find more ideas for 3-photo scrapbook pages here.
5. Embellish with chipboard pieces all painted the same color.
Kiki added dimensional detail with chipboard embellishments that are all painted the same color–an orange that contrasts subtly with the paper they're mounted on. The result is rich interest that allows the focus to stay on the photos and story.
Kiki began as a digital scrapbooker because she found it difficult to find the products she wanted in her country of Greece. After a year of experimenting with Photoshop Elements, Kiki discovered the joy of online shopping, and now she's a  paper and glue scrapper and she's not looking back!  Kiki is a member of the Get It Scrapped creative team and blogs about scrapbooking at
Sunday's Bliss
.
[getinspired]