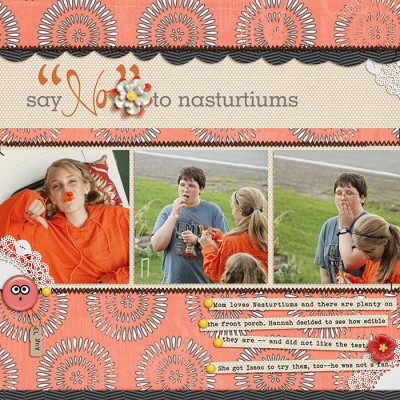 Are you recording the stories of those photos you're taking? Are you noting the details that will trigger rich memories later on? Or are the photos piling up, unculled and unlabeled, in your ever-growing cloud drive?
I'm Debbie Hodge, the owner of Get It Scrapped, and I want you to make sure future generations aren't left guessing whose house that is in the picture, or what kind of car is parked behind the kids playing on the sidewalk, or who those kids even are.
Take a look at this scrapbook page—> That's my niece and my son tasting nasturtiums for the first time. See how easy that was? I gave my photos (and my family) a story. You can do this, too, and I can show you how.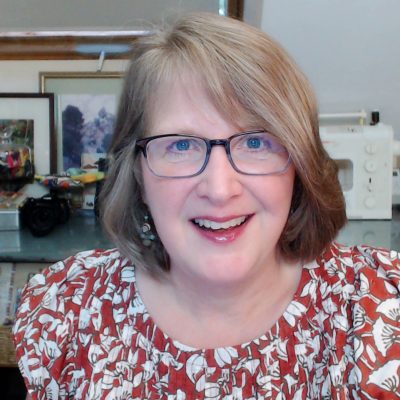 Recording memories–and breaking down and making that process accessible–is a passion for me.
Here at Get It Scrapped, I've combined my skills (an MBA concentration in operations management and 20+ years of study and practice of creative writing) with my passion (telling personal stories) to make a business of showing you how to organize your memories and photos and use writing and design to record the stories and events of your life.
You can get started right away getting the stories that go with your photos noted and understanding the basics of putting together scrapbook pages with our free Scrapbook Page Design class. The great thing about learning basic design principles is that you'll use them in other pursuits: setting a holiday table, laying out a fundraiser poster, and decorating your mantel.
If you're looking for more advanced lessons in design and visual storytelling, the Get It Scrapped Membership is a well-organized, beautifully-illustrated compilation of design lessons and creative ideas. There are over classes (with 40+ eBooks, 80+ video lessons, 280+ hours of recorded live interviews, and 180+ sketches and templates in the library now–and we add a new class the first Wednesday of every month. Over 60 designers from the scrapbook industry have contributed to the membership library.
Still want to know more about Get It Scrapped and my work with all those photographers who are giving their photos stories?
Before founding Get It Scrapped, Debbie Hodge authored Get It Scrapped! published by F+W Media, was a contributing editor to Memory Makers Magazine, and published scrapbook pages and articles in top scrapbook magazines including: BHG Scrapbooks Etc., Memory Makers Magazine, Simple Scrapbooks, Creating Keepsakes, Scrapbook Trends, and Scrapbook Answers.
My instagram account

Online interviews
Paperclipping Roundtable Podcast
The Digi Show
Paperclipping Digi Show Podcast