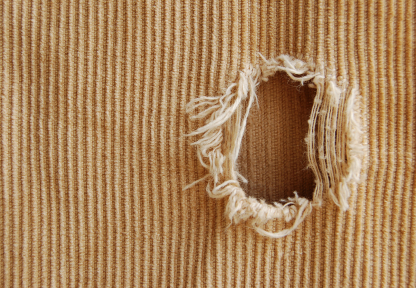 Texture refers to the surface characteristics of a material. Is it rough or smooth? Plush or gritty? Dimension (or depth) refers to the measurable extent to which something lifts off the page. Real texture and dimension (as well as the illusion of texture and dimension) can be added to your scrapbook pages.
Texture is a powerful art element because it can quickly evoke memories and emotions. Both texture and dimension can be used to engage the viewer's sense of touch.
Add real texture to your scrapbook pages
The materials you use on a paper scrapbook page, for example:  fabric, epoxy, lace, and textured cardstock, will add real physical texture.
Doris Sander's "9 Years" is full of real texture, including rough glitter, string, textured cardstock, and smooth pearls and buttons.
Add visual texture (or the illusion of texture) to your scrapbook pages
Rough surfaces reflect light unevenly. Smooth textures reflect light evenly. Matte surfaces reflect soft, dull light. Shiny surfaces reflect bright light. Understanding this, artists create visual texture by working with reflections of light, color, and values. Because lighter values appear to be closer and darker values tend to recede, combinations of the two side-by-side create the illusion of texture.
On paper scrapbook pages, add visual texture with mists, certain patterned papers and digital effects. On digital scrapbook pages, many of the elements you'll include are created with patterns of dark and light on a surface to provide the illusion of texture.
"Their Everyday" is a digital page with visual texture that comes from purchased products AND digital techniques I added. The glass center to the flower is a digital element made by Katie Pertiet that adds the illusion of glass. I add a bit of subtle texture with a Photoshop Style to create the embossed scallops (at top right) and firefly trail (behind the title).
Add real dimension to your scrapbook pages
Layer, stack, curl, and pop-dot your elements to achieve actual depth on your page.
Michelle Clement added dimension to Happy Outside with several techniques. Michelle says, "I curled up the corners of background papers and photos with my fingers so the edges sit off of the page a bit (and sometimes I rough them up or fold bits of them). I pleated a paper strip, and used fabric and flair embellishments for both texture and dimension."
Add visual dimension (or the illusion of dimension) to your scrapbook pages
Create the illusion of depth by manipulating shadows, light, scaling, overlaps, and perspective.
Jana Morton says, ""I like to distort or angle elements to play with perspective and make it appear as if these elements have dimension and are sitting right in front of the viewer." She used Photoshop perspective and shadowing techniques to do this on "5 Years." Click here for her tutorial on this effect.
Add texture and dimension to evoke memories
Texture is a powerful art element because it can quickly evoke memories and emotions. Artists use both visual and physical textures to trigger your memories of previous texture experiences. This is a way for an artist to convey feelings about his or her subjects. What does velvet connote to you? Do worn wood, corduroy, or slate trigger memories?
May Flaum used an embossed cardstock as the base for "Travels." She inked it to create a vintage feel. The literal texture as well as comfortable feeling it creates result in a cozy feeling for these special photos of her daughter on a trip taken years. ago. May says, "The paper clip, buttons, and ticket all have an antique feel to them. They add dimension and they have that feeling of travel: of bits and pieces remembered and saved. The aged metal of the heart embellishment, the baker's twine, and penwork are details that support the theme of fondly remembered travels."
Add texture and dimension to engage another sense
Texture is tactile: it appeals to our sense of touch. It is an essential design element for visual artists, because it engages another sense in addition to sight. When you can incorporate texture on your pages, you draw your viewer in on another level.
I loved being able to see the grain of the asphalt in the photos on "Rollin'." When I look at the expanse of paved road, I recall the feel of asphalt passing beneath the skate wheels, as well as the sound the wheels make rolling over it.
Texture and dimension, whether real or visual, are important tools for conveying the meaning of your page as well as actively engaging the viewer.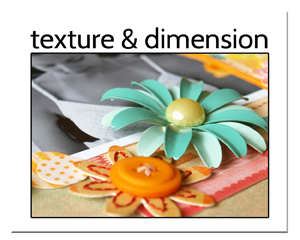 The Masterful Scrapbook Design "Texture and Dimension" issue is full of ideas and how-tos from paper scrapbookers May Flaum, Michelle Clement, and Cindy Liebel, and digital scrapbookers, Peppermint Granberg and Jana Morton. The issue includes a 40+ page seminar, 5 video/audio interviews, 6 focused lesssons, and 2 annotated galleries. Click here.