By Doris Sander
Patterned Paper is a beautiful, versatile, and inexpensive scrapbook product. One of my favorite ways to work with it is to cut or tear the paper in strips.  Once you see how many looks can be achieved with them, you'll understand why working with strips never grows old.
An added bonus is that these small pieces of paper are often the leftover bits from previous projects, so using them on pages stretches your scrapbooking dollar.  Here are 12 designs with patterned paper strips that should give you ideas and inspiration for your own scrapbook pages.
1. frame with strips
Lisa Truesdell often frames her layouts with patterned paper strips.  She uses a variety of  patterns and colors for interest and then stitches them all down with her sewing machine. This unite all the patterned paper bits, giving them a sense of belonging.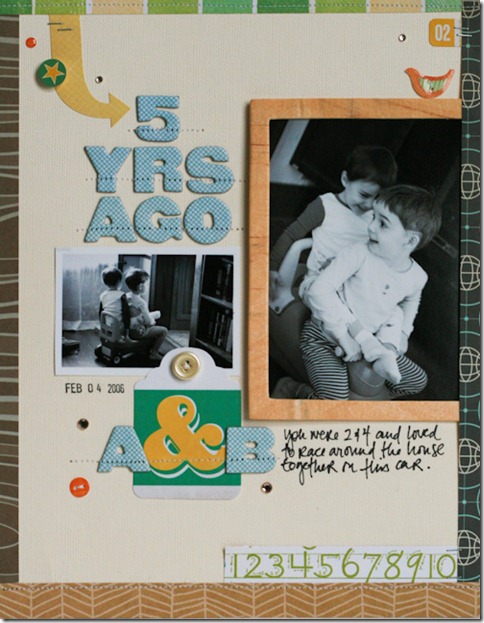 5 Years Ago by Lisa Truesdell for Studio Calico
2. "bookend" or "sandwich" with strips
Another effective strategy for drawing focus to the design area is to sandwich it between two strips of patterned paper.  Here Becky Novacek's strips are not very wide, but they effectively bookend her great photo and title work.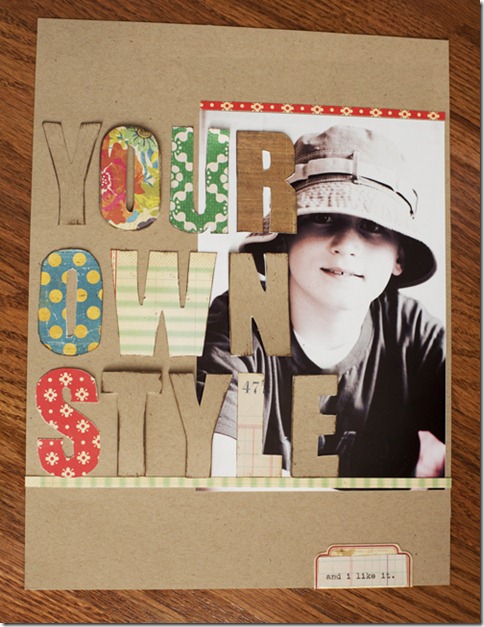 Your Own Style by Becky Novacek for JBS Mercantile
3. use vertical strips for energy
Kerry Lynn Yeary's use of yellows and greens give her layout a feeling of warmth and growth that is perfect for a baby page.  She has used strong vertical stripes which lend energy to the design in keeping with the photo of her little guy learning to crawl.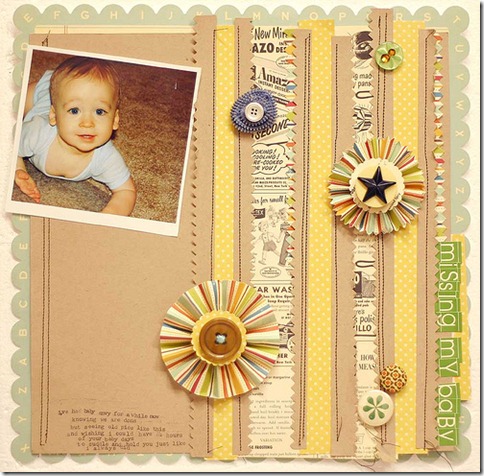 Missing My Baby by Kerry Lynn Yeary for JBS Mercantile
4. piece together a shape
It is really fun to layer a variety of patterned paper strips across a simple shape to create a whimsical design element.  Here Jill Sprott has done this on tiny houses, creating charming homespun appeal on this page about the much loved four legged member of her family.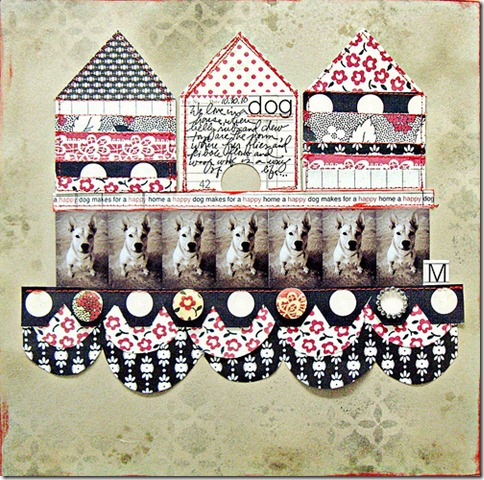 Dog by Jill Sprott for JBS Mercantile
5. make borders
Another easy way to add a playful feel to a design is with a patterned paper border.  Becky has incorporated quite a variety of colors and patterns on this border, but keeping them together in a contained space has forced them to work together to balance her fabulous photo with title overlay.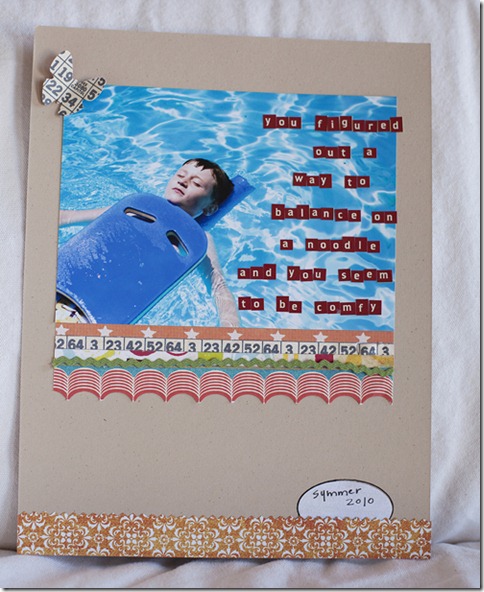 Noodle by Becky Novacek for JBS Mercantile
6. weave a foundation
Here is another delightful paper strip rendition.  Weave then strips in and out in a basket pattern to create a lovely background or foundation piece for your project as Lisa Dickinson did with the layout shown here.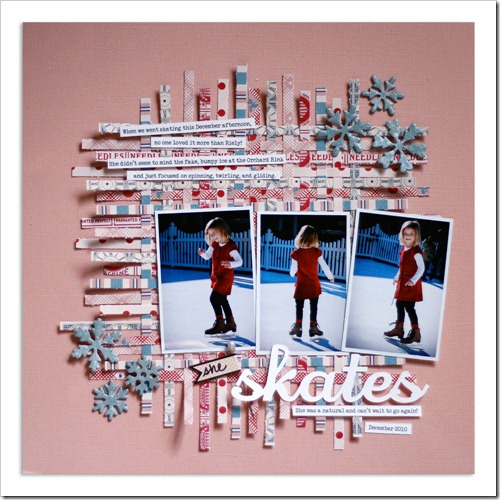 She Skates by Lisa Dickinson for JBS Mercantile
7. jazz up your journaling
Becky often adds thin strips of patterned paper between the lines of her journaling.  Not only does this add interest to the page, but it also emphasizes the journaling by drawing the eye to it.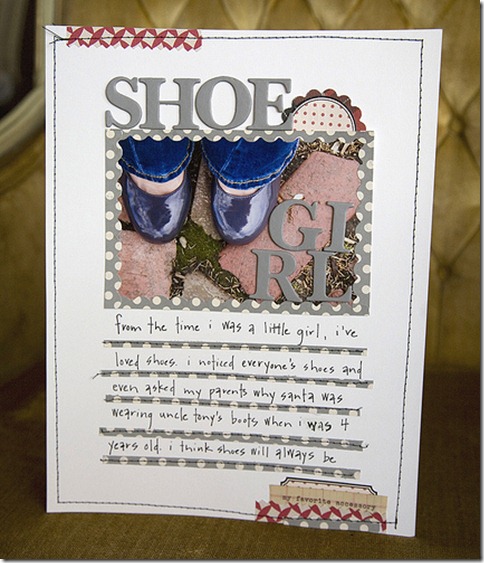 Shoe Girl by Becky Novacek for JBS Mercantile
8. make a staggered or jagged edge
Here Amy Kingsford has lined up paper tabs along the edge of her design area.  The jagged edges help break up the linear design and the tabs also provide an unexpected home for her title.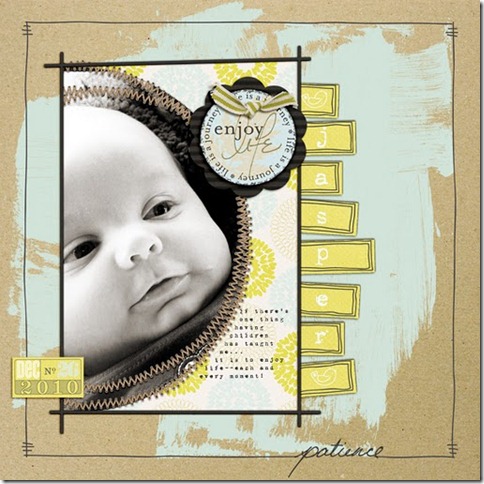 Jasper by Amy Kingsford for Get It Scrapped
9. strengthen theme
Believe it or not, with a little creative thinking paper strips can also be used to support theme.  The basket weaving technique that Lisa Dickinson introduced earlier in the article is perfect for showing how love weaves us all together.  Share love like Lisa did with this sweet heart card on a basket weave background.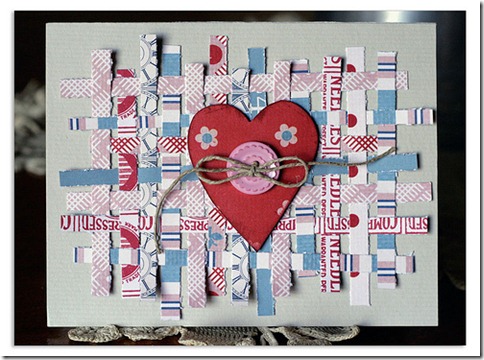 Heart Card by Lisa Dickinson for JBS Mercantile
10. guide the eye
These patterned paper strips were literally just leftovers from another project scattered across my desk.  They gave me the idea to create steps leading upwards into the photo of my sun climbing a mountainside.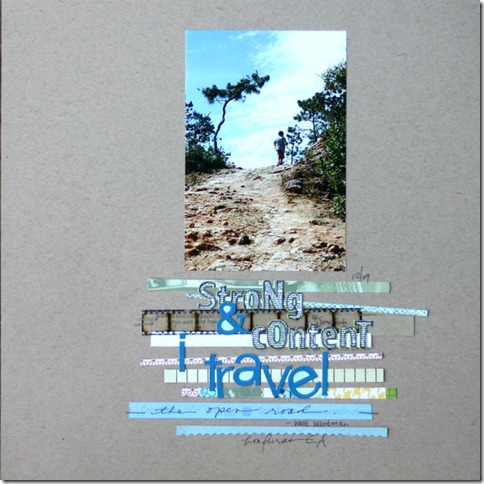 Strong and Content I Travel The Open Road by Doris Sander for JBS Mercantile
11. convey movement
With the vertical stripes on this layout, I intended to show movement.  This theme translates well to the title of the piece and the little girl in the photo who is most definitely on the go.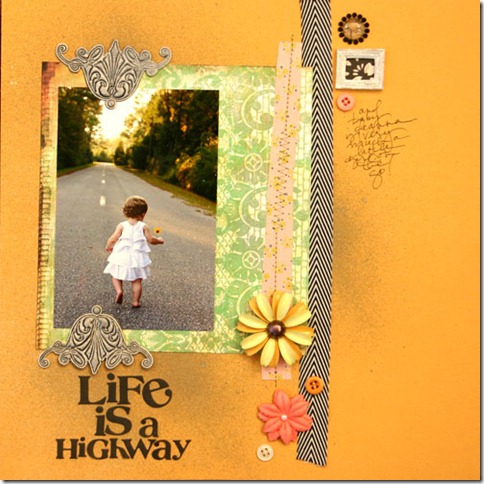 Life is a Highway by Doris Sander for JBS Mercantile
12. stack up a messy patchwork
Here I have mirrored my overwhelming stack of laundry in the photo by layering messy strips of patterned paper beneath it.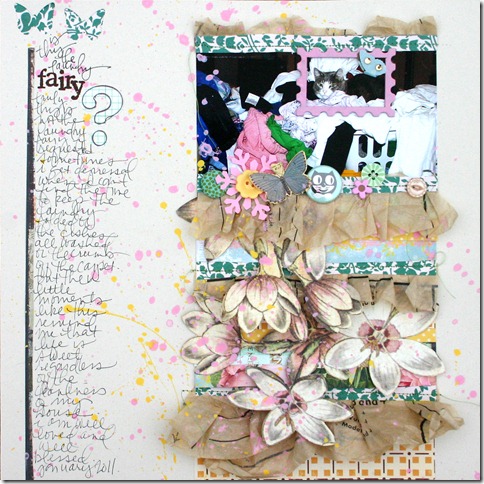 Laundry Fairy by Doris Sander for JBS Mercantile
I hope you found some inspiration here for using your paper scraps creatively, effectively, and efficiently!
[dsander]
 [patternedpaper]