A scrapbook page title isn't essential, however, just a few emphasized words can go a long way toward immediately conveying page subject, setting tone, and even cueing deeper page themes and meaning.
While the words are key (look for an article on coming up with titles here soon), a scrapbook page title's impact comes out of more than just those words. Read on to for tips for using materials, techniques and design choices to the max on your scrapbook page titlework.
how important will your title be?
The choices you made in title size, color, embellishment, and placement will all affect the role your title plays on the page. Consciously think about how much importance your title should have.
Your title could function as the page's focal point.
Your title could be part of a visual triangle (or some other type of flow) leading the eye through your page.
Your title could be a low-key element on the page.
what are the raw materials available for making titles?
The possibilities for getting the characters that make up the words of a title onto a scrapbook page are limitless. The following is the beginning of a list of raw materials you could use. If you're a digital scrapbooker, consider the digital counterparts of these supplies. Don't forget to combine materials (i.e., chipboard for part of the title and computer printing for another part).
alpha stickers or rub-ons
chipboard alphas
stamped alphas
metal, acrylic, foam, felt pre-made alphas
place stickers temporarily; outline or use them as a mask for painting; then remove
hand writing
hand cutting
computer printing
die cut – from cardstock, felt, foam, embossed/crimped cardstock, plastic
premade sticker/rub-on phrase
replace a character in your title with a button, heart, sticker . . .
how will you place the individual characters of your title?

The choices you make for alphas and the way you place each one onto the page will greatly affect the tone and look of the page. Again, what follows is the beginning of a list to which you can surely find additions.
line your alphas all up with bottoms on the same invisible line
stagger your alpha bottoms
layer some of your alphas on top of each other
overlap your alphas onto other elements on the page
put your title on a curve or a path
turn it to sit sideways or run the alphas vertically but right-side up
play around with using numbers or single letters for a word (U, R, 4, 2, 1 are some of the most commonly used)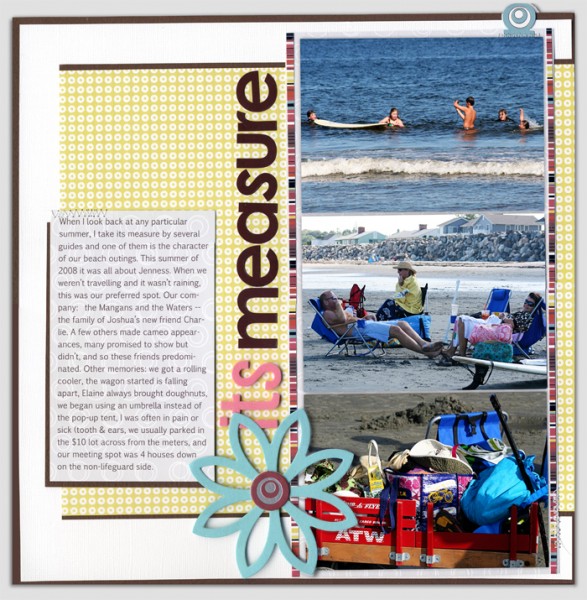 how will you attach and embellish the title?

One more choice you have in the creation of titles is how you're going to attach the characters and words to the page. You can add dimension and interest by attaching the alphas in a way that shows (instead of hidden adhesive) or even embellishing your alphas. Consider the following.
sew them down
attach with a brad
run a row of rhinestones on the straight lines of some characters
tie a ribbon or string around an alpha
staple your alphas to the page
Hopefully these lists and ideas have inspired you and made you think of titling techniques and approaches you want to take. Happy titling!
More titling ideas
10 ways to make a scrapbook page title
4 Formulas for Generating Scrapbook Page Titles You'll Love
How to come up with scrapbook page titles from sayings, quotes, titles, famous lines & lyrics