Art journaler and scrapbooker Dina Wakley says , "Eighty-five percent of my journaling is on strips. Strip-journaling is easy and visually cool."
Read on for 5 ways to use journaling strips to rock your scrapbook page design.
On "He's a Fan" Dina used a series of 7 journaling strips to hold the story of her son's encounter with a playmobil gladiator near a metro station in Rome.
She wrote her journaling and snipped it up—the easy part. The visually cool part is in the design interest that they add as they ground her photo and bracket paper to the background canvas. A staggered pattern and funky blue machine stitching energize the large span of white space on this layout.
Draw the eye with journaling strips
Karen Grunberg frequently puts extensive journaling on strips. These strips become a focal point of her designs and, as a result, give her words more power. On "Mommy, When . . ." she not only used strip breaks to work with dialogue changes, she created a compelling diagonal of prose that draws the viewer's eye through the page beginning at top left and moving to bottom right.
Create alignments with journaling strips
Paula Gilarde says, " Journaling strips are possibly my most used method of journaling, especially on my paper layouts. It's so easy to type my journaling and cut it into strips."
On "Get-away," Paula's story of two moms escaping to the Cape during a snowstorm, Paula not only took advantage of the ease of journaling strips—she put them to work strengthening her page design.
In my lessons on alignment I've talked about how thoughtful placement of page elements in relation to other elements creates unity. I also talk about the benefit of making a strong line stronger.
Paula's six journaling strips are of varying lengths and the are right-aligned with one another and with the photo block above which they sit.  With their addition, Paula has created asymmetry and strengthened the vertical line along the right side of her photo block.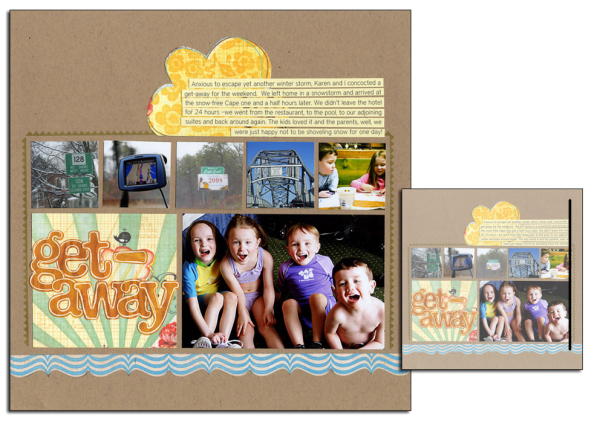 "Get-away" by Paula Gilarde from Masterful Scrapbook Design Journaling Issue.
Create balance with journaling strips
On Dina Wakley's "Sweet," the group of five journaling strips defines an area that has about the same visual weight as that of one of the photos. This grouping, thus, functions as a third block on the page (with the first two blocks being the photos). Remember that three is a number that works well in designs. This block of journaling strips balances –and even supports—the weight of the two photo blocks above it. These blocks are arranged along a vertical line of fabric, scalloped paper and hearts that acts as a fulcrum in this balancing act. Read more about balance: Where Scrapbooking Ideas Come From | Lesson #6: Balance.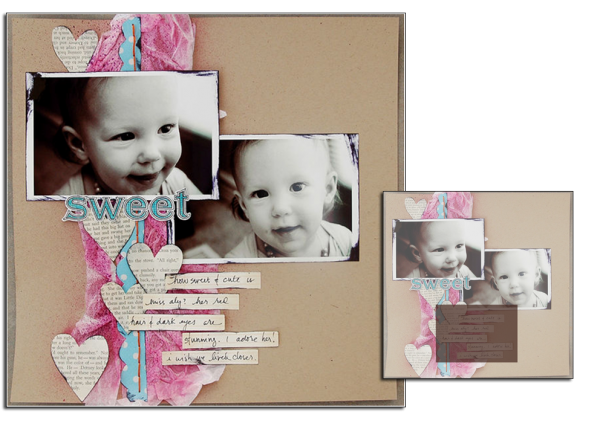 "Sweet" by Dina Wakley from Masterful Scrapbook Design Layering Issue.
Ground elements with journaling strips
When elements are visually connected to one another on the page they appear to belong – they don't appear to be free floating or arbitrarily placed. Using alignments is one way to connect elements. Overlapping or "grounding" is another way to accomplish this. Doris Sander's journaling strips on "Pause" ground the patterned paper mat to the canvas. What's more they also create a block with the same visual weight as the matted photo and add balance.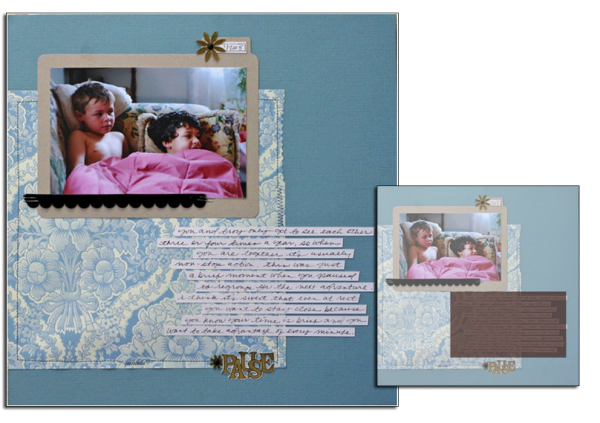 "Pause" by Doris Sander from Masterful Scrapbook Design Color Issue.
Strengthen lines with journaling strips
Dina Wakley frequently uses a horizontal band running across the bottom third of her page as her "foundation." She's done that on "And Then" beginning with the leaf-masked layer of dark blue spray ink. This band is reinforced by the elements sitting upon it. The white journaling strips contrast with the background and create a strong rectangular shape that enhances the line of the band beneath it.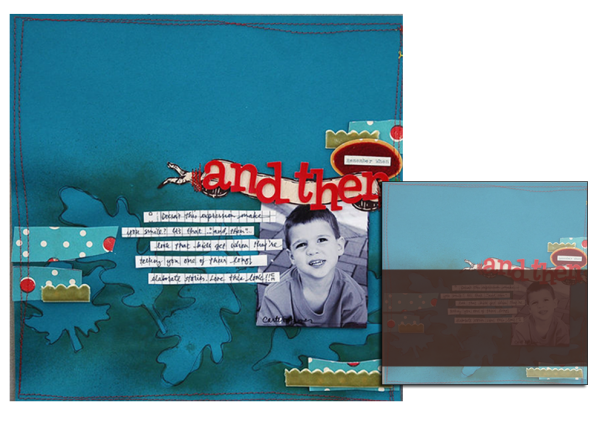 "And Then" by Dina Wakley from Masterful Scrapbook Design Journaling Issue.
This is a smidge of what we cover in the Masterful Scrapbook Design Journaling issue.
Wait! Here's one more idea for making journaling strips – put your alpha stickers on strips! Lain Ehmann found this makes for easy alignment and lets you easily move them around the page til you've figured out just where you want to stick them down.
"Thanksgiving" by Lain Ehmann from Masterful Scrapbook Design January 2011.
---
[lovejournaling]