Patterned paper was my scrapbooking "entry drug." It's the product I check out first when I'm shopping for supplies. It's the product I choose first when I'm making a page. Check out these ideas for incorporating patterned paper into your scrapbook pages.
1. Use patterned paper as a backdrop for your scrapbook page
Using patterned paper for the page background can have great visual impact — and it can be a little tricky making sure the photos aren't overwhelmed by the paper. Cindy Liebel used a yellow polka dot patterned paper as the background on "Poolside." Using high-contrast "pops" of white to house her photo, title and embellishments keeps them front and center (literally, on this center-aligned design). Rounding the corners of the dotted paper and mounting on a gray mat with narrow margins is a great finishing touch for containing this busy backdrop.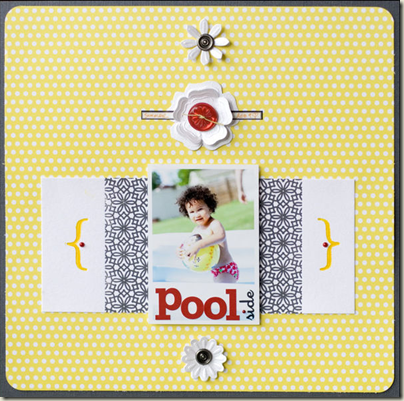 Poolside (from April MSD) by Cindy Liebel
My patterned paper backdrop on "Home Early" is a lower-contrast choice that allows my foreground elements to stand out. Using digital spray-paint brushes toned down the background even more.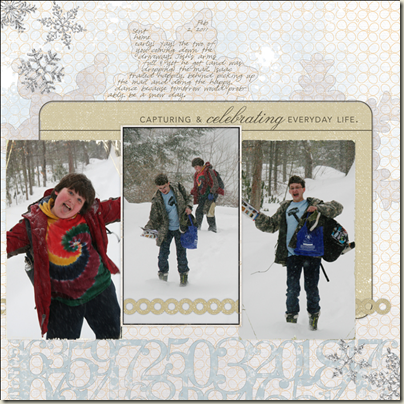 2. Use patterned paper as a foundation for your photos
Text-patterned paper is one of Wilna Furstenberg's favorite things to include on a scrapbook page. She says, "Text-print paper reminds me of the warmth of books in a room. It's tactile and delightful." On "Time" Wilna mounted her photo on a piece of text-patterned paper and then tilted the two and built up the elements on the page around and upon this foundation.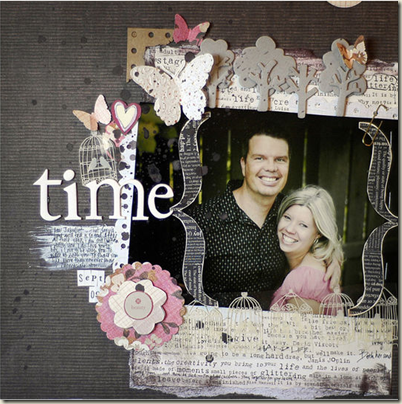 Time (from April MSD) by Wilna Furstenberg
Amy Kingsford used a band of plaid patterned paper running diagonally across the entire width of her page to create a foundation for her photos. This foundation is the element upon which all other page elements are built. Notice also the text-print paper that mats her three photos.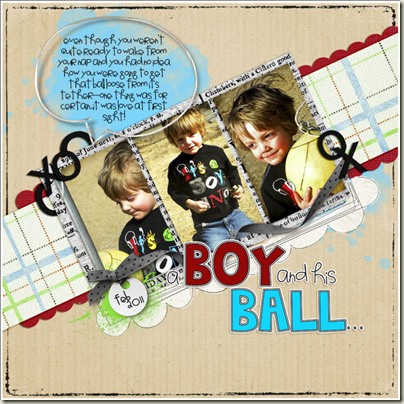 Boy and his Ball by Amy Kingsford
3. Use patterned paper for blocking on your scrapbook page
Making a blocked page design is a fun way to play with mixing patterned papers, and Celeste Smith is a master of this technique. She points out here that the mix is successful in part because three of the prints are tone-on-tone or tone-on-white, and just one is a multi-colored print.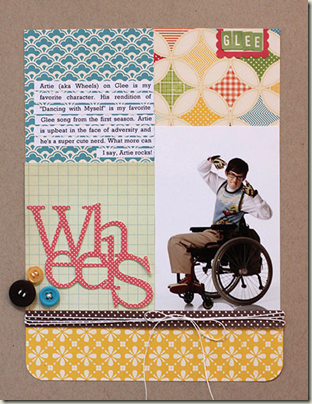 Wheels (from April MSD) by Celeste Smith
As someone who loves patterned papers, I've found that a blocked design is an easy and fun idea for getting them onto my scrapbook pages. On "Moving" the striped print is placed so that the stripes run horizontally which kept them in harmony with the scallops.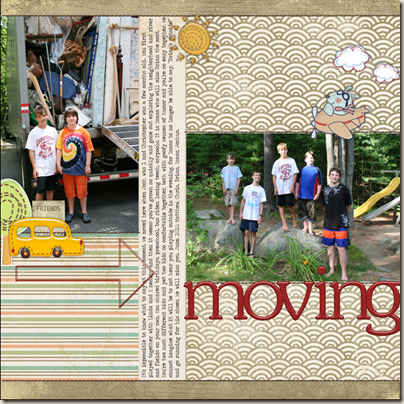 4. use patterned paper to accent your scrapbook page
Adding punched shapes, hand-cut designs, die-cut titles and paper strips are a just a few ideas for embellishing scrapbook pages with patterned paper. Emily Pitts used a mix of boldly patterned strips on "Electric Blue." They stand out vividly again the craft background. They "cross the divide" on the two-page layout creating flow across and uniting the two pages.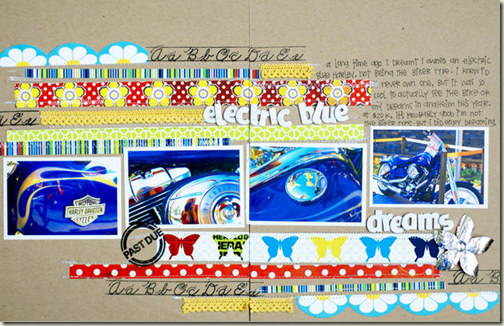 Electric Blue Dreams by Emily Pitts
Notice the charm added to "Good day Sunshine" by Doris Sander by the addition of butterflies punched from polka-dot paper as well as the floral strip along the bottom.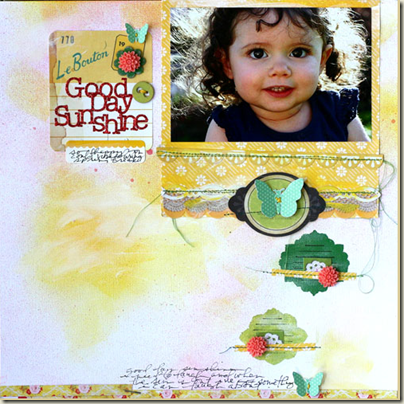 Good Day Sunshine by Doris Sander [patternedpaper]