by Debbie Hodge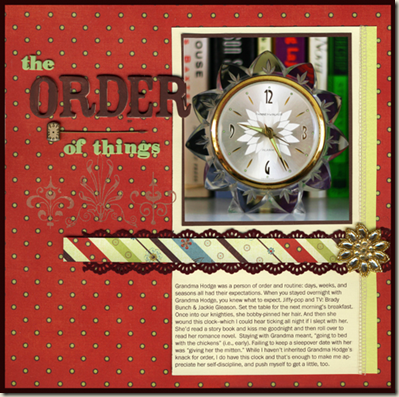 When I first started scrapbooking and shopping for patterned papers, I gravitated to eye-catching patterns with motifs like flourishes, stars, paisleys, and florals.
The dots and stripes weren't as interesting to me. I didn't see why I needed them, and I rarely bought them unless they were on the back of double-sided piece of paper that I chose for the pattern on what I considered the front side.
At some point, however, I began to see that dotted and striped patterned papers are essential to the kind of scrapbook pages I really love: pages with multiple photos and multiple pattered papers and layers.
the benefit of dots and stripes
Dotted and striped papers can:
add design interest,
create movement, and
set tone
WITHOUT detracting from my photos or creating too much busy-ness on full pages.
"At the Rio" is a 2-page layout, with 10 photos, a pocketful of memorabilia, and three different patterned papers. The loopy and fun flower print is supported by two dotted prints—and these are sedate and linear patterns. This combo lets me include multiple patterns without creating chaos on the page.
paper designers/manufacturers use dots and stripes in coordinated lines
Take a look at these paper collections by American Crafts (Tea Party) and Crate Paper (Little Sprout). See how the patterns with strong motifs are combined stripe and dot patterns.
Notice also how the color, pattern regularity, and size of dots/stripes sets mood and tone (more about this below!)
American Crafts Tea Party
Crate Paper Little Sprout
about stripes
There are millions of ways to create striped patterns by varying stripe width, regularity of pattern, colors and more.
[pullquote]When mixing stripes with prints, the key is balance. Stripes go well with botanicals and florals. Avoid geometric and swirled patterns as they may be overwhelming.[/pullquote]
Stripes can be strong lines of color or even motifs arranged in rows (i.e., a column of flowers or stars).
You'll find striped patterns with regular widths and varied widths; these widths may vary in an obvious pattern or they may seem more haphazard.
Stripes can be arranged in a pattern of colors or more randomly.
A striped pattern may use many colors or just a few; a tone on tone pattern is usually more formal and elegant.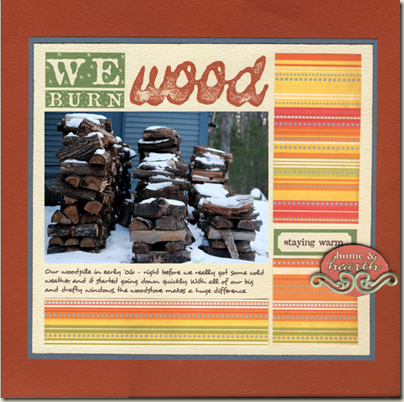 The stripes on the patterned paper on "We Burn Wood" are made of bands of color AND sequences of dots. I've chosen warm and cozy colors and I placed the striped paper so that the stripes run horizontally on my page to reinforce my homey subject.
about dots
Just as with stripes, there are many ways to vary the aspects of a dotted patterned. Take a look at a variety of dotted patterns and see how much mood/tone is affected by the the choices and combinations the paper designer made with regards to size, pattern, and color.
size
Consider the timeless Swiss Dot pattern which uses small dots and then a bold and funky pattern with large dots.
pattern
Dots can be placed in a seemingly random pattern or arranged in evenly-spaced rows and columns. Or every other row might be offset to create a diagonal line of dots.
color
Dots respond to a wide range of color treatments, each of which conveys mood; for example:
multi-colored=funky
pastel shades=formal
bold, monochromatic colors = retro
pale clear colors on white = clean, cool, fresh, playful cheerful
black dots on bright clear colors = slick, stylish mood
white dots on vivid brights = clean vital sporty
black dots = aggressive, urban
Two strips of dotted paper are layered into "At Grandma's Table." Both are of white dots on black and one pattern uses larger dots than the other – thus I've got repetitions with variety AND I've got multiple prints that don't overwhelm the photos.
use stripes and dots to:
1) evoke mood and tone
Color, color combinations, pattern size, pattern regularity, and your own use of the paper in your design will all affect tone. In Seder Anticipation, a horizontal band of pale and narrow stripes is placed so that the stripes run horizontally. The result is a calming and formal tone.
2) add movement
Just two strips of striped paper on "Doing It" create great accent punch and downward movement and energy (the viewer's eye will connect the two strips). This striped patterned alternates wide colored bands with narrow white bands. Five colors alternate in a defined pattern of green, red, blue, orange, and yellow.
3) create a border
Striped and dotted patterns make great edgers and borders. Look back at "At the Rio" and see how the blue dotted strips separate the areas of the page. On "Always Silly," boldly colored strips of striped paper border the photo mat.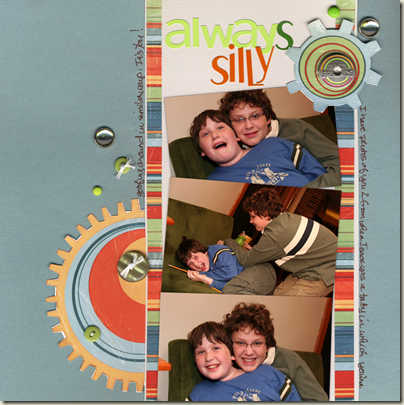 4) provide subtle design interest
The dotted background on the right side of "Celebrate" is so subtle, I could journal on it. The entire background of this page is patterned papers, and still the photos shine.
A strip of striped paper and a block of dotted paper make great accent layers on "Bulkhead Watch."
5) make a bold statement
Use a strong pattern of stripes or dots in bright colors and then add a bold design implementation and you'll have a page with impact. The patterned paper on "Inferred Beach Conversation" uses an eye-catching design in vibrant colors that have great contrast with the white canvas. The diagonal placement of this print gives the page lots of energy.
6) as an accent
Incorporate striped and dotted papers into:
tags, strips, covering for other embellishments (i.e., bare chipboard)
patterned paper blocks that "fill in the grid"
borders and edging strips
"throw pillows:" small perfectly placed accents.
A small block of white dots on pink is just one of the many patterned pieces on "bffs."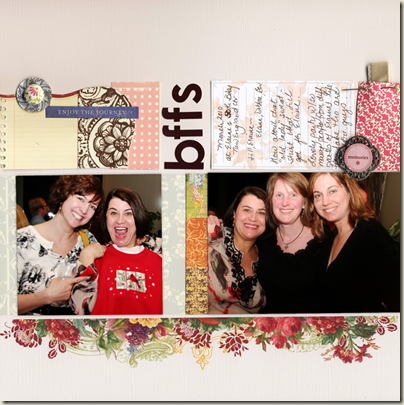 Two strips of striped paper accent the top and bottom of the cream mat on "At Sundown."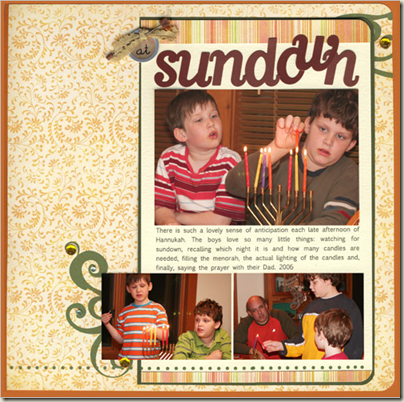 What about your pages?
Do you use patterned paper in your designs? A lot? A little? And just how have you been using dotted and striped patterned papers? Do you have any favorite paper lines/paper designers who make good use of stripes and dots in their collections? [patternedpaper]