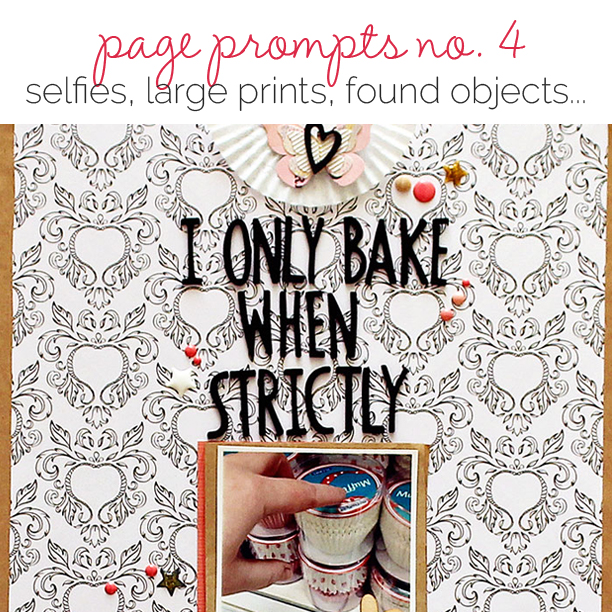 Welcome back to the monthly scrapbook page prompt series here at Get It Scrapped in which our team makes scrapbook pages from prompts that specific products or approaches.
Research suggests that limits can boost your creativity because they push you out of your comfort zone. Dr. Seuss wrote Green Eggs and Ham on a bet that he couldn't write a book with only 50 words.
Let's see what you create when part of your process is prescribed.
the prompts
Your page must include:
Include a "selfie" on your page.
Use a large-scale print for your background
Include at least one found object.
Use a six-word memoir approach for your journaling.
inspiration (aka, it's been done before)
These Get It Scrapped articles show you how others have used individual ingredients from the prompts on scrapbook pages. Of course, you'll be going farther with all 4 ingredients.
the GIS Creative Team takes the challenge
Sian Fair says, "I'm not the baker in our family – that's my daughter – but I reached for the cupcake liners to help her out on a fundraiser. I had to get a little creative to find a patterned paper I loved for this, and on the way I discovered that a black and white print can make a great background. I also used one of the cupcake liners as a 'found embellishment' for my page and a brown paper bag as a mat layer for my photo."
[hr]
Jett Hampton says, "This page is about my rescue dog Princeton, who filled my life with joy and helped me find my footing in life again."
"Working with prompts gave me direction but with a sense of freedom. The toughest prompt was a found object,  but then I saw the cellophane bag from our local dog bakery and knew it was perfect.  I used it as an overlay under my photos and it tied into the rescue dog theme perfectly."
[hr]
Karen Poirier-Brode says, "This page is about going to art school at my local junior college and the lessons I learned: bold prints fit bold ideas."
"This kit, its contemporary blend of vintage and modern, paired with a bold geometric print, highlights the lessons of courage that art classes teach you. The found item is a receipt and the 6-word-memoir-title is artistic license required to drive art."
Now it's your turn. If you take this prompted challenge, please feel free to share it with us in our gallery and/or link us up below!