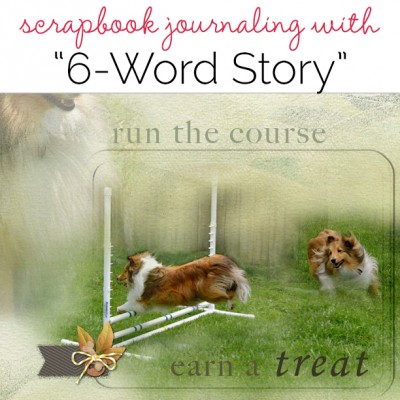 Can a life story be distilled to six words? That's a challenge supposedly posed to Earnest Hemmingway that yielded this "flash fiction:" "For Sale: Baby Shoes. Never Worn." Smith College launched a project and a website for the sharing of six-word memoirs, and we've asked members of the Creative Team to show you theirs (memoirs and biographies of others).
Retired business man. Loving Great Grandfather.
Christy Strickler says, "I wanted to highlight my grandfather as he watched my son. I wrote: Retired business man. Loving Great- Grandfather."
"I was struck by how different my grandfather was late in life compared to who he was when I was younger. Finding that contrast helped me pull a deeper meaning from my journaling. I used a warm wood to represent the structured person my grandfather had been when I was a child. I softened it with hearts and denim flowers to depict the warmth and love he always showed my son."
Run the course. Earn a treat.
Terry Billman says, "My sister and her dog, Cassie, compete in dog agility events. Cassie knows when she runs the course she earns a treat. The story is summed up in six words: run the course, earn a treat."
When writing six word memoirs, I suggest using compelling words and eliminating needless ones (like this, that, and the). I especially liked the movement and energy captured in the photos of Cassie and my sister practicing. Since I wanted to focus the movement, I blended and lowered the opacity of the photo of her in the starting position and kept the action photos at full resolution. I kept embellishments to a minimum to focus on the action in the photos."
So many smiles begin with you.
Rosann Santos-Elliott says, "My subject of this six-word biography is my maternal grandmother. So many smiles begin with you is a true statement about her her life. Everyone loved my grandmother. Any time her sisters reminisce about her, they talk about how funny she was and how she always told off-color jokes. She never got mad or yelled and always had space for anyone who needed it."
"The photo was sitting on my desk  just asking to be scrapped. I even remember that sweatshirt. She bought me one and we had matching outfits. I chose the bright colors more because of what she represented to the family. Bright and optimistic, cheery and open. That is who my grandmother was."
Immigrant. Traveler. Steadfast Patriarch. Proud American.
Jennifer Kellogg says, "This is a page about my grandfather. The six word biography for him is: Immigrant. Traveler. Steadfast Patriarch. Proud American.
I asked my family to tell me what words came to mind when they thought about my grandfather. Then I chose the ones that seemed to represent themes that ran throughout his whole life. The design of this page is modern, so I added papers and buttons with a vintage feel. I would like to do a mini album full of six word stories of my family so I wanted a page design that was easy to replicate. I plan to use colors and papers that fit the personality of each person."
#senior #prank #graduation #principal #fwafa #class2014
Ronnie Crowley says, "My page is about the senior prank my daughter's high school class pulled. They all took selfies with the principal as they collected their diplomas: all 59 seniors. My six words are the hashtags my daughter used on instagram when she posted the picture. The use of the hashtag makes the layout contemporary.