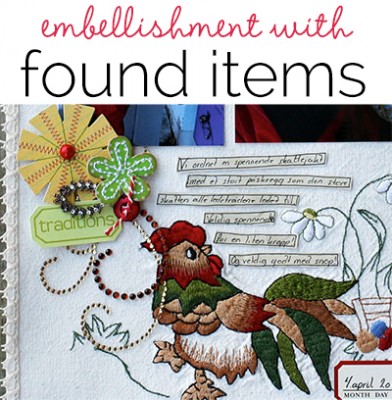 The addition of a "found object," to your scrapbook page embellishments makes a layout original–all yours! It's also a great way to support and even add extra meaning to the storytelling you're doing. We've got scrapbooking ideas for found objects that come from nature, the junk drawer and the treasure box.
feathers
Kiki Kougioumtzi says, "This is a page about my daughter playing at the seashore with objects she finds (pebbles,driftwoods,feathers,leaves) and making her own fairytales."
"I used feathers she found that day to embellish my page and to complement her fairytales and to add to the fairytale feeling. She collects various stuff and I often select and keep from them for future use. Those feathers must had some bug the ate them while in my box because they weren't looking as good as when I saved them. Still wanting to use them, I covered them on both sides with gel medium making sure they were completely covered. This way nothing could alter their current state anymore. But this is a permanent solution. It's not reversible but I don't mind as long as my layout is safe."
can lids and pop-tops
Christy Strickler says, "Every Fall, ducks begin arriving to stay in the local pond for the winter. I created layered embellishments using cork, a cat food can lid, a soup can lid, and a pop tab."
"When I use can lids, people always ask me whether or not I worry about cutting my fingers. I have never had a problem, but it's always a good idea to be careful. I use liquid adhesive to adhere found objects. Zip Dry and Glossy accents seem to work the best and have the least drying time. Pop tabs can be used to show an element that can be pulled, but I also love to use them as a shelf to cluster embellishments on. You can nest jewels or dimensional flowers in the tab's loops as I did here with the turquoise metal flower."
bookmark
Sue Althouse says, "This page is about my dad's love of reading and collecting books."
"My found object is a bookmark from Amazon.com with an appropriate quote. I added stitching and a brad to dress up the bookmark as an embellishment."
leaves
Marcia Fortunato says, "This layout shows pictures I took while hiking a trail along the Mississippi River in Minneapolis, MN."
"My found objects are fall leaves. They work with this page because of its outdoor theme, and they mimic the colored leaves in one of my photos."
"I used Gelatos in three shades of blue to create my background paper. I then adhered three large colored leaves with matte gel medium and covered them liberally with more gel medium to preserve the leaves; I used a brayer to flatten the leaves. I wanted additional leaves for embellishments, so I found a few small ones and also coated those with the gel medium. I had to be somewhat careful with them after they'd drive since the medium on the leaves was prone to crack and peel."
post-it message
Katie Scott says, "My kids think I have no friends. Tonight my friend Joan paddleboarded over to our dock to give me her phone number so we could make some regular paddleboard dates – and my kids saw the whole thing."
"I didn't get a photo of Joan but I did get this post it note with her number!  I used an older photo of our dock for reference for the story.  Tip:  I didn't try to match the Post It Note's neon pink color although I did use some pink in the title.  I used journaling spots that were about the same size as the post it note."
rerfrigerator magnets
Michelle Houghton says, "This page honors the last occasion we were able to see John's grandfather and my girls' great grandfather Eugene."
"The butterfly magnets on the page were given to me by Kathryn, his beautiful wife, as they were cleaning their home for a final move into assisted living.  The butterflies are just perfect for the happy memory of seeing him one last time and the connection to both of them so directly.  I did have to do a little manipulating of the magnet on the back to make them more usable on my layout but the effort was well worth it."
embroidered linens
Lise Mariann Alsli says, "Three years ago I made this treasure hunt to find the traditional Easter egg filled with candy. The hunt included notes leading to the each clue.  After several clues, my daughter found the egg buried in the snow."
"Everyone who knows my style knows that I love using found objects on my layouts, and I especially love using things that are significant. Here I used my mother's old embroidered Easter tablecloth as both background and embellishment."
"The embroidery work was done by my mother and I remember it from my childhood. The table cloth was full of coffee stains, but I could still use it in my scrapbooking. I am so happy I've saved the sweet table cloth and made it a part of the Easter in a whole new way. After I glued the tablecloth onto a piece of cardstock, I folded the edges back and glued on a sweet lace to make the edges seem even more 'table clothy.' I also included a piece from a broken earring and a button from my daughter's cardigan.
Tip: Never throw away any piece of clothing before checking it for pieces that could be used for scrapbooking. 
paper bag
Sian Fair says, "When my son was little, he used to clap his hands when he saw his aunt coming for a visit: 'What my like?' he would ask to see if she had brought him a little gift."
"To support this story I used the simplest of found objects: a brown paper bag, just like the ones my son used to open to find his surprise. I cut it apart, crumpled it up a bit for texture and put it back together so that it fitted onto my page and I added some twine to enhance the idea of a 'parcel.' I made use of the bag as a space for my journaling. The bag fitted into my typewriter (and came back out again in one piece, luckily enough..)
vintage flashcards
Amanda Robinson says, "This is a layout about my son playing in puddles and feeding birds in the pouring rain."
"My found object has two meanings. Firstly, It's a vintage flashcard that was mine when I was about the same age as my son is in these pictures. The second, more obvious, link is the duck which corresponds to the birds in the photos and the title of my page. On completing the page I realized I used a second found item: my journaling spot is recycled packaging."