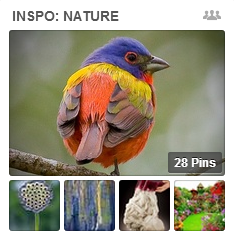 See the Nature pins on the Get It Scrapped Pinterest Boards for scrapbooking ideas you can use on your own layout designs.
why nature?
While some color and motif associations derive from personal and cultural experiences that vary around the world, the ones that come from nature are more universal.  These associations can be used to strengthen the meaning of your scrapbook pages.
go deeper.
These Get It Scrapped articles and resources show you exactly how you can use nature as inspiration on your scrapbook pages:
see it done.
Stefanie Semple's page below was inspired by a pin of this photo of a bird by Skip Vetter.
Stefanie says "Nature is filled with interesting textures, colors, shapes and designs. I could have picked any of the images pinned to the Get It Scrapped Nature Pinboard and lifted something from it to use on a layout."
"The image of this bird with its bright contrasting plumage encouraged me to go out of my normal box of color combinations and try yellow, orange, purple and green on my page. I also added a muted dark green floral inspired patterned paper background, similar to the bokeh in the image.Then I added feather and floral elements to move the eye through the layout and add dimension, as well as other fun items from nature to be little details."
your turn.
Pick an image that speaks to you from the Get It Scrapped Nature Pinboard, use the links and inspiration above as examples, and put the pin to work in your very own scrapbook page.

Stefanie Semple
Stefanie is a stay-at-home-mom who lives in Cape Town, South Africa with her her husband of 24 years and their brood of three teens and four cats. She has been scrapbooking for 8 years, having made the transition to the dark digi side two years ago.  Despite being a digital scrapbooker, Stefanie still teaches paper scrapbooking from her studio at home where she encourages others to tell stories in addition to creating pretty pages.
Stefanie hosted a journaling challenge blog for a few years but now uses blogging as a way to showcase her design team creations and share inspiration. She is on the ScrapMatters Creative Team as well as being a CT member for Design by Tina, Elise's Pieces, Keepscrappin Designs and Memory Clips.