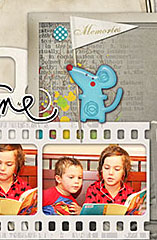 Check out home decor and fashion images and you'll find owls, deer, squirrels and other "critters." Embellishments and papers with these motifs are available, too. Clara Lafrance says that these nature inspired motifs are nostalgic, harkening back to designs of the 1970s.
A little bit about critters
These motifs are generally associated with nature, new life, serenity and friendship.  Here's more specific associations with some critters seen in scrapbooking and papercrafting products:
Owls-wisdom, mystery, protection
Deer-grace, fertility, humility
Rabbits-luck, rebirth, creativity
Foxes-cunning, quickness, adaptablity
Mice-determination, modesty, awareness
Squirrels & Chipmunks–preparation, playfulness, balance
Porcupine–protection, intuition, vitality
Dogs-loyalty, obedience, protection
Turtles-patience, stability, longevity
***Animal symbolism from WhatsYourSign.com
Using "critters" on your scrapbook pages
Set the Scene For Your Photos
Audrey Tan used owls along with leaves and trees to create a fall scene for a photo of her son skateboarding.  Audrey says, "I love owls and like using them as I would any other embellishment on a page."
Marie-Pierre Capistran created a sweet scene for special photos of her daughter and a favorite teacher, complete with a tree, grass, turtle and cute fawn.  Marie-Pierre says, "I wanted to focus on the relationship between my daughter and her teacher instead of focusing on the event itself (the hot air balloon festival). That's why I decided cute little critters and hearts would set the scene for the story of their bond."
Terry Billman says "My son loves spending time at the ranch during deer season."  In order to capture the essence of this season Terry  applied a watercolor treatment to her background photo and blended it with deer brushwork in the lower left-hand corner.  This sets the perfect scene for the extracted focal photo of her son on a 4 wheeler, while the photo corners, deer cutouts and bold title all add to the masculinity of the page.
Debbie Hodge added a detailed stamped illustration of a fox on a scrap of paper layered into "Splitting Wood" as a nod to the woodland setting of the photos.
Set a whimscal, playful tone
Kayleigh Wiles echoed the tone in her playful photos by adding a whimsical bunny accent to this page about her daughter's blossoming personality.
Jana Morton embellished her title with a cute epoxy mouse to add a touch of whimsy to photos of a special story time shared by her children.  This choice was inspired by the book that kids were reading in the photo–"If You Take a Mouse to School."
Deborah Wagner used two playful pup elements on this Christmas page to add to the feeling of family fun that reigns in the group photo that includes the family's two dogs.  Deborah says  "To make it look as if Santa was holding the dog in the upper left corner, I used a mask to hide parts of him, while the other dog element adds to the theme of commotion and chaos in our real life."
Tie into your story
Michelle Houghton used hand-drawn and colored squirrels and acorns on a page that tells the story of her daughter and nephew building houses for the small critters that they see around their home.  Michelle drew these images herself and colored them with Copic markers.  Download these hand-drawn images and get step-by-step Copic coloring instructions.
Amy Kingsford added an embroidered owl to a page about her grandmother not only to reinforce the vintage theme, but also because it reminds her of a special memory of being in her grandmother's home: her grandmother took down owl pictures when Amy stayed overnight because they scared her.
Katie Scott used critter-filled patterned paper on a page featuring her children's elementary school photos.  Katie says "I used this paper with turtles, snails, and owls because it reminded me of how I'd like to somehow slow down how fast the school years seem to be going."
Highlight a trait of your subject
Debbie Hodge embellished a page of teens in a fun pose with a fox since it not only plays up the "clever"that she used in her title to describe her subjects but it also fit with the woodsy setting in her photo.
Adriana Puckett cut this paper-pieced porcupine with her Silhouette and used it to accent her page about her son and his reticence to having his photo taken as of late.  Adriana says "I tried to keep the porcupine cute and cuddly to reinforce that my son is still a lovable kid, but one with some prickliness lately. "
Amy Kingsford added a vintage deer card to her page to add a bit of masculinity to this sweet page about her two boys. It also plays off of the word "Dearest" in her title.
How do you like to use critters on your scrapbook pages?
[akingsford]