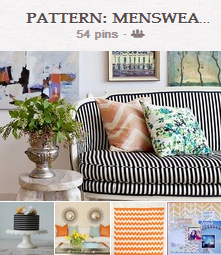 by Debbie Hodge
Fashion designers, home decorators, wedding designers, crafters, and even manicurists are creating with menswear-inspired prints.
Pinstripe, chevron, herringbone, and houndstooth are classic patterns that can stand the test of time — and they do a great job of mixing with other patterns. Try these  timeless patterns on your scrapbook pages.
Houndstooth
The houndstooth pattern is woven with alternating bands of 4 dark threads and 4 light threads. The resulting pattern looks like small jagged checks. It originated in woven wool from the Scottish lowlands and has had peaks in popularity in the 1930s, the 1970s, and the first decade of 2000.
Katie Scott used a houndstooth pattern on this page about her grandmother as a contrast to the doilies, flowers and butterfly. Katie says, "I like this contrast because this was 1943, a time in my grandmother's life when she had graduated from college and  just married my grandfather. It was an uncertain time, though, because of World War II." Katie scanned the back of the photo to get her grandmother's handwriting (top right) onto the page.
Kiki Kougioumtzi thought a traditional menswear pattern was good for a page about fishing, an activity she associates with men. "To represent the excitement of the event," says Kiki, "I went wild with paper confetti, paints and mists, but used a serene monochromatic color scheme."
Amy Kingsford chose a bold houndstooth print background for a charming yet masculine feeling. When I think of houndstooth suits and fedora hats (like the one my son is wearing in the photo) I also think back to the charming and charismatic men of the 40s, 50s and 60s like Humprey Bogart, Carey Grant and Nat King Cole.  They all had their OWN style much like my son does today!"
Chevron
Talk about a classic print, the chevron design dates back to 1800 BC and was used on pottery and architecture by the ancient Greeks. In the late 1960s, fashion designer Pierre Cardin popularized the chevron print in his clothing.
Barb Brookbank used small pieces of bold chevron prints to scrapbook two cousins who were a big hit at a family wedding. Barb says, "They were both in the wedding party and almost stole the show!" The chevron print adds a formal tone and the small doses on a white background keep the design feeling light.
Ashley Horton says she loves to use patterned papers, because they create movement. She repeated the chevron pattern several times on this page beginning with a subtle tone-on-tone print for her background. She cut strips from a bold chevron print, trimming the ends to create arrows, and she stitched zigzag lines. Notice the houndstooth here, too, trimmed into triangles and placed to mimic the points in chevron pattern."
Deborah Wagner made this page, featuring her brother-in-law, for her sister. She says, "The chevrons, stripes, and ledger prints give the page a masculine look, while the butterflies, flowers, clouds, and hearts soften it and add a bit of whimsy."
Amber Ries used shapes of the three states from her road trip and filled them with chevron prints.
Corrie Jones cut her own chevrons from graph paper. She layered strips cut in a chevron shape and added white stitching. The resulting area adds subtle texture and interest to the page. The small bit of  Washi tape with bold chevrons is a great accent that adds repetitions and creates unity.
Kim Watson scrapbooked a boat outing with nautically-inspired elements. She added three layers of oversized bunting, with the middle layer sporting a bold red and white chevron print that adds lots of interest to the layered rows of triangle pennants. She repeats the red-and-white chevron pattern with a small bit of Washi tape and a series of red arrows.
Herringbone
For a great look at the difference between chevron and herringbone floors take a look at these examples. To make chevrons, rectangular pieces of wood are cut with angles at each end and the angles are fitted together to make the pattern. With herringbone, the rectangles stay rectangles with 4 right corners and their placement is staggered to create the pattern.
In fabric and print patterns, the herringbone design is a bit different. It's differentiated from the chevron in that the color "turns" (think weaving) at each point.
The small orange and pink patterned blocks on Tiffany Tillman's "Two Toned Girl" are an example of the herringbone print.
Tiffany says, "Like most youngings, my daughter's mood changes with the flick of a light switch. Two-toned girl celebrates the dynamic of her emotions in the journaling and the photos. The page incorporates a herringbone print, text in the currently popular "subway art" style and high energy orange and pink. The combination offers an 'urban' style to the overall page. This was purposefully done to match my daughter's style."
Christy Strickler says, "While our entire family loves the Batman series, it's an absolute favorite of my husband. I wanted a masculine look to represent the subject and the more serious side of the movie. Most versions of the comic book Batman are  a little more lighthearted and this is where I derived my color palette."
"The herringbone and chevron patterns remind me of bats and the way they fly. I created my base with black electrical tape, gesso and a stencil. I used yellow mist over crafter's workshop stencils. I cut those out, outlined them with black marker and then  layered upwards with my photo, embellishments, and title. The bats were fussy-cut from patterned paper. I love the text on them as it reminds me of reading comics and graphic novels."
Leah Farquharson has always been a HUGE fan of menswear prints. "Any kind of suiting – herringbone, houndstooth, argyle, even a plain stripe is great," says Leah. "I had so much fun using these prints to make a zoo page featuring a couple of fun photos from a fun day."
Pinstripes
Pinstripes are very thin and parallel stripes of any color–typically in fabric. The pinstripe suit is associated with the conservative businessman or woman. It's easy on the eyes, mixes well with other patterns and goes with a variety of topics.
For a page about the manly topic of mustaches, Katie Scott used a pin-striped background paper along with chipboard and felted mustaches that have been in her stash for a while. Katie says, "I highlighted the men I like despite their facial hair and then added recent photos of my husband with a freshly shaven face."
"Manly Pursuits" is a page by Doris Sander from a cub scout camping trip when they camped on a farm with a stocked pond. She says, "All the boys and men were happy campers as they kept reeling in the fish.  Gabriel caught 21!  He was so proud. I incorporated houndstooth and pinstripe patterns for this page of my boy on a guy trip and  adventure."
Audrey Tan mixed artsy papers with more traditional chevron and pinstripe prints on "A Grand Day Out" for an original and eyecatching look.
Amanda Jones scrapbooked a photo of her son with his hat of choice this past summer. She says, "His unwillingness to remove it is the subject of my page!" Amanda used her electronic die cutter to make the overlays with open space that she backed up with pinstripes and grid prints. Notice how some of the openings are cut in chevron shapes.
Pinstripe, chevron, herringbone, and houndstooth are patterns traditionally found in menswear that have also made their way into womenswear, home decor, and more. They are great mixers with other patterns and come in variations that make them useful for topics ranging from a fishing weekend to a boat ride to a girl's awesome demeanor. How are you using these prints on your own pages?
[ontrend]