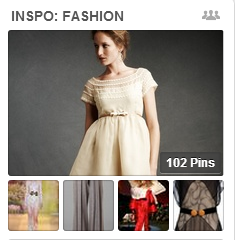 See the Fashion pins on the Get It Scrapped Pinterest Boards for scrapbooking ideas you can use on your own layout designs.
why fashion?
The lines, colors, and patterns on clothing are just a few of the details that can give you ideas for your scrapbook pages. Find inspiration from the clothing in your closet, from clothing you see on the streets of your town, and from fashion magazines and fashion websites.
go deeper.
These Get It Scrapped articles and resources show you exactly how you can use fashion as inspiration on your scrapbook pages:
see it done.
Carrie Arick's page below was inspired by a pin of  this skirt by Katie Jean.
Carrie says "I've demonstrated my approach to using inspiration found on Pinterest by taking a photo advertising a handmade skirt from Etsy and pulling out the features I love about it to use on my page:
The combination of the neutrals, orange, red, blue tones with the funky yellow.
The variety of texture and pattern from the hard brick wall, the vintage blouse, the smooth skirt and the sleek stockings."
"I've used the idea of variation in my page starting with the photo, which I turned into a rough pencil drawing that contrasts well with the soft fabric doily. I used varying tones of orange, but my title is an unexpected yellow. I also mixed graphic patterns with a traditional floral."
your turn.
Pick an image that speaks to you from the Get It Scrapped Fashion Pinboard, use the links and inspiration above as examples, and put the pin to work in your very own scrapbook page.

Carrie Arick
Blog | Gallery | Pinterest | Facebook
Carrie Arick is a mom to a teenage son with high functioning Autism, wife to a slightly brain damaged husband and owner of 4 naughty kitties living in coastal Delaware. As a lifelong artist, photo lover and memory collector, she has a passion for documenting her family's messy, crazy life through digital scrapbooking.
Carrie is currently creating for Just Jaimee and Jenni Bowlin Studio Digital. She also is a contributing writer to My Scrapbook Art, a website for digital scrapbookers. Carrie loves learning about design, searching out colors and trends, and exploring new ways to use digital products. When she isn't at her computer or behind the camera, she enjoys playing video games like Call of Duty, watching disaster movies, chats on her porch with neighbors, afternoon ocean swims, and walking her giant cat, James, on a leash.