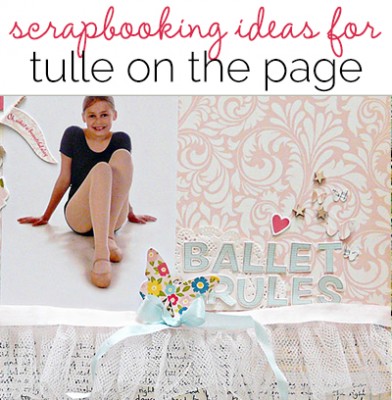 Use these scrapbooking ideas for including tulle fabric on your pages and you'll be right in line with the tulle skirts forecast to be trendy this summer.
[divider_flat]
a tulle "skirt" makes a great border
Sian Fair says, "Although my daughter loved ballet class above all other out-of-school activities, I was always conscious of the rules which were firm on what she could wear, how her hair could be…all of it . . . "
"I made a pink tulle skirt on the page to reference the special outfit she had to wear for ballet exams and to partially hide my journaling–the  story about how my ballet outfit didn't follow the rules when I was a girl."
SIAN'S LAYERING TIP FOR TULLE: Tulle gives such a pretty effect, but you do have to keep in mind the bulk it will add to a page. If you don't mind a heavily-loaded layout, then it's a great opportunity to add dimension to the rest of your design.
Audrey Tan says, "This page is about remembering our beloved pooch. He's not with us anymore but we can never forget him. I made use of tulle as decorative pieces. I even have a tulle heart to symbolize our love for him. A skirt of tulle below the photo makes a great shelf." 
use tulle as a photo mat and foundation
Kristy T says, "This layout is about when my husband and I had the opportunity to go out for a lunch date, just the two of us, which is a rare occurrence."
"I like texture on my pages, and one of the things I think of when I see and touch tulle is our wedding day. I used a piece of red tulle in the same way that I would use a piece of patterned paper, layered around my photograph.  I also made a flower using black tulle by die cutting the patterned paper and then the tulle in different sizes.  I added paint to the papers and tulle to create a more cohesive look.  I added a pre-made flower on top.
KRISTY'S CUTTING TIP FOR TULLE: When die cutting tulle you will need to layer the tulle on top of a piece of paper to ensure there is enough pressure to cut the tulle.  I also like to cut multiple layers to give a 'fuller' look to the flower.
add tulle flowers to embellish
Ronnie Crowley says, "This is Paisley, our new dog, and this page will be the front page of her All About Paisley Scrapbook Album. I wanted to add texture for interest as I was only featuring one photo. I added paper flowers and the felt flowers and then the tulle for softer texture."
RONNIE'S TULLE FLOWER TIP:
While I'm a digital scrapbooker, I have actually made hundreds of tulle flowers for ballet costumes. They are easy to make. While the five petals ones may appear complex they really don't take too long. Here's a great tutorial making them–for the page, cards, or even hair clips.
add a band foundation made of tulle
Amanda Robinson  says, "This layout features a photo of my son taking his first nap at one day old, after coming home from the hospital. I used the tulle as a foundation for the photo and other elements. I wanted to evoke create a dream-like feeling to my story. The wispy layers of tulle across my page help achieve that. 
AMANDA'S TULLE ADHERING TIP: When working with tulle I like to use a hot glue gun to adhere it to the layout and also to attach other elements on top. It forms a quick, strong bond and is not too obvious beneath the transparent layers.