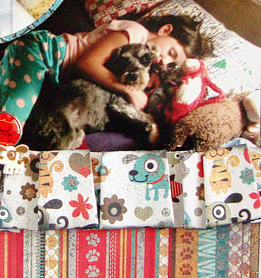 Print patterns for scrapbooking fall into the four general categories of floral, geometric, motif, and pictorial. (Be sure to check out our very complete discussion of all four pattern types.)
There are two types of motifs: representational and abstract.
The image in a

representational motif

is something that you recognize from the world around you: shells, clouds, stars–even airplanes and words.

Abstract motif

designs are based on geometrically formed shapes–the kinds of designs that have been prevalent in carpets, tilework, and architecture for thousands of years.
Obvious, straight-forward representational motifs are great for cuing and supporting page theme and telling stories. (Yes, there are representational motifs that can be used in less straightforward ways — think butterflies for change — but we're not covering those today). Learn more about Images and Meaning on Your Scrapbook Pages.
Take a look at how our team has used representational motifs to tell their stories. 
Star struck 
Adriana Puckett says, "We were thrilled to meet Jeff Kinney, author of the Diary of a Wimpy Kids books, and two stars from the movies at a local library event. I used constellation patterned paper for the background to reinforce the "star" theme and a visual triangle of stars around the photos. The inner paper with alternating bands of yellow and orange radiates light as well, as if from an exploding star."
Add stars to your pages: 10 Ideas for Using Stars on Your Scrapbook Pages
On the move with cars, trucks, and buses
Brenda Becknell says, "My 6 month old grandson started crawling right before Christmas and now there is no stopping him! I used patterned paper with a motif of cars, trucks, buses, and wheeled vehicles to represent the theme of 'on the move.' This is a small motif paper, but because of the bright colors and 'busy-ness' of the paper, it carries a lot of weight.  To offset that, I used a darker textured background cardstock and navy matting on the photos and the patterned paper.  I also used a journal card with the same motif, and a bright label sticker."
Making music
Adryane Driscoll says, "This page is about the power of music. I used sheet-music patterned paper. like a lot of white space on my pages, so the pattern was too busy for the page I wanted to create.  To fix this, I layered the patterned paper over a solid, neutral background (setting the blending mode to darken).  Then I added a layer mask.  Using a block-shaped brush, I stamped over the portion of the music design that I wanted on my page.  I mixed the paper with smaller scale music brushes and a large, metal treble clef.  Because I went with a neutral background and paper, I decided to add color for impact. The color is the result of a gradient overlay added to series of merged brush layers."
Add music to your pages: Quotations and Word Art for Scrapbooking Music
Text print is a representational motif
Doris Sander says, "I wanted to make a collage type page of ten of my favorite books. Since the books were a variety of images and colors, I wanted the background to remain subtle so the page was not overpowering. At the same time, I wanted the background to have an impact on my theme since the page had such minimal embellishing. I chose to use a versatile text print for the background to showcase my books and love of reading. When combined with the concentric circles and the title, I think the text really makes an impact on the reader."
Debbie Hodge used text-print paper with the days of the week to scrapbook an everyday chore. She says, "Routines on the farm are so much different from those at our house. I love these shots of my brothers and kids loading garbage on their four-wheelers and heading off to the dump. Patterned paper with the names of the days of the week fit my everyday chores theme, and I used a band to back up the photos at page top and then a banner from the same paper below the focal point photo."
A princess and her castle
Stefanie Semple scrapbooked her role as 'Domestic Diva' with a series of at-work photos and a princess or 'diva' theme. She made her own patterned paper by repeating a subtle crown brush across the page. She also embellished with motifs that we associate with princesses: a princess and castle, crown, and coach embellishments.
For the animal lover
Michelle Houghton says, "My daughter adores dogs, and on vacation she was never far from her grandparents' dog."
"I used three different papers with dog motifs.  The bottom striped paper that has paws, the turquoise used to matte the circle photos has dog bones and the ruffled strip has dogs and other pets on it. The motif sizes and densities on each are varied and thus, mix well. The bone motif is small and tightly packed.  The paw print has motifs that are a little bigger but stacked in rows and then spaced with other patterns in between. The ruffled paper has larger motifs covering the sheet with little spacing in between."
"I love the paper that I made the ruffle out of BUT I knew it would be overwhelming in large amounts.  Using just a strip and making a ruffle with it kept it in the right proportion."
Add critters to your pages: Ideas for Using Critters on Your Scrapbook Pages
Take a picture!
Ashley Horton says, "I love taking photos of my kids, and even though they are pretty good about it most of the time, there are other times when I never know what kind of pose or face I might get."
"I loved these photos of my daughter and started with a camera-print paper from my Studio Calico kit. Rather than using the paper whole, I fussy-cut cameras and arranged them under my photos.  I spread the fussy-cut cameras out to leave room for wood veneer cameras and enamel dots. I loved working with the camera motif, because it immediately cues the page theme, and it mixes well with other colors and patterns.
Forecasting the weather
Debbie Hodge's "Ready for Nemo" is about the preparations she made before a record-breaking winterstorm, anticipating the possibility of a power outage.
Debbie says, "I used one snowflake-print paper in the top left quadrant of my blocked foundation. There are three more patterned papers — all abstract geometrics which are great mixers with my themed motif-print. Snowflake embellishments emphasize the snow theme."
Add snowflakes to your scrapbook pages: 10 Ideas for Using Snowflakes on Your Scrapbook Pages