by Debbie Hodge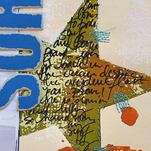 The star motif can be used to connote a variety of concrete and abstract meanings. What's more it's great for stylistic manipulations and decorating your scrapbook pages.
a little bit about the star motif
A star is a huge ball of plasma that's held together by gravity. Our nearest star is the Sun—it's the source of most of energy on Earth.
"Star" can refer to someone or something that's leading, starring, stellar, or headlining. Think of the star on the actor's door or the sports champion.
Stars can be associated with sleep and starry nights.
Stars are also associated with law and order. You can find them used as a police badge or sherrif's star.
The five-pointed star is on the flags of 35+ Western and Easter countries.
The star is a widely used military symbol – included on tanks and fighter planes and uniforms in many countries.
Stars are sometimes associated with wizards and magic.
The "shooting star" can symbolize a moment in time that left strong memories,
"Nautical stars" or "compass stars" symbolize the star in that sailors used to help guide their way in the night.
The five-pointed "barn star" is a common decoration on the outside of homes. These were originally used in the German farming communities of the 1700s to cover the ends of beams in barn construction. They evolved as a decorative feature.
ideas for putting the star motif on your scrapbook pages
1. Arrange several stars in a series.
Doris Sander created a border along the top of her photo with five small red stars topped with yellow buttons.

by Doris Sander for Jenni Bowlin Studio
2. Stamp a star and stitch around it.
Dina Wakley's stamped star does several things on her page "Surf." It adds visual interest and triggers thoughts of her son being a star. It acts as the foundation for the photo and title and it houses her journaling.

Surf by Dina Wakley for Jenni Bowlin Studio
3. Use star paper as your background.
Lynn Grieveson used bold patriotic papers as the perfect backdrop for this page of her daughter in superhero costume.

Pow by Lynn Grieveson for Designer Digitals
4. Cut stars in a variety of sizes and place to create flow.
Amy Coose used 5 stars (odd numbers in design are good) and cut them from soft-hued patterned papers. She inked edges and then arranged them in a visual triangle to draw the eye around the page. The repetitions of the star motif give the page unity and interest – since they are varied in size and pattern (see Design Principle: Repetition).
5. Bleed an over-sized star off the page.
You can use large embellishments bled off the page to make your page visually take up more space than it actually does. I've done that here with the star in the upper right corner. When an image that the viewer knows well is incomplete, the viewer's mind fills in the rest of the image. As a result, you're working with invisible space and you're extending the page beyond its actual boundaries.

Celebrate School's Out by Debbie Hodge for DesignerDigitals
6. Give your star a trajectory.
When your star has a tail, it implies motion and adds energy to the page. Alicia Geiss stars from patterned paper and let the tail on the largest one – placing the star to come bursting out of her photo and title. You could also get a tail effect with a flourish or sprinkling of small embellishments like brads, or gems.

Superstar by Alicia Geiss for Scrapbooks.com
7. Use a cluster of three stars.
Celeste Smith used three stars—all of different sizes, colors and patterns. She grouped the stars to create an embellishment cluster that draws the eye to the spot on the page where her subjects, journaling and title all sit—in a visual triangle surrounding the cluster.

WDW by Celeste Smith
8. Include small stars in a sprinking with other small shapes/motifs.
Jana Morton used a digital brush that incorporates flowers, stars and circles. The small size and the flourish running through the sprinkling unite them.

Joy by Jana Morton
9. Make a border of stars.
On "Five Star Attraction" I've used the stars to symbolize a ranking of an amusement park. The vertical series of stamped stars creates a border between the photos and journlaing on this very full page. (See details on how I made this hybrid page.)

Five Star Attraction by Debbie Hodge for Get It Scrapped!
10. Journal on a star.
Paula Gilarde embellished this page with several very different stars—most of them tucked under the edges of her photo. Thus we're not seeing the entire shape, but, because it's a known image and because the human mind is good at "closure" we understand they are stars. The journaler is the biggest star of them all and makes a great foundation for her photo and title as well as a home for her journaling.

Star by Paula Gilarde for DesignerDigitals
11. Collage a star.
The star on this page is connected with the idea of bedtime and night stars. I collaged several patterned papers to create the star shape and topped them with stitching.

Last Sleepover by Debbie Hodge for DesignerDigitals
---