by Debbie Hodge
I love printing digital elements directly to cardstock and patterned papers for my scrapbook pages.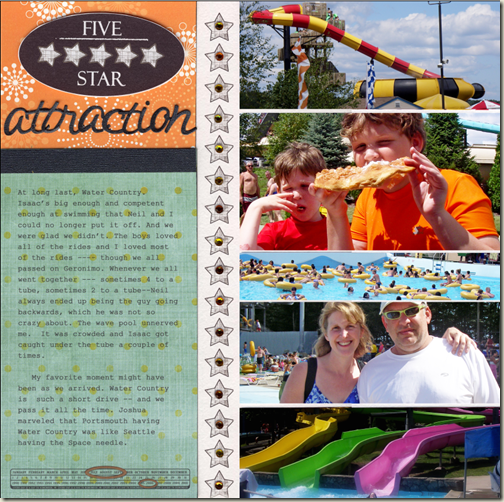 To make the vertical border on "Five Star Attraction," I opened a photoshop document 12" x 12" and 300 ppi resolution.
I stamped a digital star brush one time, then copied that brush to a new layer and nudged it down below the first (counting how many "nudges" I made). Once I had a series of these on my canvas, I printed it to white cardstock to use at the border between photos and journaling/title blocks. I topped every star with a gold gem.
Using a star dingbat font would be even quicker. Type the alpha character that corresponds to your star and then hit RETURN/ENTER and type another. Adjust the line spacing and then continue on down the page.
Try these stars:
French Revolution Brushes by Sande Krieger
Scribbled & Scripted Shapes by Katie Pertiet
A couple of other digital touches to the paper page are:
The date stamp at bottom left. I printed this to patterned paper from Katie Pertiet's Digital Date Stamps, Vol 3.
The title oval. I created a Photoshop Canvas of 5" x 3" and filled the background with black. I sent my font color to white and foreground color for brushing to white. I repeated the stars from border and used the Felix Titling font for "Five Star." I printed the rectangle then adhered it to a chipboard oval, trimmed it with a craft knife and sanded around the edges.