These are the basic supplies you'll use to make a digital scrapbook page.
1. Digital scrapbooking software
To make a digital scrapbook page you will need software for combining your photos and journaling with digital scrapbooking elements. The most widely used programs for digital scrapbooking are Adobe's Photoshop Elements and Photoshop CS. The free tutorials and online classes here at Get It Scrapped are all written to work with either of these Adobe products.
There are, however, other options and Steph at The Daily Digi has put together this helpful guide for choosing digital scrapbooking software.
2. Digital elements for scrapbooking
You can find the digital equivalent of almost any paper supply in digital scrapbook supply stores. The very basic supplies would include cardstock, patterned paper, alphabets (for titles), embellishments, and a font for journaling.
Use cardstock for page canvas, photo mats, "punched" elements. These are sold as 12″ x 12″ 300 ppi resolution digital elements.
Use patterned paper for page canvas, foundations, and embellishing. These are sold as 12″ x 12″ 300 ppi resolution digital elements.
Use alphabets for titles and even embellishing. These come in many forms, most replicating paper scrapbook page looks like chipboard, stamping, sticker, and acrylic.
Use embellishments for those extra touches. There is a huge assortment of digital embellishments available including fibers, buttons, metals, stickers, and much much more.
As you progress, you'll start using digital brushes and overlays to get new effects that digital scrapbooking makes possible.
Here's a look at an example of each of the basic products listed above — all of which I used on "Proof" shown here. I did use more supplies than these (and you'll find them linked up if you click on the layout image) but these are the basics with which I could make an entire layout–with the addition of a font for including journaling.

Noemi Solids Cardstock by Maplebrook Studios; Awakening Paper Collection by Ali Edwards; Grunged Up Alpha No 2 by Katie Pertiet, Lil Metal Charms Numbered No 1 by Katie Pertiet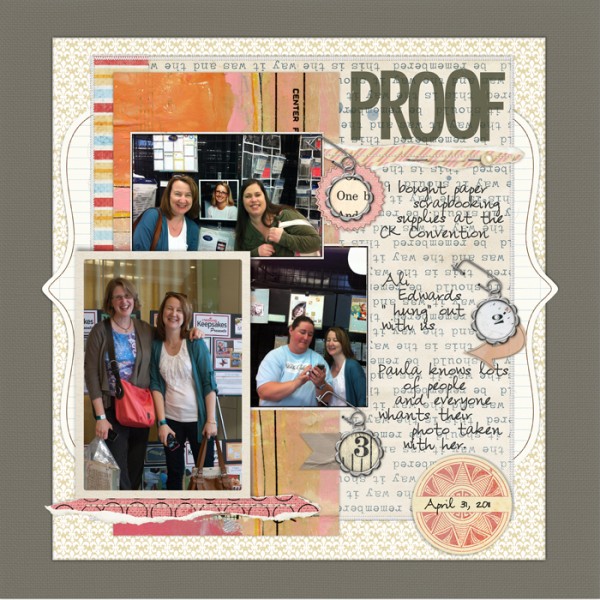 "Proof" by Debbie Hodge
3. Scrapbook page templates
Scrapbook page templates are digital files that have laid out where your paper and photos (and often title and journaling) will go. They make it easy to drag photos and papers onto your canvas. You can then "clip" the product to the template elements for a quickly-made and well-designed page. I made this page with Pattie Knox's "Speedbyte #114."
Notice I rotated and flipped the template to get the orientation I wanted for my photos. Using templates is probably the quickest and easiest way to get started digital scrapbooking–Pattie Knox has created a self-paced online class on this topic. It includes 6 of her templates that you can access immediately.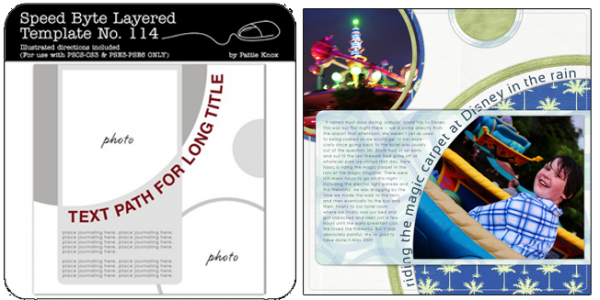 Speedbyte #114 by Pattie Knox. "Riding the magic carpet at Disney in the rain" by Debbie Hodge.
4. A way to print your pages
You can print your pages on your own printer or with a service. Many people like to make bound books from processing services.
These three articles at The Daily Digi provide a comprehensive look at the options.
Printing digital scrapbook pages
Review of layout printing services
Review of photobook printing services
[learndigi]