by Debbie Hodge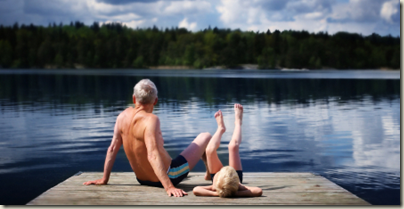 In Travel & Vacations, I described 5 kinds of trips/vacations. Each of these types of travel have their own "story arc" that can help you figure out what pages to include. Here I show you how to approach "Being There." In each of these articles I refer to a worksheet called the Page Planner—which is a pdf for you to download or print. There's also a sketch and layered template linked at the bottom of this article.
the "Being There" trip
This is the kind of travel that takes you primarily to one locale. There's limited sightseeing on this type of vacation, and it's more about enjoying place, people, and activities.
Examples of this kind of vacation include:
visiting family
staying at a lakehouse/beachhouse
going camping
the ski slopes
scrap by logical groupings rather than chronologically
I've found that while I often like to scrap the parts of a trip chronologically, with a "Being There" kind of vacation it's more efficient and makes a better presentation when approached in a different way. For these kinds of vacations, I tend to group my photos and pages by categories or logical groupings. And then there are still particular stories or moments that get their own page alongside the "category" pages.
These photos are from a visit to my parents' home in the summer. For this page I combined photos of the place in general. This gave me a chance to scrap the small details of the place–the clothesline, the silo, trampoline, and the front door in a way that combines for a more powerful whole than any of them on their own.
how to scrap using this approach
1) Pull out your photos and begin to look through them for logical groupings and for "onesies" — photos that don't really have companions and that you don't want to give their own page but that you want to include.
2) To come up with categories, ask yourself:
who were the people?
what was the locale like in general?
was there a particular spot to which we frequently returned?
what were the constants? (i.e., repeated activities that might group together well)
what were the highlights? (i.e., a story that gets its own page)
what did we do? (which activities were repeated?)
"The Best Part" presents photos of all of the people we spent time with on this trip. When I was first organizing my photos, I thought this would be right at the beginning. Now that it's complete, though, I'm thinking it would work well at the end because it really sums up why we love "being there."
3) Begin to organize your photos into the categories you're seeing. Note: there will still be moments in time — stories and incidents and outings — you'll want to give their own page. I find that I can slip these into the series where they look good or make sense.
4) Now that you've got some general groupings as well as discrete stories, use your page planner to indicate which will go onto one page and which will get two pages.
Deciding on the order of the entire series is not as important with this approach as it is with chronological scrapping. However, you still need to plan for one-pagers and find those that will look good facing one another.
This is a collection page that gathers MANY onesies that I love and that combine to give a sense of the fun we had.
This page is not a category grouping of photos but a specific activity during our visit.
Want to use these designs? Here's the page sketch and a free digital scrapbook page template.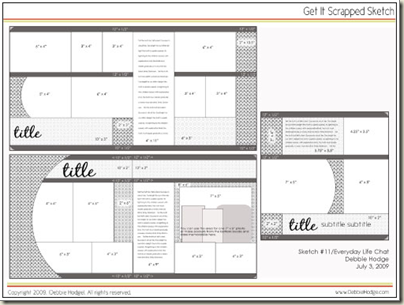 Download/Print sketch with measurements.
Download free layered template / psd files for digital scrapbooking
See also
Scrapbook page sketches and layered templates
Scrapbooking travel and vacation
Scrapbooking travel: the road trip
Scrapbooking travel: theme parks, themed destinations
Scrapbooking travel: when you're "on tour"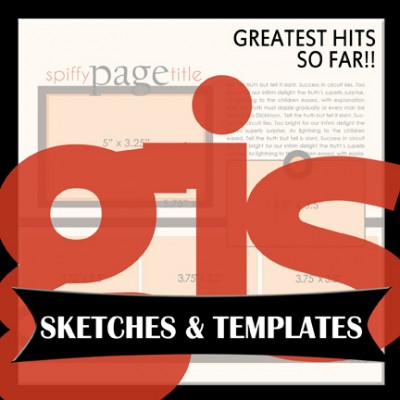 Love sketches? We've collected 30 of our most popular sketches and templates into an easy-to-reference (and hyperlinked) pdf.
The best part? It's free and  you can download it right now.