by Debbie Hodge
In Travel & Vacations, I described 5 kinds of trips/vacations. Each of these types of travel have their own "story arc" that can help you figure out what pages to include. Here I show you how to approach scrapbooking the kind of vacation that takes you "on tour."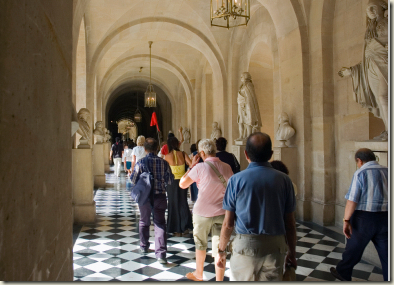 The "On Tour" travel experience is one in which many of the details are decided ahead of time–and, in fact, taken care of for you–so that you can relax as well as experience new sights and experiences.
There are many ways to go "on tour" from taking a cruise to going on guided hike and camping adventure. You might take a bus tour through Europe or go on safari in Africa.
The photos you take while on tour will include those of the sights you visit as well of those of the aspects of the tour experience (i.e., lodging, people, routines). A combination approach that mixes chronological telling of the trip with select subject pages would work well for this kind of travel.
Into Alaska is the opening/cover page for the  series from an Alaskan Cruise my husband went on with his brother. I used photos of the two of them from one of their outings. This uses sketch 4-D.
use a combination of chronological pages and subject pages
Pull out your photos and begin to group them by whether they are a part of the sights you visited (those will go in order as visited) or whether they're a part of the travel experience (these will go on subject pages).
possible subject pages
the means of transportation
the accommodations (see "Cruise to Alaska" on page 6 for an example)
the itinerary – stops
menus, room number, formal photos
the people
breathtaking sights along the road/water — views from your room, train, deck
My husband did not collect memorabilia while on his cruise, but I was able to go to the cruise line's web site and use the information and pictures there to create some artifacts of the trip. I was able to find their itinerary which I printed on notebook paper (and which I used to put the album together in chronological order). They had a great suite on the ship which they told me a bit about and I was able to find the floor plan for suites on their particular ship which I've resized to fit in a photo spot in the middle column on the right. One other picture from the website that I included on this page is a map of their voyage, also resized and placed in the photo strip at top left.
your chronology
As you are grouping your photos, take a look at the volume you have for each sight and begin using the Page Planner to slot them for pages. Decide what your chronology "units" will be. For example you could organize things by day (Day 1, Day 2, etc …)  or you could organize by stop/outing/sight, of which there might be more than one in a day.
Don't forget to tell the stories of memorable occurrences that happened along the way.
These two pages will sit opposite one another in the album. Each is from an outing during the cruise. Both are based on sketch 4-B. In "Misty Fiords" the focal photo proportions  are changed. In "Glacier" sketch 4-B was turned 90 degrees and the two narrow columns reversed.

"Ketchikan" and "Glacier" are layouts in this series from two quite different locales. "Ketchikan" is one of the wetter and warmer locales in Alaska so on the foreground, I used a darker green to accompany the environment of pine trees. For "Glacier," though, on the foreground, I used a paler green and an "icy" blue patterned paper with a snowflake motif.