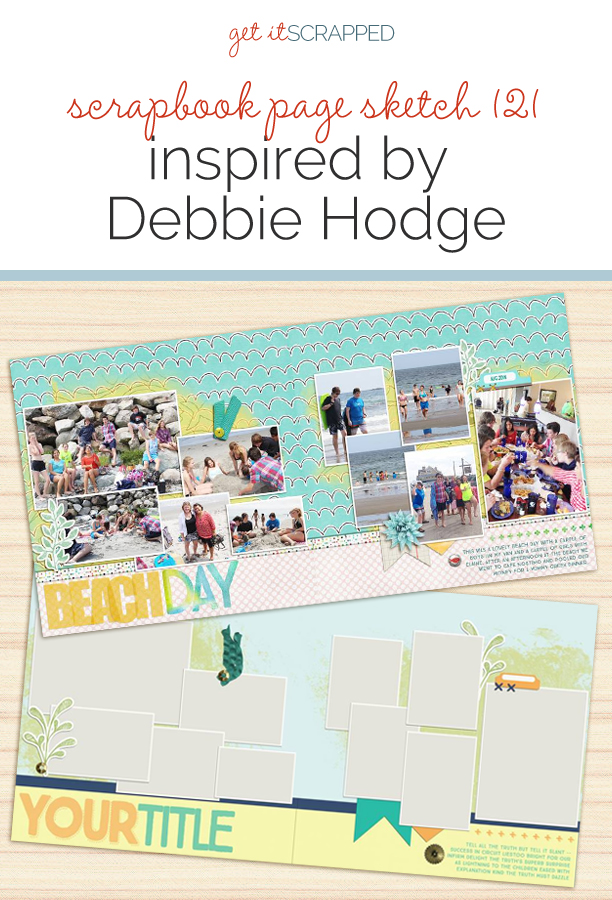 This free scrapbook page sketch comes from a page made by Debbie Hodge (inspired by Lynn Grieveson an Amber Ries) for the Scrapbook Coach: Double Wide class.
In the Get It Scrapped Membership, members have access to a library of over 150 layered templates and page sketches just like this one, searchable by # of photos and layout type.
download sketch & template.
Get over 150 more sketches and templates with a GIS membership
[hr]
More inspiration…
Looking for more examples of how you might use this sketch/template to inspire your next page? Here are a few inspired pages from our Get It Scrapped Creative Team.
Marcia Fortunato says, "I like two-page layouts with a lot of photos, so this sketch gave me a good starting point. I recently attended the St. Paul Winter Carnival and took a lot of photos of the ice and snow sculptures. The story is not elaborate, but I wanted to include many of the photos on my page."
"Although the original sketch and layout used the same papers on both pages, I only had one piece of each of my papers. So I chose two papers that coordinate and support the theme of my page. I then chose a third paper and a black strip that I used across the bottom of both papers in order to tie the two sides together."
Kelly Prang used this month's free sketch to scrapbook about her unfortunate struggle with migraines. Since this is not a subject one tends to photograph often she filled the numerous photo spots on this spread with infographics, and colorful charts and diagrams. This gave her page a bold and graphic look and reinforced her story.
Terry Billman says, "This double page layout is about Jason, my daughter's husband, calling her dad thirty minutes prior to their wedding, to ask him for his permission to marry his daughter. I was drawn to this sketch because it has both landscape and portrait orientation photos.  In order to showcase the closely cropped photos on the left, I enlarged a couple of the photos and reduced the number of photos. The soft background enhances the color photos interspersed with the black and white photos."