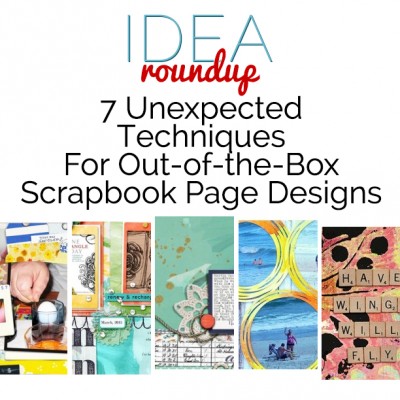 At least once a month, we share ideas for getting trendy looks or using unexpected techniques on scrapbook pages for those who enjoy being pushed in new directions. Here's a round-up of recent ideas.
[hr]
Contour lines represent elevations on a topographical map and the look is currently trendy. We've put together a pinboard of contour-line inspiration and asked our team to make pages that incorporate this wonderfully organic and representational motif. Check them out.
[hr]
Zentangle techniques are structured designs for doodlers, usually done in a single color pen on a white background. Because it's a structured approach to doodling, there are lots of formulas and lessons to pull from to making a zentangle design even if you're new to it. The GIS Creative Team used zentangles as a part of their scrapbook page designs on the pages here.
[hr]
Tension is an important element in making something beautiful, including scrapbook layout designs. Including an unexpected juxtaposition is one way to create tension. We challenged the Get It Scrapped creative team to make page with unexpected technique and product juxtapositions, and they share these layouts here.
[hr]
Something we're calling "flat geometry" is popular now in illustration, home decor, and print patterns. In "flat geometric" works, the designs are rendered with geometric shapes on flat surfaces in a way that conveys depth and dimension. Color, value, and shape all combine to create the illusion of dimension. Several of the Get It Scrapped Creative Team members recently took the challenge to create their own "flat geometric" designs in service of scrapbook page storytelling.
[hr]
Big dots are trendy. Especially big dots rendered in fun ways with a variety of mixed media supplies. The Get It Scrapped Creative Team took the challenge to make their own "big-dot" patterns here and share their scrapbooking ideas with you.
[hr]
Scrapbook page inspiration can come from many sources including both nature and art. For this piece, our team is taking inspiration from something that occurs readily in both stylized and natural forms: wing detail. What's more this motif is something that can trigger meaning both from its concrete connections (think: butterflies in flight) and from its abstract associations (think: beauty and freedom) and is, thus, a good tool for visual storytelling. Starting with an unexpected inspiration source is a way to have fun, play with technique, and push your style. See the fun our team had with this.
[hr]
Get the look of hand-crafted art with scrapbook page techniques for linocut looks. Linocut refers to a printing technique in which a design is cut from linoleum and then inked and pressed to the page. The Get It Scrapped Creative Team took inspiration from a collection of linocuts on Pinterest and then took their own routes to linocut looks.