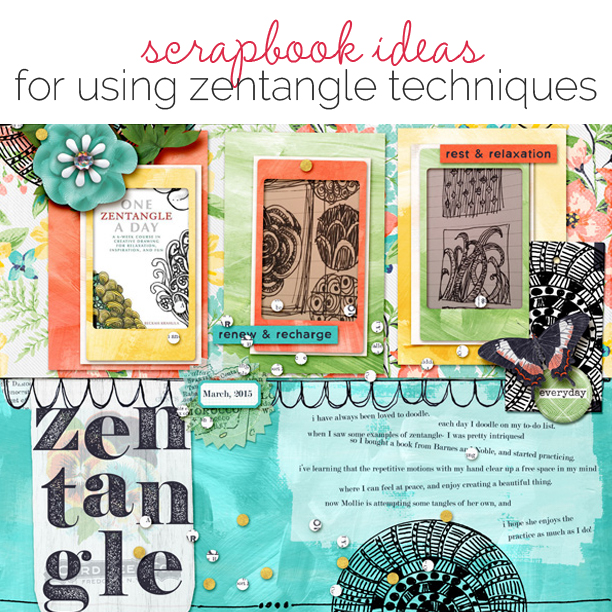 Zentangle techniques are structured designs for doodlers, usually done in a single color pen on a white background. Because it's a structured approach to doodling, there are lots of formulas and lessons to pull from to making a zentangle design even if you're new to it.
The GIS Creative Team used zentangles as a part of their scrapbook page designs on these pages.
[hr]
Michelle Houghton says, "This is a family photo from our summer trip to Leavenworth, Washington."
"I used doodles to frame the photo, border the page, and fill the ice cream cone that I drew directly on the page.  I used an Ultra Fine Sharpie marker to create all the doodles and  small repetitive patterns that I have used many times over the years.  I really enjoy the personal touch my hand-drawn doodles bring to the page. Pinterest is a great resource for doodle patterns if you are interested in creating some on a scrapbook page and do not know where to start."
[hr]
Audrey Tan says, "This page is about documenting my friends that I met in Singapore during the Easter break. I've know them for a few years now and we always try to meet up whenever I'm in Singapore. As usual, food plays a big role, and we have a great meal and natter!"
"I chose a zentangle image that was drawn by a friend of mine, Kirsty Goddard as the background for my page. Kristy has a Pinterest board of her zentangle artwork found here.
[hr]
Kelly Prang says, I have always been a doodler and am new to zentangling.  I saw mentions of it and was intrigued, then followed beginner tutorials from Clipzine.  After that, I purchased a book and started doing a tangle a day.  I used a couple images of some tangles I've made on this page along with a photo of the book cover that I'm currently using to learn to tangle.  I would encourage everyone to try this type of doodling- even as a digital scrapbooker I'm learning a bunch about practice and intentionality. My anxiety has been greatly reduced since starting this practice."
[hr]
Christy Strickler says, "I used photos of my son's encounter with a raccoon to tell the story of a particular raccoon I worked with while I was a wildlife rescue volunteer."
"I tried making my own Zentangles but found the task of creating them for an entire layout a bit daunting. I chose a digital kit with patterned paper and pre-made die cuts that had the zentangle look. These helped me fill in the extra space while keeping with a set color palette. I  added a few small elements with my own drawings to the page, namely, a zentangled border and small triangle doodles which I used like confetti around the embellishment clusters."
[hr]
Summer Christiansen says, "This layout is about brothers, the acceptance of their differences and how that has helped them to develop a close friendship and be understanding of others."
"Since I knew I was going to use zentangles for this layout I used a photo that had a fun and playful feel.   I scoured Pinterest and the web, taking bits and pieces of tutorials or art I liked and just went for it!  Here are some of my favorites: for easy zentangle patterns: thetangledpenguin.com, and tinyrottenpeanuts.com."
"For the heart element I drew "arch flower" zentangles with a pen, scanned, and pulled into Photoshop to extract.  I created a heart-shaped clipping mask and clipped it in.   The squiggle on the right I drew on my Wacom tablet in Adobe Illustrator without a real pattern–just going where it took me."
"Zentangles are pretty bold and busy and I wanted a subtle effect for my art.  To do this I used the Stamp Actions by Mommyish."
[hr]
Kiki Kougioumtzi says, "Here I'm talking about my decision to start exercising again and my reasons why. I decided to use the zentangle technique to show how I feel about my decision: complicated and relaxed at the same time, just like when drawing zentangles."
"I used this source from the GIS Zentangle Pinterest Board. I started with plain white cardstock and broad-tip black marker and then filled in with designs using a fine-tip black marker. When I finished I used it as patterned paper on my layout."