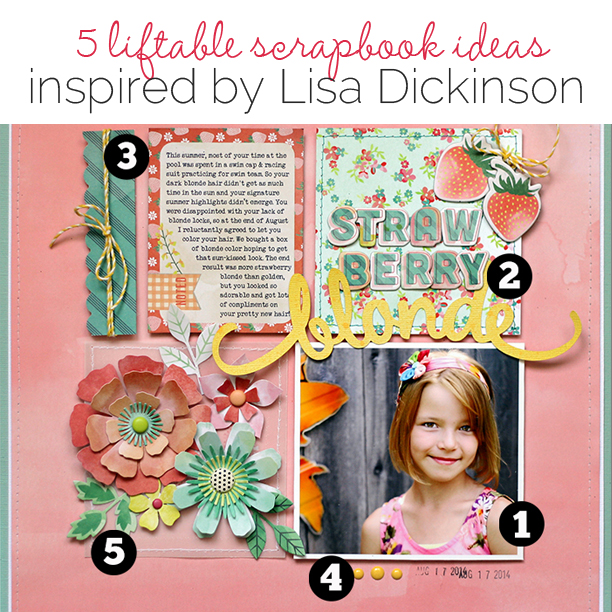 It's the accumulation of well-chosen and carefully crafted details that create a masterful scrapbook page. Check out 5 details on "Strawberry Blonde" by Lisa Dickinson and see if one or two of them can inspire your next page.
Lisa made this page as a part of her work for the Get It Scrapped membership class "Single and Pretty." She says, "This was a story that didn't require more than one photo to tell. Instead of using lots of photos, I let the words describe the details of the story, while the photo drives home the theme – that she's become a strawberry blonde. This left me plenty of room to add girly details like the flower cluster, scalloped border, script title, and twine bows. I feel like these elements reinforce the theme of the page and enhance the story more than additional photos would."
1. A two-by-two grid formula
Arrange your page elements in four blocks (two columns and two rows). Each block holds one important element: 1) photo, 2) title, 3) journaling, and 4) embellishment. (See more grid ideas.)
2. Two-part eye-catching title
Use a two-word title (adjective + noun) works well. Render each word in different ways that contrast with one another. For example: caps + lowercase, sans font + script font, or blue + yellow.
A special signature touch, Lisa often uses with her script fonts is that she puts a bend or arc in them and adds nice "tails" at each end.
3. Broken block
Break one of your four blocks into two parts to break up the regularity of your grid and add extra interest.
4. Embellish with a series.
A series is a great way to embellish. Lisa used three small enamel dots. They let her repeat the yellow from the title and add shine (be sure to see Lisa's tips on adding shine to a page). Notice the dot in the center is larger than the other two.
5. Add borders to your blocks.
Page and element edges provide opportunities for both subtle and bold embellishing. Use stitching, narrow mats or distressing to ground and add interest to selected blocks. Lisa has stitched two blocks diagonal from one another, and matted the photo block. She's also stitched and matted the entire layout.
Lisa Dickinson
is a graphic designer living in Colorado with her husband, Mike, and children, Hayden and Riely. She is the owner and creative director of Blue Star Design, a graphic design firm specializing in the marketing and advertising needs of non-profit and charity organizations.
Her scrapbook designs have been published in various magazines and she is the author of the ebook Design Workshop from Ella Publishing. She currently designs for Scrapbook & Cards Today magazine, BasicGrey, and Elle's Studio.