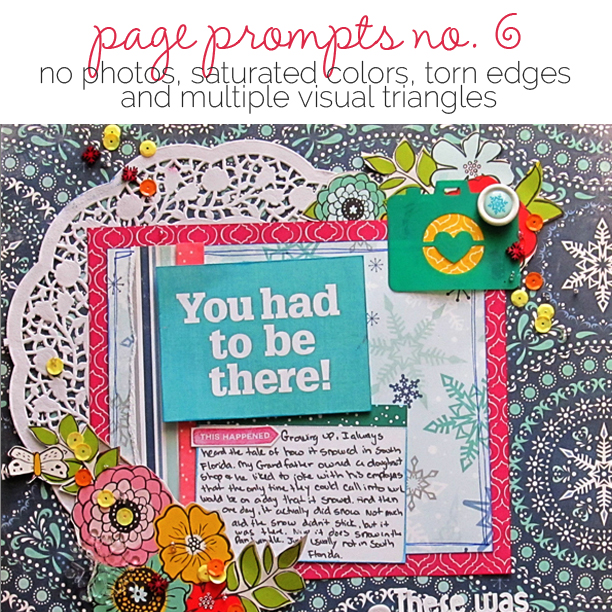 Welcome back to our Scrapbook Page Prompts Series here at Get It Scrapped in which our team makes scrapbook pages from prompts that require certain products or approaches.
Research suggests that limits can boost your creativity because they push you out of your comfort zone. Dr. Seuss wrote Green Eggs and Ham on a bet that he couldn't write a book with only 50 words.
Let's see what you create when part of your process is prescribed.
the prompts
Your page must include:
No Photo
Highly saturated colors
A torn edge
At least (3) visual triangles.
inspiration (aka, it's been done before)
the GIS Creative Team takes the challenge
Ronnie Crowley says, "My daughter was a senior in high school last year, and she wrote the poem here in her English class. At the senior showcase she told me she was reading something. This poem is what she read, and, yes, I wept. I wanted to make something special from it and I intend to get it printed for her wall."
"When working with a page without pictures I think it's important to build context for your page theme using elements. Pictures are usually the focal point for a layout so you need to replace this by creating something else to be the focal point."
Christy Strickler says, "My Grandfather owned a doughnut shop in South Florida, and he used to joke with employees that they should call in for a day off if it ever snowed. One day it did."
"There were no photos of the event, so I substituted Project Life cards and used motif to share the story."
Stefanie Semple says, "My hubby and I have a friendly rivalry between which of us has visited the most countries, I am ahead at the moment. This layout serves to remind him of that."
"I could have covered the journal with photos of my travel highlights, but instead used patterned papers and embellishments. This journal is digital, but I imagine that if it were real life it would be filled to the brim with tickets, memorabilia, and notes made. I used color to create multiple visual triangles and to move the eye through the layout so that all of the little details can be taken in and processed by the viewer."
Now it's your turn. If you take this prompted challenge, share in our gallery and/or link us up below.