by Debbie Hodge 
Tearing papers on your scrapbook pages is a way to add texture and dimension. It's a way to get a handmade, spontaneously crafted look that varies from the clean lines of scissors or punches.[twocol_one]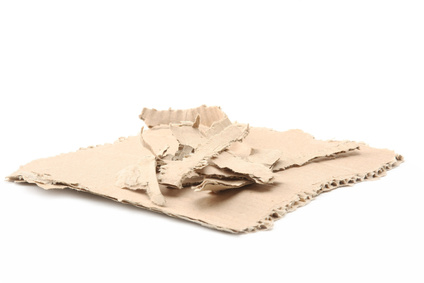 Different papers torn will yield different looking results. Thick colored papers with a white inner core will have a white torn edge, while thinner papers won't have that layered fiber edge.
[/twocol_one]
[twocol_one_last]Hesitant to start ripping it up? Tips and lots of examples (paper and digital) follow:
Tearing paper and some gocco tips from a novice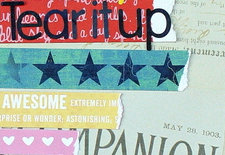 [/twocol_one_last]
 [hr]
Ashley Horton says, "While out running errands, we found these great barrels in front of the Feed Store, and snapped cute photos of the kids.  I loved the rural, farm feeling from the barrels and the red  in the photos and chose the Farm Girl collection from October Afternoon for the page. I added tearing to play up the rustic look."
"When I tear paper, I like to tear some of the paper forward and some backward to get two different edges on the tear–one edge with color and one edge revealing the white inner core.  After adhering torn papers, I like to roll and tear the edges a little more for added texture.  If you wanted to take your tearing one more step further, it's fun to add inking to the edges."
Rosann Santos-Elliott says, "My son loves to play with my photo booth app on the iphone, and I always find surprise photos like these: instant silly self portraits of him." Rosann tore a 6″ x 6″ sheet of patterned paper to mat black-and-white photo strips, revealing the white core of the paper and adding contrast to the rest of the clean lines of the design."
Rosann says, "Don't think about the tearing: just do it. The beauty of the technique is that it doesn't need to be perfect or pretty. It's torn and — random!" 
Stefanie Semple says, "These photos are from my high-school son's interhouse sports day. Running the 200 meter race, he was distracted by a gardener too close to the track, and he had to jump out of the way of the cut grass stinging his legs. The torn paper adds texture and a ragged edge that represents my son's emotions: vulnerable, feeling cheated, and raw. I love adding adding torn papers when they play up emotions like this." 
Leah Farquharson says, "After eleven years in this city, it has never felt like home. Don't get me wrong. Our family and home  are a beautiful thing in the midst of the city, but its tough when every friend you've ever made has moved away. We're in the very early stages of making plans to move on and this page reflects on how I wanted to love this place but have been unable to."
"The top heart shape is torn in half. I also tore and roughed all of the heart edges. Just to signify what I feel. I love roughing up the edges on things that I add to pages. My tip: practice on a few scraps – otherwise it's not too tough!" 
Vicki Walters says, "The torn edges going in different directions here represent indecision, sadness and stress, not knowing which way to turn, being emotionally torn.  A torn edge also adds an aged appearance to a page and if something is tucked behind the tear just peaking out slightly, it adds depth and curiosity. This page is actually from my soul because at the time I was expressing what I was feeling and putting it on paper and getting it out.  It really does help.  Adding a tear to a page draws the eye and it's perfect for getting the viewer to zone in on your point."
Katie Scott says, "Our 13.5 yr old yellow Lab Dandy could barely walk, but he perked up and surprised us by opening up a Christmas present all by himself.  (He tore the wrapping paper off by biting it). To scrapbook the moment, I tore the patterned paper border and folded over the edges. The paper strips are also torn on one edge.  I machine stitched the border down so it was more attached to the background."
Adryane Driscoll says, "I thought paper dolls would make a good topic for a page about tearing.  We used to tear, sew, paint, and pin clothing for the paper dolls we made. Then, we would create stories for them. I think shadowing is the most important thing to consider when trying to create torn layers on a digital page."
Christy Strickler says, "This is a layout about my husband and son playing the latest Aliens video game together. It was difficult to find a patterned paper to compliment the subject. I tore a matte for a gelli print, then used the scraps to make a background. It takes a little practice to get the tears going in the right direction when you use a cardstock with a colored core. Decide how much of the core you want to show through before you tear. If you want the torn paper to look more distressed, adhere it with glue or stitching, then come back in with a nail file. Use the nail file to sand away parts of the paper or to help it rip more or curl. Thinner paper is easiest to curl."
"I also ripped and distressed the photo. I used the nail file to sand the edges, allowing parts of the photo to be torn. To distress the corners of the photo, roll the edge back and forth between your fingers. It will, in some cases, eventually separate, allowing you to peel part of the photo upward."
Deborah Wagner says, "This is a photo of my sister and niece exploring the mountains around Machu Picchu. I used the tear in the paper to hold part of my title,"cramming" it into a small space and echoing the idea of the page. I used Katie Pertiet's digital "Paper Reveals" to get the torn effect, clipping my patterned papers the torn template."
Michelle Houghton says, "This page is all about my daughter's new-found success in the swimming pool. The entire background is created with strips of torn vellum which is dyed with Copic inks."
  "The torn edges of the velum add to the movement and rippling of the water background making it look like my daughter is swimming through the layout. I love adding torn elements to my pages."
Tip #1: Tear with your hands not with a straight edge, and you will end up with uneven edges that have a hand made look. If you keep your hands close together and tear slowly you will actually have very good control.
Tip #2 always pay attention to which hand is pulling up as you tear. It will make the difference of whether you'll reveal the core of the paper or not.
Kiki Kougioumtzi says, "When my daughter discovers long-forgotten older toys (here, doll clothes),  they seem like new to her. It's like Christmas morning!"
"To add to that 'Christmas-morning-opening-presents" feeling I used torn paper. I used a bright busy paper for my background. Tearing it into strips and layering exposes its white core and tones down the busyness a bit. Gesso would have toned things down, too, but tearing adds dimension and 'pockets' into which I tucked my embellishments."
 [current]