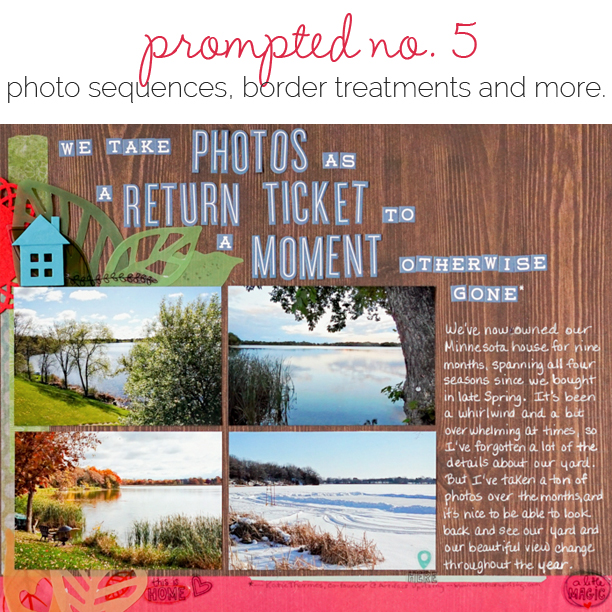 Welcome back to our monthly page prompt series here at Get It Scrapped in which our team makes scrapbook pages from prompts that require certain products or approaches.
Research suggests that limits can boost your creativity because they push you out of your comfort zone. Dr. Seuss wrote Green Eggs and Ham on a bet that he couldn't write a book with only 50 words.
Let's see what you create when part of your process is prescribed.
the prompts
Your page must include:
A photo sequence of 3 or more
A creative border treatment
A complementary color scheme
A title inspired by a famous quote or saying
inspiration (aka, it's been done before)
the GIS Creative Team takes the challenge
Marcia Fortunato says, "I've taken a lot of photos of the beautiful view from the lake home we bought last Spring, and this layout shows the changes through the four seasons."
"I chose this background paper because it already had the "painted" border along the bottom, but it also worked for the complementary color scheme requirement since there was a lot of green in the top photos. Sticking with that color scheme made choosing embellishments quick and easy since it limited my choices."
"I found the quote for my title on Pinterest. The quote was originally in an article by Katie Thurmes."
Celeste Smith says, "My son is a devil in the pool–splashing and squirting everyone and laughing maniacally.  I enjoyed using an interesting font treatment for a quote as a title to add pop to my page."
Kelly Prang says, "Here I've scrapbooked my interest in spaaaaaace missions, a launch I watched, and my memory of the Challenger tragedy."
"The quote I used as my title 'Let slip the surly bonds of earth' is from a speech by President Reagan made after the Shuttle Challenger disintegrated after 72 seconds of flight.  Each time I watched a launch after the Challenger accident, those words have been in my mind. I hold my breath, count, watch with rapt attention, and will everything to go smoothly."
"I researched a flight that I had seen the launch of, and listed the crew-members on the page, as well as some info about that mission.  For my border treatment, I wanted something to show the way that Atlantis looked like she had a tail of fire during launch. I used bold chevron strips to do this.  I used deep blue and orange as the complementary colors here after seeing the images of Atlantis docked to Mir and her bit of orange amidst the deep blue-black of near Earth orbit.  I used map paper to represent the motion and movement of the ship in orbit."
Now it's your turn. If you take this prompted challenge, share in our gallery and/or link us up below.