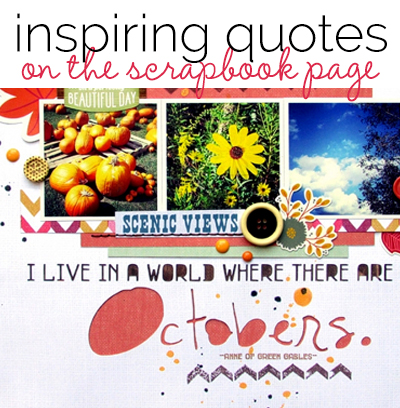 A quote or phrase or line of poetry can be a great way to find a scrapbook page title. Sometimes the quote can even double as title and journaling. Use the quote along with your photo to tell a story. Let the message influence your color and motif and styling choices.
Two great sources for sayings, quotes, and short poems to use on the page are:
Heather Awsumb scrapbooked a collection of her achievements with an inspiring phrase that she saw on a friend's Facebook profile. [hr]
Heather says, "I took a collection of photos of myself over the last few years doing things that I've pushed myself to do (run a 10k, learn to scuba, climb Kilimanjaro, etc) and paired it with an inspiring phrase. I tried Googling the phrase to find an author, but it's uncredited. A friend has this phrase as her Facebook profile picture. When I saw it I knew that I had to use it for a scrapbook page. These are all photos that I've scrapped previously, so I went big with the words and used smaller photos than normal. "
Marie Pierre Capistran scrapbooked a photo of a really important and emotional change in her life with a quote about believing in wonderful possibilities.
Marie says, "This page is about the day we left Switzerland and came to the USA. I had been wishing for this day for about 10 years, but, still, it was very emotional and awkward.
 
The quote, Always believe that something wonderful is about to happen, was 100% fitting and made a perfect title for my page. It was not enough to tell the whole story so I added enough journaling to explain the emotions and the situation of that day. I cut out the words of the quote with my Silhouette Cameo. I highlighted some words by using another font and I stitched over the words to pull them all together."  
Anja de Dobbelaere made and art journaling page with a quote to reflect current feelings about a life change.
Anja says, "I was going through my Pinterest boards and found this quote that appealed to me because I've recently made a big change at work (I handed in my resignation). The quote really applies to my feelings about this change. I just started building up the page, layer after layer. I used what I thought could express the feelings I have: feathers for lightness, butterflies that fly away. I tried to create a mood on this page that matched with my feelings. To others it may not seem so obvious, but that is why art journaling is so personal."  
Marcia Fortunato used a Dr Suess quote with photos of her sons through the years to tell the story of how it feels to be moving into the "empty nest" phase of her life with them.
Marcia says, "This layout takes me down memory lane with my sons, showing the four of them from my youngest son's birth through the oldest going off to college. I often experience melancholy along with nostalgia when I look at these photos, because I really miss having my sons around me and do not always like having an empty nest. When I saw this quote by Dr. Suess on Pinterest, I knew that I needed to pair it with these photos as a reminder to focus on the positive and be thankful for the time I did have with them growing up."
Terry Billman titled this sports page with one of the sayings from a famous coach that she knows local coaches often use.
Terry says, "Sports has been a part of my life forever! I am married to a coach. All of our children played sports and now the nephews are playing sports. As head coach for the UCLA basketball team, John Wooden won ten NCAA national championships in a twelve year period. He is known for his simple inspirational messages to his players. These "Woodisms" were often used when our youngest son played football and are still being used by the coach of Jayden's seventh grade football team.  I recently read Wooden's book They Call Me Coach and was reminded of this quote when Jayden started football this season."
Andrea started with a quote from those she'd collected and then found a photo to go with it.
Andrea says, "Because I had already collected favorite quotes, I knew which one I wanted to use. Then I needed the perfect photo. The sunset for me is inspiration and light. To finish it off I used fall themed embellishments."
Ashley Horton used a quote from a favorite book, Anne of Green Gables, along with fall photos.
Ashley says, "October is my favorite month of the year, and I love taking photos on beautiful fall days.  I knew I had to use this Anne of Green Gables quote as my inspiration because I love the book series and October. The two were a perfect match for these photos.  I wanted the quote to be just as much of a focus as my photos, so I used my Silhouette Cameo to cut the title in two different fonts on a large scale on my layout.  I incorporated the quote as part of my design and used it above and below my photo strip.  I paired the quote, with the Autumn Crisp line from American Crafts, to reinforce the meaning behind the quote and to work with the fall theme of my page."
 Debbie Hodge wanted to showcase a portrait on a page and, without journaling or a title, she turned to her Pinterest board of sayings.
Debbie says, "This simple poem by Rumi was perfect for accompanying a photo of my son with his girlfriend, both as a message today and in the future to him. I've always wanted my boys to spend time with people who are kind and who make their life good. I used three different chalkboard alphas by Katie Pertiet for rendering the poem, beginning it above the photo and continuing below."
Deborah Wagner used a poem as the journaling on a page about her adopted dog.
Deborah says, "A rescue puppy became part of our family last month. She has brought us so much joy. The journaling is a passage/story from the organization where we adopted her, and it's called "I Rescued A Human." It touched my heart, and I wanted to remember it. Read the full piece here."