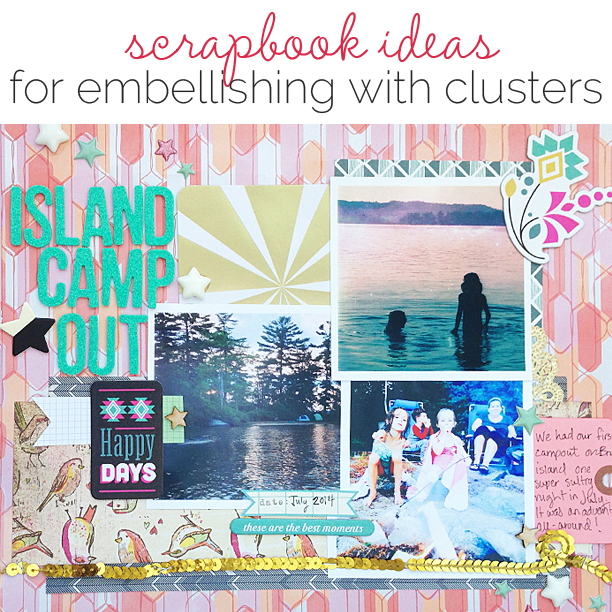 Adding scrapbook page embellishment with clusters lets you play with product, incorporate meaningful images, and adds visual repetitions that guide the eye around the page.
Our team shows you their favorite ways to add embellishment clusters to the scrapbook page.
See our past articles on embellishment clusters, too:
[hr]
Judean Patten-Clark says, "My husband and  I took our three kids for an overnight campout on an island not far from the lake house where we summer in NH. It was our first camping trip via canoe, and although we weren't far from home, there were no bathrooms or running water, so it was a pretty big adventure for all of us! To top it off, the temperatures soared that night, and the island protected us from any breeze, so it was an extremely still and sultry evening to be sleeping under the stars."
"I embellished by clustering the stars in a "sprinkle" path that leads the eye across the page. I used a variety of stars made of different materials (glitter, resin, wood and puffy stickers) to add interest and to bring attention down from the title, to the photographs and finally the journaling. In addition, I added embellishments following the rule of threes: there are 3 chipboard elements, 3 gold elements, and 3 spots that incorporate the color black. This keeps the eye moving around the page, ensuring that the viewer takes in all the details."
[hr]
Karen Poirier-Brode says, "The story of this page is our meeting the great-grandson for the first time and my husband's emotion captured in this photo. I used a sketch from a paper layout by Nic Howard. Nic is a master of layers and clusters. I departed greatly from her delicate and refined style to include all the patterns and color I find fun."
"Repetition with variety was a key point I had in mind as I made my three clusters as follows:"
At the bottom is a simple cluster of journal card and two staples.
A large cluster of multiple elements on the right is linked to the first cluster by a layer of stitched hearts topped by a banner of bows and die-cut hearts. The leafy branch and the color red unify the clusters and all clusters have a base for the elements gathered on top.
The small cluster mid top is anchored on washi tape, the staples attach to the decorated journal card base, and paint and a round paper die-cut provide a foundation for the largest cluster.
[hr]
Kiki Kougioumtzi says, "On this layout I talk (with hidden journaling on the back) about my daughter's personality, of what a positive and popular person she is."
"I made a sprinkling of feathers and gems to represent the sparkle she leaves behind her.I varied the colors, sizes, and shapes of feathers and gems and placed them on the diagonal."
[hr]
Deborah Wagner says, "A friend of mine asked me to scrapbook this adorable photo of her daughter. I embellished with a sprinkle cluster and a layered cluster. The sprinkle cluster draws your eye into the page, and to the photo. The layered cluster grounds the framed photo, and gives the page depth. To make my layered cluster, I used  a combination of brushes, stitching, and washi tape for the foundation, then added layers of different heights, thicknesses, and texture."
[hr]
Sue Althouse, "This page is about holding our granddaughter for the first time, and the memories it triggered. I finished the layout with a visual triangle of embellishment clusters. Each one is a different size and created by layering and stacking. The variety of colors and repetition of shapes keeps the clusters interesting, yet ties them all together."
[hr]
Stefanie Semple, "My hubby and I enjoyed a lunch date, our excuse to the kids was that we were going to see a man about a horse. I was delighted to actually see a horse as we walked around the wonderful lunch venue."
"I love adding a pocket filled with little bits and bobs onto my digital pages–something I would never do on my paper layouts. Floral sprigs, a ticket and a dated card all add a charm and dimensional details without drawing attention away from my photos and story. I clipped papers to the pocket template that was already beautifully shadowed and typed my journaling onto the front of the pocket, giving the clustered pocket purpose."
[hr]
Gretchen Henninger says, "This layout is about my husband and me starting on a new project together."
"I began each my embellishment clusters with similar foundational pieces: doilies. I added similar elements to each cluster for uniformity, but varied the size, color, or number for added interest."
Debbie Hodge says, "River Ski features two photos from a recent solo outing cross-country skiing that required me to cross the frozen river. I was alone and just have two shots: one of my skis in front of me and one of graffiti under a railroad bridge."
"I added a triangle of embellishment clusters here and used my standard approach of combining meaningful motifs with meaning-neutral items. The snowflakes and veneer cloud with sun speak to the weather. The buttons and brads don't have meaning but let me add repetitions of color and shine to each cluster. Each cluster has a foundational pieces: in two of the clusters cut-out snowflakes are the foundations, while in the third, a narrow label is the starter."