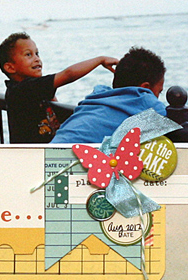 by Debbie Hodge
Making embellishment clusters is a great way to have fun with product, incorporate meaningful images, add repetitions and interest to the page and draw the viewer's eye to the focal point.
For some of us, clustering comes easily while others of us struggle with deciding just what to put into the cluster and how to do it. Looking at how others do it is a great source of inspiration and models for making your own.
Leah Farquharson says, "I love using clusters of embellishments to draw the eye of my viewer around my pages. Each group of embellishments pulls you along to different spot on the page – in this example, one group of embellishments draws you to the title, one draws you to the journaling, the date of the event is tucked under one, and the final cluster draws your eye to my photo."
Doris Sander says, "The confetti look is very popular in scrapbooking right now, but it can be somewhat intimidating to scrapbookers who like more organized pages.  I created a confetti look on this page with My Mind's Eye Enamel Dots.  Instead of scattering them randomly the way confetti would fall, I placed them carefully in areas where I had already begun creating embellishment clusters with tags, tabs, and buttons.  This way the confetti serves to highlight my photos and thoughts."
Audrey Tan says, "I clustered 3 elements on each photo amidst an artsy background. I blended a Chinese paper in the background as I was in Shanghai when this photo was taken. I've not seen my best friend for years and it was good to see her again. Moreover, she recently had a baby so I got to meet him too. And in our typical culture, meeting with friends always end up with good food too! Hence the pictures of food in the background! Good friends and food! What more can you ask for!"
Amber Ries says, "My mother came to visit for one week when her grandson was about four months old. These pictures were taken at the breakfast table on the day she had to fly back home (she wouldn't see us again for a good five months)."
The title is a part of a layered cluster drawing the eye to Amber's focal point: images of her mom and son. The cup is a nod to the breakfast table setting and the flowers are just fun. The looped string adds movement to the page and the black flower epoxy grounds it to the page.
Kim Watson says, "Being a Mom to a tween was nerve racking.  I was dreading the 'Chats about life' that I knew were to come.  I am relieved to say when they did happen our discussions went better than I expected." The page is embellished with three clusters, each including flowers. At top left the cluster is made of stitched circles and flowers topped with button and burst stitching. Next to it, is a cluster that incorporates the title and at the bottom is a cluster of flower fussy-cut from patterned paper.
Tiffany Tillman says, "When my son was born all eyes were on his feet. His father's shoe size is gigantic and we assume my son will inherit his large stature. However my son's foot is quite petite — he's a little guy overall. But so was his father when he was born. The only solution to the riddle is to wait for my son to grow up but I can't help pondering how something so petite, soft and small will grow into something so "ginormous."
Tiffany used the currently trendy feathers to make a "nest" for the photos of her son. Each photo is topped with a row of pennants, and, in the center, is a cluster with a brushstroke base, the title, and a pretty birdie and flower.
Betsy Sammarco says, "This layout is a collection of three photos from my niece's 5th birthday.  I just love her doily-designed top, and it served as my inspiration for the layout design and embellishments. I made 5 candles to serve as embellishments by painting a piece of chipboard with gesso.  I placed a large stencil on the chipboard and painted over that with the texture effect paint.  I gently removed the stencil and I was left with the textured stencil shape.  When dry, I cut the chipboard into 5 rectangle candle shapes. The unexpected part?  The beautiful vellum butterflies represent the candle flames!"
[current]