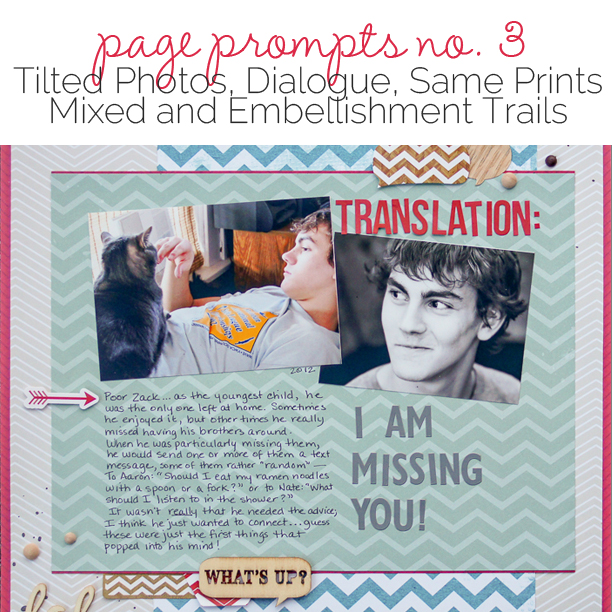 Welcome back to our monthly page prompt series here at Get It Scrapped, in which our team makes scrapbook pages from prompts that require certain products or approaches.
Research suggests that we often take the path of least resistance when creating, working with ideas we're comfortable with. Starting, instead, with prescribed processes or supplies gets you trying new things and finding out what original creations emerge.
Want to try it? Here is a set of scrapbook page prompts for you.
the prompts
Your page must include:
(2) tilted photos
(3) different pattern papers featuring the same print in different size/color variations
(1) embellishment sprinkle or trail
Journaling that includes dialogue
inspiration (aka, it's been done before)
These Get It Scrapped articles show you how others have used individual ingredients from the prompts on scrapbook pages. Of course, you'll be going farther with all 4 ingredients.
the GIS Creative Team takes the challenge
Ronnie Crowley says, "I don't know about you, but I'm forever talking to my puppy as if she can talk back. It seemed about time to give her a voice in my scrapbook."
"The trail of paw prints here came from the prompts and they draw the eye from the large focal point photo down to the smaller pictures and journaling."
[hr]
Marcia Fortunato says, "My sons were homeschooled, so when my youngest was the only one still at home and he was missing his brothers, he would send them text messages – even if he didn't really have anything to say. These photos were taken around this time and pair nicely with some of the comical messages he sent in his desperate attempt to connect."
"I don't often tilt photos on my layouts, but the tilts in the prompts here worked here to symbolize the emotional ups and downs my son was feeling at this time. Keeping everything else on the page as straight as possible counteracts the tilts and gives the layout stability."
[hr]
Stefanie Semple says, "My daughter and I walked into Woolworth's store, and her eyes gleamed as she saw her dream Christmas present. This layout documents our subsequent conversation."
"The gold tone-on-tone colors and touches of glitter set the scene for a festive layout, while the tilted photos and layered papers add to the idea of layers of conversation."
[hr]
Devra Hunt says, "My Grandmother and son are enjoying some time together playing a game of 'Tickle. Tickle' in these photos."
"When I think of my Grandma and my children, I think of the circle of life, which is why I chose polka dotted paper. I used the design advice of having a stable straight line to anchor the tilted photos. I also mixed the size and color of the pattern paper motifs. The dialogue was the most challenging part of the prompt for me. I had to find photos to which I could attach dialogue. The layout design is inspired by Corrie Jones layout in Product Play eBook from the Get It Scrapped Membership."
[hr]
Summer Christiansen says, "This page is about my daughter having an awesome first grade teacher who wanted to keep her again in class the next year."
"I think any time you do a prompted page, it allows you to grow and learn. This prompt really helped me combine patterned papers, use tilted photos, and add dialogue.  These are three things I would never put together, but yielded a look I absolutely love.  Adding a contrasting color as background,  grounded this layout and made it work. I tried white paper and lighter colors but because I already had a light photo as my focal point and elements and papers with white, it didn't work."
Now it's your turn. If you take this prompted challenge, share in our gallery and/or link us up below.