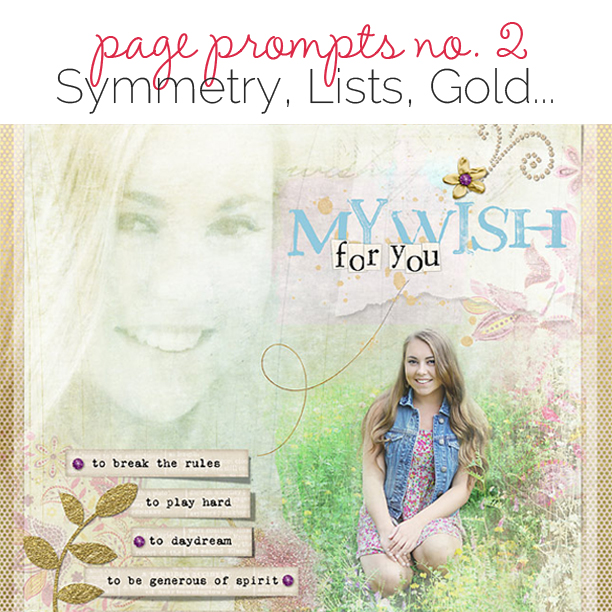 Welcome back to our monthly scrapbook page prompts series here at Get It Scrapped in which our team makes scrapbook pages from prompts that require certain products or approaches.
Research suggests that limits can boost your creativity because they push you out of your comfort zone. Dr. Seuss wrote Green Eggs and Ham on a bet that he couldn't write a book with only 50 words.
Let's see what you create when part of your process is prescribed.
the prompts
Your page must include:
Mix  B+W and color photos on your page.
Render your journaling as a list.
Use the color gold in at least three different places on your page.
Use symmetry in your page's design.
inspiration (aka, it's been done before)
These Get It Scrapped articles show you how others have used individual ingredients from the prompts on scrapbook pages. Of course, you'll be going farther with all 4 ingredients.
the GIS Creative Team takes the challenge
Sian Fair says, "This page is about how my attitude about learning has changed as I've gotten older."
"One interesting thing about working with this prompt: if I hadn't been asked to mix black and white photos with color photos, I probably wouldn't have included the picture of me in my school uniform, and then I wouldn't have come up with the idea of putting the colored flowers underneath the black and white photo and vice versa."
Stefanie Semple says, "I love watching my daughter do her homework, she is so hardworking and diligent: a pleasure after her two brothers."
"The pairing of the black and white photo with the color photo, adds wonderful contrast, even though the layout has vertical and horizontal symmetry."
Marcia Fortunato says, "As part of a year-long project, this layout gives a snapshot of the lives of my family members on one day in October."
"Working with the recipe prompted me to do a few things differently on this page than I may have originally, but I like the results. For instance, I had two photos with very little color and one photo in which the color was off. Making those three into black-and-white photos controlled some of the chaos of the layout. Journaling with a list was easy in this case: each of my family members sent his/her photo in a text message, so for my journaling I simply used the message sent with each of the photos."
Deborah Wagner says, "This page is for our dear friend's daughter who graduates this year. The page took me out of my comfort zone because I am usually a one-photo scrapbooker, and most of my designs are asymmetrical. The journaling as a list prompted me to give concise but heartfelt advice, as if I were speaking to my own daughter."
Now it's your turn. If you take this prompted challenge, share in our gallery and/or link us up below.