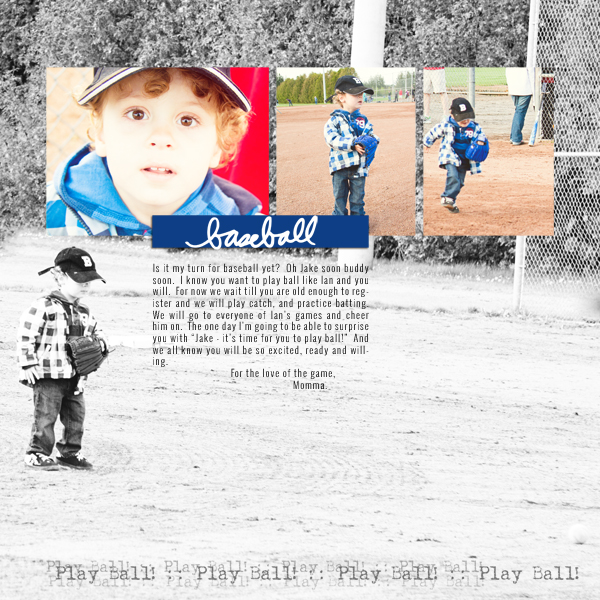 by Debbie Hodge
Edit and crop your photos to make sure they look great, emphasize what's important, and support the story of your scrapbook page.
We recently wrote about 5 reasons to use black-and-white photos, and here we're sharing ideas and reasons for combining color and black-and-white photos.
Black-and-white conversion tutorials for Photoshop
1. Add variety to a collection of portraits
When you take the time to get posed shots, you want to make the most of the good ones — which means your challenge is to get variety while scrapbooking multiple similar photos. Mixing color with black-and-white is a great way to succeed with this challenge.
Sue Althouse
 says, "This page is about snatching my husband's camera to get a few pictures of him. I wanted the page to be more about my husband and less about the fall setting, so I used the black and white close-up as the focal point and neutral colors for my title and journaling. The supporting pictures and embellishment clusters form a visual triangle and add pops of color to a mostly neutral layout."
Debbie Hodge says, "I always loves photos of me with my sons. I wanted to include both of these because I feel like the two shots together reveal more about our relationship than just one would — it's us 'in action' rather than static."
"To get variety while using these two very similar photos, I sized one larger and converted it to black-and-white. I use Totally RadLab actions to all of my photo-editing."
2. Emphasize one photo over several others
When you've got several shots and want one to stand out, contrast is your friend. You can get that contrast through size, matting, content, and — you guessed it — photo editing. You can emphasize one black-and-white alongside several color shots — or the reverse. Amy found that the colors in the products she used were a great tool for pushing that emphasis.
Amy Kingsford
 says, "This page records my son's daring ride down a giant hill climb as well as his fearless nature.  I combined color and black-and-white photos to establish a strong focal point with the one color photo. I also love the way the color photo complemented my color scheme. The colors are right on with my patterned papers which adds to that photo's 'pop.'"
"For basic black and white photos I use the 'Convert to Black and White' feature in Photoshop, and then I bump up the photo's 'Contrast and Brightness' to my liking."   
3. Make a photo backdrop for color photos
There's nothing like an enlarged photo for impact. Using a combo of color with black-and-white means there's enough contrast for one photo to be a backdrop for the others.
Tara McKernin
 says, "This is a layout about my youngest son's love for the game of baseball–and his wishes to try out for the team, himself. I used a black-and-white photo as a background for my layout. I like that I have the bigger picture displayed in a neutral way.  It shares another part of the story while allowing the other photos (in color) to stand out. I processed all my images, color and black-and-white using
Totally RadLab actions
."
Terry Billman says, "This layout is about my granddaughter Brenna noticing a patch of flowers and carefully picking the one bright flower that caught her attention."
"I used a large black-and-white photo in the background to show her facial expression and layered a  focal photo in color of her picking the one bright flower over it.  I usually convert my photos to black-and-white in oPhoto and then fine tune them in Photoshop, adjusting the levels, brightness, and contrast. I converted this particular photo to a sketch after converting the photo to black-and-white."
4. Simplify a complex story (and busy photos)
Kiki Kougioumtzi says, "This layout is about my daughter's ballet lessons, from the many exercising hours to the end-of-season show. Her teacher tells her frequently that 'practice makes perfect.'"
"I wanted to records all the effort she makes throughout the year which means using many different photos, in different environments, with different lighting and different clothes. Thus, I mixed colored and black-and-white photos."
"The main photo is enlarged and in color. Next to it is a secondary photo (also in color). The rest of the photos are mixed, keeping the colored ones near my focal point. To convert my colored photos to black-and-white I used Photoshop Elements. It has an option to turn them black-and-white, and then I adjusted the brightness/contrast and shadows/highlights."
Christy Strickler says, "The kids were playing in the yard with the water hose and umbrellas. I wanted to highlight each of the kids individually, separate from all of the action. I chose one photo of each child and converted it to black-and-white using Photoshop Elements–but then used selective coloring to add the blue back in.
"When I arranged the photos on the canvas, I placed the full-color shots in the center. The black and white photos bracket the action of the group shots."
5. Support theme
Vicki Walters used four copies of the same photo, one in color, one in sepia tones, and two in black-and-white but with different contrast levels. This collection of photos represents moving out of winter to the warm summer time.
"To convert the photo to black-and-white, I desaturated it and tweaked it a little with the black-white adjustment."
6. Mix old photos with more recent photos
When older black-and-white photos are combined with newer color photos, the viewer immediately makes time associations.  
Debbie Hodge used a black-and-white photo of her dad from the 1940s along with more recent color photos to tell a story that spanned more than 60 years. It works because it makes sense.
[current]