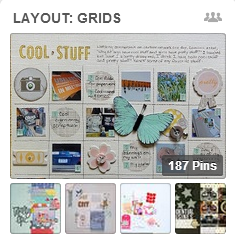 See the Grid Layout Pins on the Get It Scrapped Pinterest Boards for scrapbooking ideas you can use on your own layout designs.
why grids?
A grid structure is a solid layout starter, with a stable foundation that offers eye-catching options for organizing all the pieces of a scrapbook page: the words, papers, embellishments and photos that tell your stories.
go deeper.
These Get It Scrapped articles and resources show you exactly how you can use grid designs as inspiration in your own scrapbook pages:
see it done.
Sue Althouse chose a pin of this layout by Doris Sander with an inspiring grid-on-grid design to aid her in making the page you see below.
Sue says, "The Get It Scrapped Layout: Grids Pinboard provides me with endless ideas for layout foundations and an effective means of organizing page elements. You just can't go wrong with a grid!"
"For my layout about the historical costumes at Greenfield Village, I stuck with the same 4-square patterned paper grid as the foundation, but then layered more photos in a different configuration over top."
your turn.
Pick an image that speaks to you from the Get It Scrapped Layout: Grids Pinboard, use the links and inspiration above as examples, and put the pin to work in your very own scrapbook page.

Sue Althouse
Sue lives in central Ohio with her husband of 30+ years and two spoiled cats. Together they have a son who is married and one adorable granddaughter. Sue recently retired from a 25-year career operating her own independent piano studio. Now, besides scrapping, her interests include reading, knitting and rooting for her beloved Ohio State Buckeyes or Detroit Tigers. And spoiling the adorable granddaughter.
Sue started scrapbooking in 1999 after taking a trip to Israel and Egypt and coming home with a plethora of pictures and memories. She is currently on the creative team at Write.Click.Scrapbook and teaches at Creative Passion Classes. She has been published in Scrapbook Trends and Scrapbook and Cards Today.