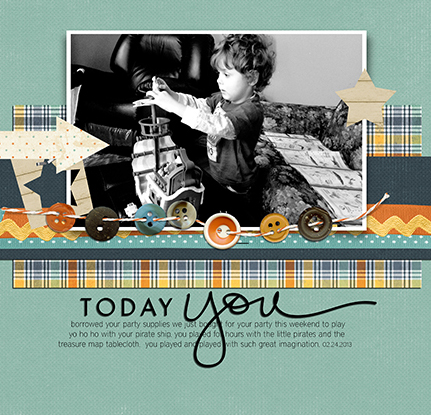 by Debbie Hodge
There are several layout configurations of combined elements that scrapbookers use again and again when making scrapbook pages (for example, blocked, clustered, and shaped). These foundations are used again and again because they work well for housing the most frequently encountered combinations of elements (1 to 5 photos with title and journaling) and they consistently yield well-designed pages.
The "shelf" is one of these foundations. Using a horizontal "shelf" (of paper strips or ribbon or even a series of elements) provides a base to build up from and it simplifies the scrapbooking process because it gives you a starting place — and a direction.
 Amy Kingsford says, "My go-to composition is the 'shelf.' It uses horizontal borders to build a strong base for showcasing photos and other key elements. The shelf doesn't span the full width of the page like a band foundation often does. I like the shelf because it automatically makes my photo the center of attention. I also like that it allows me to group key elements together in a way that connects them and creates a sense of unity."
I usually float my shelf to one side of the page or the other creating an asymmetrical design, but, every once in a while, I'll place my shelf smack dab in the middle of the page. I often start by selecting one large landscape photo or a few square or vertical photos that I can group together. I choose a couple of eye-catching borders to layer together or sometimes even just bits and pieces that I can combine to create a strong visual barrier, and I layer them across my page. I use this barrier to underscore my photos and other key elements.
Leah Farquharson says, "This page is about myself and my husband. I'm grateful for him every day. I created a shelf using washi tape and then layered journaling cards and elements as a mat for my photo. I think it was a great fit for this page because it gave me the opportunity to really showcase my photo and journaling in several spots!"
Tara McKernin "This layout shows Jake engrossed in playing with his pirates. He played for hours on end. I like simple layouts, often with a single photo focus.  Here I created a shelf by layering papers, ribbons, and buttons.  I feel like it was a great way to anchor the layout."
Katie Scott says, "My daughter found the bucket of Halloween candy on top of the fridge and climbed up onto the counter to get it. I did this same bit when I was a kid. I used the shelf to arrange the 2 portrait photos and to layer up lots of stripes and embellishments. This was fun since there was candy overload so it felt right to have embellishment overload too."
Amy Kingsford says, "This page is about my nephew's first football game last season.  Here I've used a centered shelf made up of several horizontal borders and trims to showcase my photo, title and journaling.  I added a few embellishments to my shelf  to break up the linear feel a bit and threw a semi-transparent strip in there to add a bot more depth.  I like the resulting white space that this composition leaves–giving the page a clean and masculine look."
Kiki Kougioumtzi says, "When our dog was a little puppy, he loved to sleep on my slippers and I felt sorry to take them back. I used the shelf attached to one edge of the page. It gives me a strong base for the photos and my decorative cluster: just a like a place to sit and relax."
Deborah Wagner says, "This is a photo of my nephews playing in the ocean many years ago. I love scrapping old photos! I blended the focal photo into an ocean scene paper. Then I created a shelf with paper strips, lace, and a banner for my smaller photo."
Brenda Becknell says, "At 3-1/2 years old, my granddaughter is just starting to get into playing board games, and Grandpa is one of her favorite playmates. The two horizontal photos were a good fit for a shelf composition.  I started with the widest piece of yellow patterned paper, then added a slightly narrower circle print piece, a narrower piece of red print with the ends snipped into banner v's, and then added a punched border piece underneath all the layers.  I stitched through two of the strips with an unthreaded sewing machine, just to get the texture without any thread.  The shelf composition was echoed with the smaller strips at the top right corner of the page."
Adriana Puckett says, "'Checkmate' features photos of my daughters playing with a huge chess board during a trip to a local winery. The shelf composition was a great match for the page because it allowed the photos to be supported and emphasized at the same time."
Adryane Driscoll says, "I thought a shelf composition lent itself to a page about sewing because of the ease of finding elements to layer to create the shelf.  I used ribbon, lace, a measuring tape, stitching and sewing pins."
Amy Kingsford says, "This page is about my recent experience of starting a journal, with the journaling coming from my first journal entry.  I used a double shelf–one to showcase the photo and a second to underscore my journaling which is just as important (if not more).  For both shelves I've used layered horizontal pieces that create a visual surface for my photo and other key components to rest on."
[current]