This is the eleventh installment of: "Keep a 5 year Journal." At midmonth, Tami shares her progress and the list of questions for the upcoming month. Click here to see all 12 months.
by Tami Taylor
You did amazing!  You should be so proud of yourself for starting and keeping on this journey.  In years to come you'll love looking back at these cards and seeing what your life was like over a period of years, how your taste in books evolved, how your thoughts on a particular week of the year were always the same. I hope that you've enjoyed this year preparing and starting a 5-year journal.  I also hope you keep it going over the next few years, the hard part is already done!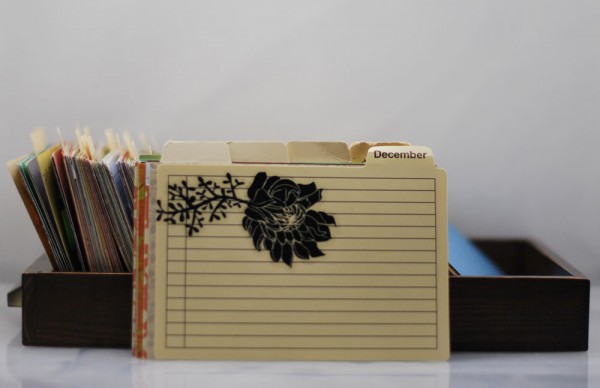 All of the questions are now available and I will check in with you from time to time in 2013.  Can you believe it's going to be 2013 in a matter of weeks? Oy Vey!
Did you know we went 'viral' on Pinterest?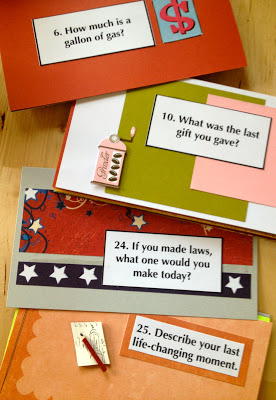 I've watched the 5 yr journal questions pop up on my pinterest here and there, it was really kind of thrilling.  I am geeky like that, I squealed the first time I saw it.  I mean being 'pinned' means you've arrived to some extent, right?  I also squeal when I am in Masterful Scrapbook Design each month or when one of my articles is posted.  (I guess a part of me can't believe how lucky I am to have this creative outlet.)
When I saw this blog post I really smiled from ear to ear, then I got an email from the blog owner with a "Hey I'm doing it too!!"
Victoria Fogle of Scraps and Straps saw the questions on Pinterest and jumped into the project.  She even has a pretty cool box to case her cards in and her cards… oh her cards are beautiful and bright.
I recommend checking out the whole post over on her blog and leaving her a little love and encouragement. And don't forget to read below if you're keeping a journal too!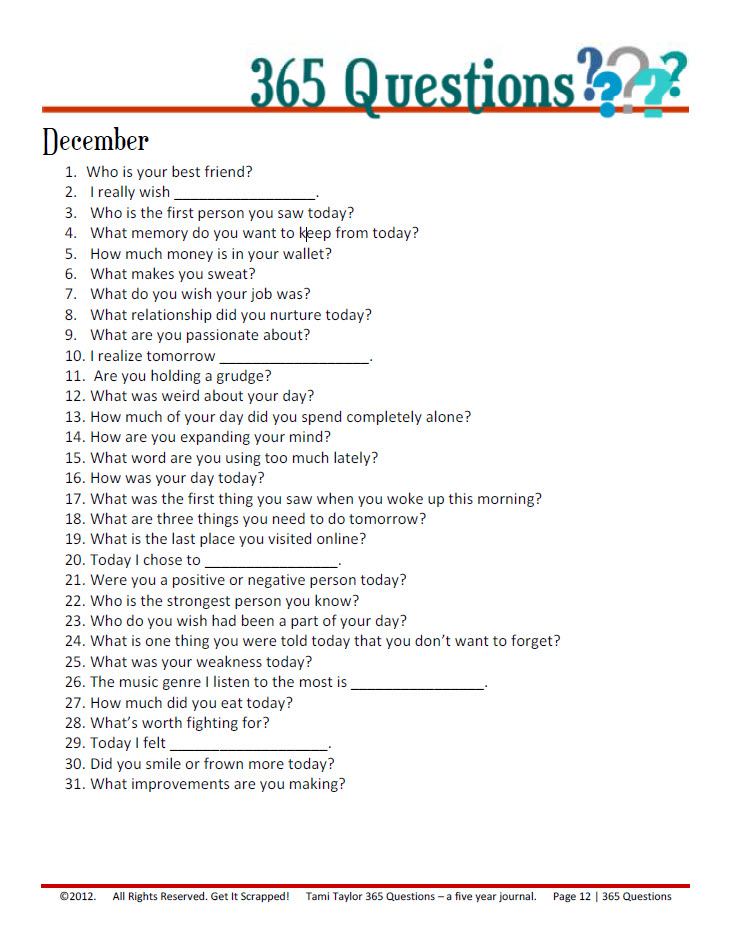 365 Questions – November can be found here
365 Questions – October can be found here
365 Questions – September can be found here
365 Questions – August can be found here
365 Questions – July can be found here
365 Questions – June can be found here
365 Questions – May can be found here
365 Questions – April can be found here
365 Questions – March can be found here
365 Questions for January & February can be found here
If you decide to keep a five year journal, or are already keeping one and would like to be featured in an upcoming month, please 
contact me
.  I'd love to share what everyone is doing.
Tami Taylor writes for Get It Scrapped!, teaches at Masterful Scrapbook Design and previously owned Creative Passion Classes.com. To learn more about Tami check out her blog, The Taylor Life.