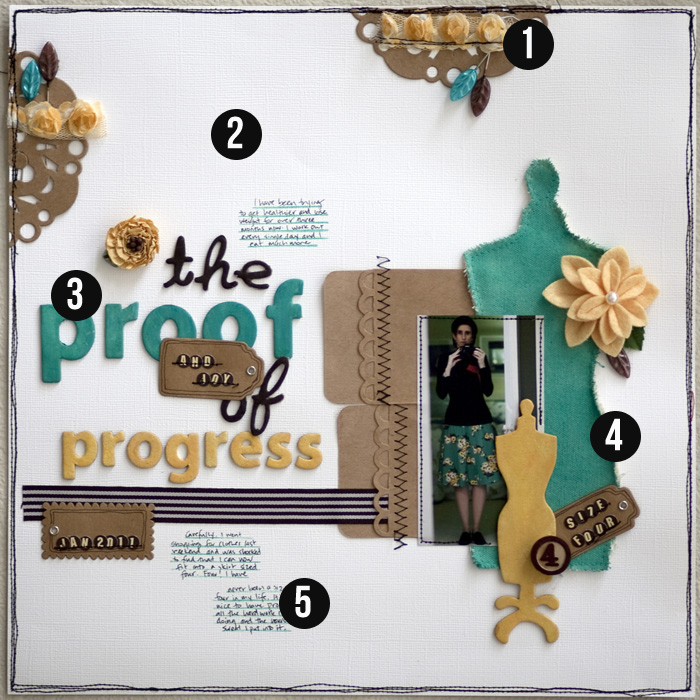 It's the accumulation of well-chosen and carefully crafted details that create a masterful scrapbook page. Check out 5 details on "The Proof and the Joy of Progress" by Karen Grunberg and see if one or two of them can inspire your next page.
Karen says, "I have been trying to act healthier and lose weight for over three months now. I work out every single day, and I eat much more carefully. I went shopping for clothes last weekend and was shocked to find that I can now fit into a skirt sized four. Four! I have never been a size four in my life. It's so nice to have proof of all the hard work I've been doing and the hours of sweat I put into it."
1. Cut a doily in half and bleed off two edges of the canvas.
Karen cut a doily of kraft paper in half and bled it off the top and left edges of the canvas. Each is topped with embellishments that add repetitions with variety. Notice also that each of those doily pieces is the foundation for a cluster and the page is built with multiple clusters.
2. Use complementary colors with neutrals.
Karen used blue and yellow embellishments with neutral white and near-neutral brown. The complementary color scheme adds energy to the page that goes along with her joyful journaling.
3. Use a long title and multiple alphas.
Karen's favorite way to add a title to her pages is with a long title rendered with multiple and varied alphas. The title not only immediately starts the page story, it adds visual flow to the page.
4. Use an unexpected oversized emellishment as a part of your photo mat/foundation.
The dress form cut from fabric with ragged edges draws the eye, adds texture and dimension, and supports Karen's story well. A second smaller dress form in a contrasting color reinforces its impact. Karen used the larger dress form as the foundation for her photo.
5. Use multiple small spots of journaling.
On most of her pages, Karen uses a small 1.5″ wide stamp with five journaling lines to create multiple spots for handwritten journaling. It makes journaling easy for her to get done and adds visual flow as the eye moves from one to the next and the next.
Karen Grunberg has been scrapbooking since 2005. She values photos and words and puts everything else as secondary. She's had the privilege to design or guest design for several amazing manufacturers, thewrite.click.scrapbook collective, and she started and ran creative therapy for a few years. She writes and creates daily for her blog, karenika. 
[getinspired]