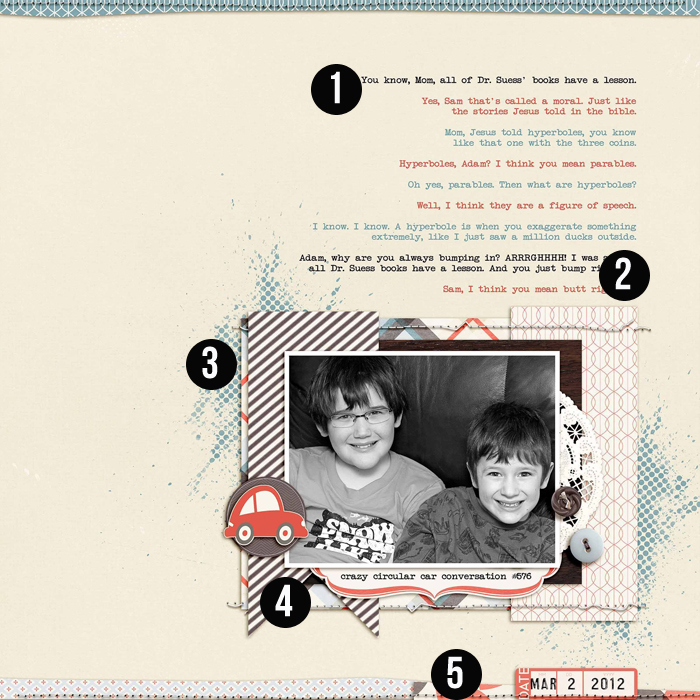 It's the accumulation of well-chosen and carefully crafted details that create a masterful scrapbook page. Check out 5 details on "Crazy Circular Car Conversation No 676 " by Celeste Smith and see if one or two of them can inspire your next page. This is just one of the pages jam-packed with ideas that Celeste is shared Masterful Scrapbook Design as a part of the "Telling Stories" focus.
1. Render dialogue in different colors for each speaker.
Celeste says, "This is one of those crazy conversations we have in the car. It's hard to keep up a dialog with one child when the other one wants attention as well. Rather than including each speaker's name in front of each line of dialogue, I made the dialogue for each speaker a different color.
2. Right-align journaling and then align journaling block with element cluster.
Celeste has created a strong line that runs from the right side of her journaling block down to the right edge of her photo and mat cluster. Notice how even the right edge of the small date tag below these is aligned.
Using alignments provides order, margins, and meaningful white space. It lets you organize and group elements. You can even create visual connections between elements that are not next to one another.
3. Back up your focal cluster with brush work at diagonal corners
Use stencils and ink/paint or digital brushes behind your focal elements. Notice how Celeste's blue brushwork does several things:
4. Layer an oversized pennant with your papers.
Creating a foundation of layered papers is a great technique for giving your photo a home. The unexpected touch here is that one of the pieces is a banner: a wide vertical band with a triangular chunk cut from the bottom.
5. Use narrow bits of patterned paper to border your page at top and bottom.
Borders and top and bottom of the canvas work to "contain" your elements — in other words: they keep the eye from straying off the canvas and point it back into the story on your page. Celeste cut imprecise bits of patterned paper and stitched them down.
Celeste Smith runs a daily inspiration blog, called my life in lowercase, and gathers ideas and free printables from around the Internet for her readers. She designs for One Story Down, Simple Scrapper, Sweet Shoppe Designs, Design House Digital, Write.Click.Scrapbook, and Jillibean Soup.
[getinspired]