by Debbie Hodge
Your scrapbook page canvas is the base upon which you build your page.
You might use solid cardstock, patterned paper, a die-cut shape, a base altered with mediums like paint and ink, or – how about a pieced background?
Here are 4 ideas for starting your next scrapbook page with a pieced-paper canvas.
1. Classic pieced background
This is a classic pieced background format.

One-quarter to one-third of the page is filled with one paper; the remainder is filled with another; a narrow strip tops the area where they meet. The bands may run horizontally or vertically and sit to either side, top, or bottom.

This simple base lets you use more papers and add interest, yet is clean enough to support a busy cluster of elements as on "Silent Auction."
"Silent Auction" presents photos, title, and several pieces of ephemera in a haphazard cluster mounted on a backdrop of kraft and gold-on-white patterned paper topped with a bold red strip.
2. Blocked background (OR "Crazy Quilt")
This pieced background could be a sketch for a blocked page, with the individual blocks providing homes for photos, title, and journaling.

What if, though, instead of filling those blocks with your primary page elements, you filled them with papers, and then built a cluster of photos, title and journaling that you layered on top of this base?

Or . . . think of this design like a "crazy quilt," and use it as an opportunity to use several patterned papers.
When making "Hodge," I selected patterned papers with yellows (and I let in just a bit of pink). This unified the background and kept it from overwhelming the photos and foreground elements. If your elements are getting lost on the "quilt," add a swath of paint or ink. I used a digital "fotoblendz" by Anna Aspnes and clipped white paper to it to give my cluster a subtle foundation and help it stand out.
3. Big contrasts
Rather than blocky rectangles with height-to-width proportions much like those of your photos, try using longer (or taller) pieces. Here, an 8" wide piece spans most of the height of the page and is flanked by 1.5" and .5" vertical strips. A narrow horizontal band sits below the wide center piece and two of its flanking strips, allowing the narrowest strips to span the entire canvas.

It makes a great backdrop for a complex cluster of elements surrounded by generous white space. The pieced background is the white space, and it's unexpected and interesting.
I mixed simple patterns with kraft for my background so that the foreground would remain the focus.
4. As middleman
Take that simple background in the first example and do something unexpected. Leave a narrow gutter instead of abutting the two pieces or topping them with a strip. Allow a margin or even bleed the grouping off one edge of the canvas.

With this approach, the pieced grouping is no longer your canvas base, but, rather, a foundation that comes between your canvas and your page elements.
The radiating stripes on the narrow band of patterned paper on "The Double-Nickel Birthday"  lead the eye into the grouping mounted on top of the pieced foundation.
Has this inspired you to create a pieced background? Or are you already making pages with pieced backgrounds?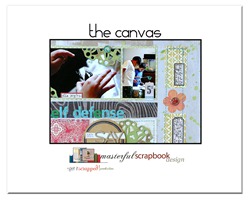 We've studied the Scrapbook Page Canvas in detail at Masterful Scrapbook Design with paper and digital designers. Find a 40-page pdf seminar, 5 live webinars (with recordings), 7 focused articles, and 2 annotated galleries when you click here.