by Debbie Hodge
The word "ephemera" is used for everyday documents that were intended for one-time or short-term use. Ephemera isn't necessarily vintage. Current memorabilia, like the program from a concert you recently attended or the thank-you note from a friend, are ephemera.
Have you thought about including postcards, gum wrappers, tickets, maps, labels, paper dolls, seed packets, newspapers, or even sheet music on your scrapbook pages?
Here are 7 ideas for incorporating ephemera into your scrapbook page designs.
1. Layer emphemera with papers and photos
Celeste Smith layered a seed packet, ticket, and vintage handbill on "Recreation." Partially desaturating her photo and using a kraft background with pale romatic florals and scalloped edges unifies the elements. The result is a page that captures a bike ride of today while triggering associations of nostalgia for childhood.
2. Make a collage of ephemera for your background canvas
On this page about her Eclectic interests, Emily Pitts combined eclectic elements to make her background canvas. She used tags, tickets, a postcard, booklabel and more, turning some on their sides to make everything fit.
3. Cut a frame from ephemera
A bingo card with the middle cut out makes a great frame. I lifted this idea from Emily Pitts who did this on a paper page she shared as a part of Masterful Scrapbook Design's "stash-busting" issue. For my digital page, I selected the "cutaway" area with a rectangular marquee, deleted it, and then added a drop shadow for dimension between the frame and the photo.
4. Embellish with ephemera
Small pieces of ephemera like ticket stubs, postage stamps, milk bottle caps, and clothing tags are great for embellishing. Combine them with other elements to make embellishment clusters, stack them up, or use them on their own. For "Pawn Shop," vintage-type elements were a great support to my subject. I used two postage stamps and three vintage print butterflies to create a visual triangle on my already busy (like a pawn shop) page.
You don't have to have a vintage-look design to embellish with ephemera. On "River in Winter" I've used graphic print and bold colors. One milk cap, though, with the words "sun-filled" complements my photos and makes a great base for a gem-filled button.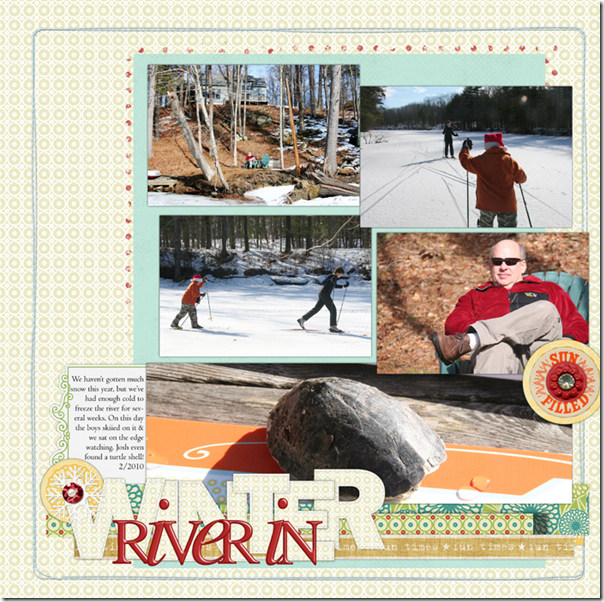 River in Winter by Debbie Hodge
5. Use ephemera as a foundation or grounding element
A foundation connects your photos and other page elements to the canvas. Larger pieces of ephemera make great foundation pieces. Doris Sander used a page torn from an old book as the foundation for her title and journaling. Packaging from scrapbook supplies (alterned with blue, cloud-print paper) is the foundation for photo and embellishments.
6. Use ephemera with images as thematic accents
For this photo of my family at the ocean, I used an old seashell illustration and another image with a turtle and lilypad. The illustrations are smaller than my photo and sit just to its side, emphasizing the idea of being near water.
7. Journal on ephemera
Always pushing her supplies to work in new and appealing ways on her pages, Doris Sander made a patchwork grid that she filled with photos, patterned paper, embellishments and several pieces of ephemera. She journaled on all these different bits, in different spots, creating a patchwork of thoughts to go with the patchwork background.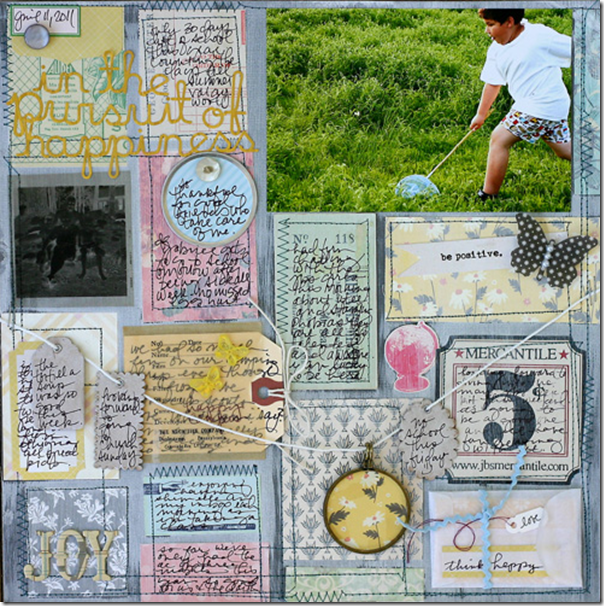 In the Pursuit of Happiness by Doris Sander
Sources for ephemera
Have these ideas got you motivated to scrapbook with ephemera? Here are a few sources for digital and print ephemera pieces. If you've got a favorite page on which you've used ephemera, link it up in the comments.
Digital scrapbooking stores
Etsy sellers (search for "digital ephemera")
Paper scrapbooking stores and kit clubs
Your home
clothing tags, seed packets, sheet music, can wrappers