Finding and using inspiration from outside of other scrapbook pages is a wonderful way to shake things up in fresh ways.
This year in the Get It Scrapped membership we're exploring a variety of those outside sources. The newest class in the Translating Inspiration series, has three guest teachers showing you how to find and use nature to inspire your next scrapbook page.
Learn how to find inspiration as well as how to design with it.
You can find a number of aspects in nature to inspire scrapbook design. Look first in your own backyard or perhaps a state park, hiking trail or nature reserve that you've visited. Keep an eye out as you experience new destinations or perhaps look back on photos of the places to which you've traveled.
You can translate inspiration to several aspects of the scrapbook page.
In the upcoming class, our guest teachers look to nature for ideas in rendering and placement of photos, titlework, journaling and embellishments.
 These are the guest teachers for the newest membership class.
Join us for rich storytelling and advanced design lessons in the Get It Scrapped membership.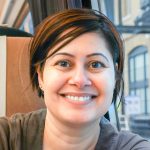 Iris is a scrapbooker, quilter, and all around crafty dabbler living in Northern California with her husband of seventeen years, a teen, a tween, and a guinea pig named Bean.
Her style isn't clean and simple nor artsy messy, it's somewhere in between. She likes layers and clusters, but not so many that they overpower the photos. Layouts need texture with a little mixed media, cut files, twine, or stitching. The finishing touch is a sprinkling of little bits like ink splatters, enamel dots, acrylic pieces, sequins, or even on occasion brads (which she still keeps because they are so cute). Oh and also, she uses clouds a lot. Currently designing for Get It Scrapped, Simple Stories, and The Wild Hare Kits Creative Teams.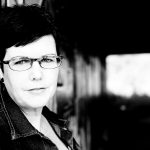 Up until 12 years ago, Louise considered herself not at all crafty or artsy for that matter. She enjoyed furniture restoration and home decor DIY.  In 2005, Louise began to scrapbook and in the last 12 years has developed a distinctive style that is an elegant mix of 'negative space' and art mediums. During this time Louise has been very fortunate to have designed for many wonderful Companies and Store/Challenge Design Teams; and also to have publications, feature articles, and 2 covers for Somerset Memories. In recent years, Louise has developed a love of mono printing, stamp carving, painting, art journaling, ceramics, and assemblage; and has pursued these with her usual creative passion.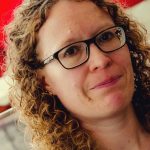 A slightly obsessive crafter, Amber has been scrapbooking since 2002. When her daughter was born in 2005, she had to give up the paper life for lack of space and time. Thankfully, Digital Scrapbooking was making it's big emergence and she hasn't looked back! Besides, getting digital supplies from the internet, is a whole lot simpler (and cheaper!) than having paper supplies shipped from the U.S. to Germany, where she lives with her two half-German/half-American children and German husband.
A 2005 Creating Keepsakes Hall of Fame Inductee, Amber has contributed to multiple Creating Keepsakes Publications, Simple Scrapbooks, and Making Memories. She is currently creating at The Lilypad as a Pollywog.
Get an all-access pass to this Translating Inspiration class and more than 80 others with a Get It Scrapped membership. Click here.