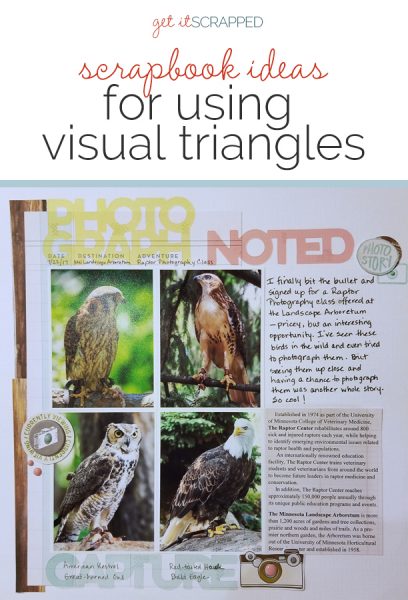 When you include a strong visual triangle in your scrapbook page design, you add three spots that stand out and that are connected to one another. The result is a way to move the viewer's eye through your page and its story.
In "4 Ways to Make A Visual Triangle," Doris Sander shared four design elements you can use to create a visual triangle on the scrapbook page:
Color
Shape
Dimension
Text
The Get It Scrapped Creative Team puts these elements to work on their own pages to create visual triangles that guide the eye and give their pages balance.
[hr]
Kelly Prang says, "This page is about a recent family getaway whitewater rafting in the Tennesee Smoky Mountains.  I bought the photos taken by the rafting company to help remember the fun we had getting soaked!"
"I used color and shape to create visual triangles here. The yellow and red colors and the stars create a fun and exciting page. The red- polka dotted banner piece, red dots on ribbon and red on measuring tape create one visual triangle. The yellow map banner piece, yellow ticket ephemera and yellow paint dots on the ribbon create another.  I've also created a third visual triangle with the white acrylic stars."
Marcia Fortunato says, "This layout is about a raptor photography class I attended and showcases a few of the photos I took."
"I kept my embellishments to a minimum and used just a few circles paired with simple cameras to draw the eye through the page. Near the journaling I used a stamped rough circle and camera, to the left of the photos I used a stamped word circle with a chipboard camera piece, and to complete my triangle near the bottom of the page I used a die cut camera with prominent circles in the lens and knobs. I also added small circular enamel dots to highlight a few spots near the main embellishments. The triangle leads the eye to the journaling, then through the photos to the bottom of the page."
Sian Fair says, "This is a right now page: one I made as I limbered up after a couple of weeks with no scrapbooking."
"I liked the idea of using a visual triangle because it supports my journaling about the different directions I considered taking in scrapbooking these pictures. I wanted it to be subtle so I chose three smallish stars. I then echoed that triangle of stars in the way I placed my photos and journaling block and in the angles at which I placed my star patterned paper."
"I hope my triangle of red stars leads the eye through the page from top, across, to the bottom and reinforces the idea that I am thinking about scrapbooking photos of our star Graduate!"
Jana Oliveira says, "The layout is about the love my son has for the pool. We go to a place for him at the beginning of summer at a swim camp."
"I used many embellishments to create a visual triangle of dimension. I didn't just use the same embellishments but rather many different ones that supported my theme. I don't normally use a lot of dimension on my pages but here it creates a strong visual triangle that moves the eye around the page."
Karen Poirier-Brode says, My page Giant's Causeway uses text in a visual triangle."
"The main body of the story is on the near-white patterned paper on the left. The subtitle and location are on a label above the photo and the date on a sticker tab below the picture. My title begins the first text sentence. The visual triangle adds bits of information relevant to the story. The difference in sizes adds interest. I enjoy use of traveling typewriter as a font with a staggered print technique I learned from Debbie Hodge."