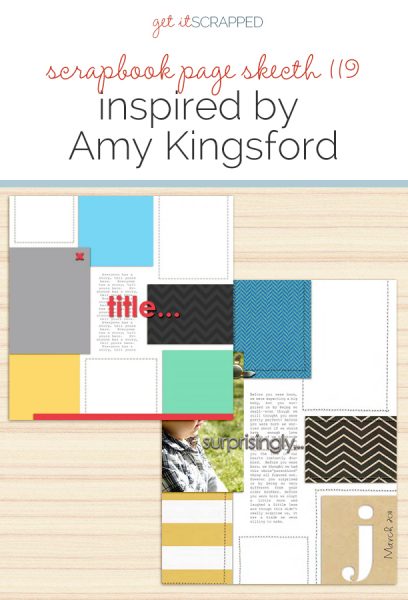 This free scrapbook page sketch comes from a page made by Amy Kingsford for the Get It Scrapped Membership "Tension" class.
In the Get It Scrapped Membership, members have access to a library of over 150 layered templates and page sketches just like this one, searchable by # of photos and layout type.
download sketch & template.
Get over 150 more sketches and templates with a GIS membership
[hr]
More inspiration…
Looking for more examples of how you might use this sketch/template to inspire your next page? Here are a few inspired pages from our Get It Scrapped Creative Team.
Nicole Mackin says, "I love that the design of this sketch guides your eye to the photo because all of the elements look as though they are coming from outside the page toward the photo.
This page is about my husband telling my daughter after her dance performance that she had made me cry because I was so proud of a challenge she had conquered prior to the performance. One interesting thing about this page is that there is not any patterned paper. I was able to use all cards to fill in the different boxes. This type of sketch is perfect for using up some of those project life style cards."
Karen Poirier Brode says, "My page is about the quality of patience that I find lacking at times in my life. I liked this month's sketch because it has a nice clean graphic style and let me use a lot of patterned paper without being overly fussy. I liked the use of a small, medium and large patterned print for each of the main patterned paper blocks in the original layout and duplicated that. I reduced the size of the print on the journal card to make the pattern more neutral. I used an alpha from another kit which I recolored to coordinate with my primary kit choice. I like lots of embellishments, and it was fun to see how I could incorporate several of them in one small embellishing spot. The kit was fun with the complementary colors of red-violet (like my glasses frames and lipstick) and yellow-green."
Marcia Fortunato says, " I liked that this sketch could accommodate several photos and/or patterned paper, which made it very flexible, and that the spaces were around the outside with the journaling in the middle – something I wouldn't normally think to do.
My layout is about my husband's entire family gathering for my mother-in-law's 80th birthday. This was the first time we had all been together since the children were small, so that made the gathering even more special."
"An event like this usually has many pictures, so even though the original layout used only one photo, I knew that I could replace some of the patterned papers with photos. I also replaced some of the open spaces with coordinating patterned papers."