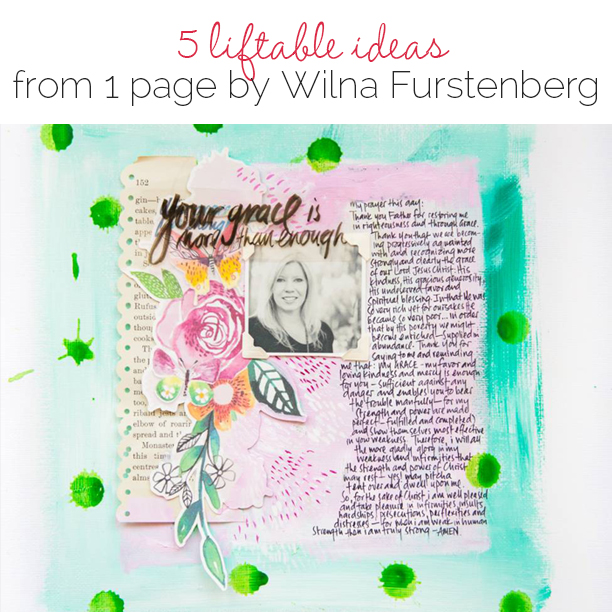 It's the accumulation of well-chosen and carefully crafted details that create a masterful scrapbook page. Check out 5 details on "Your Grace is More Than Enough" by Wilna Furstenberg (shared in a recent GIS Membership special event) and see if one or two of them can inspire scrapbook page ideas for your next page.
Wilna's page is an art journaling page that is feminine, spiritual and vulnerable. She mixes soft and sweet with big and bold in a page that is about her growing confidence in her life's story.  
[hr]
Your Grace Is More Than Enough by Wilna Furstenberg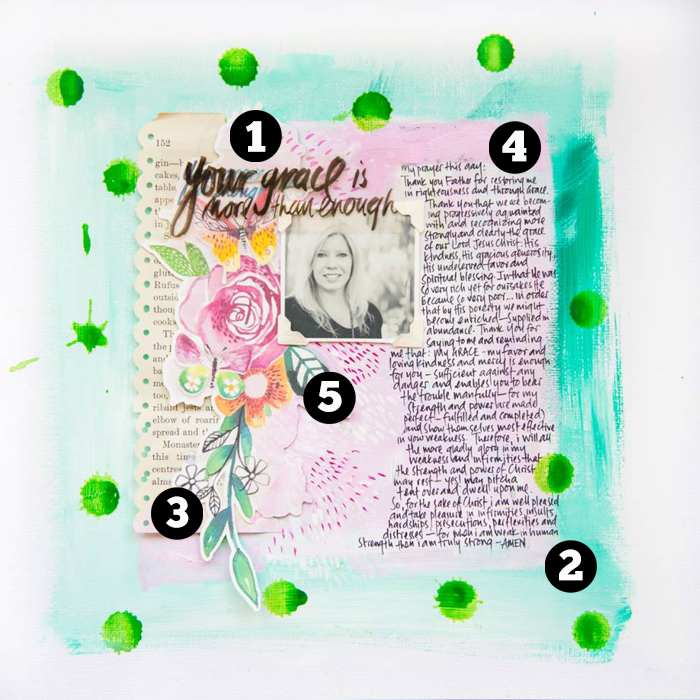 1. Create your own brush script title.
Wilna's hand-painted brush-script title is a charming detail that brings elegance and focus to her scrapbook page. The black ink pops against the softer colors on the page while the swoopy strokes still manage to create a feminine feel. Try adding a brush script title to your next scrapbook page–all you need is ink, a small pointed brush and a little bit of practice!
2. Use mixed media to make a one of kind base for your page.
The colors and texture that Wilna creates with her mixed media base is what gives her page so much visual oomph. Start with a white canvas, then choose mixed media in colors that complement your photo or products and try layering them onto your canvas in fun and exciting ways.
3. Turn a page from a book into a timeless scrapbook page accent.
Don't you just love that scalloped border that Wilna has fashioned out of an old book page? This charming touch is the perfect addition to her page.  If you don't you have an old book that you're willing to part with, you might be able to find one in your local library's discards or at a neighborhood garage sale.  The great news is one book can be used to make HUNDREDS of  scrapbook page embellishments.
4. Be vulnerable.
Wilna's large block of hand-journaled thoughts are heartfelt and vulnerable. Often we aren't as keen on sharing the less shiny and happy parts of our lives on our scrapbook pages but Wilna suggests it can be empowering "to own your story" in this way. Give it a try and put yourself out there on your next scrapbook page.
5. Get your own hand-drawn art onto the page.
Wilna loves finding fun ways to incorporate her hand-painted art onto her pages. In fact her passion for this encouraged her to start making her own die cuts and offering them for sale on her site iheart studio.  There are lots of ways to include your own hand-drawn or hand-painted art on the page. For more ideas check out this month's article "Ideas for Creating Hand-Drawn and Hand-Painted Patterns to Use on Your Scrapbook Pages."