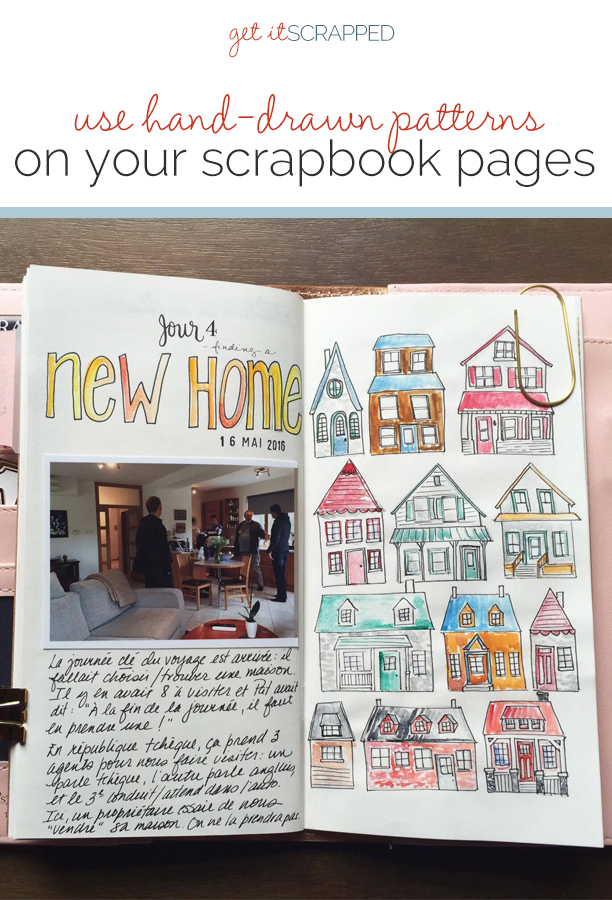 The popularity of travelers' journals and planners has been driving many a memorykeeper to start creating their own hand-drawn images. And those images often lend themselves to a repeating pattern. In this gorgeous and original blog post, our team shares their fresh approaches to making hand-drawn and hand-painted patterns for their scrapbook pages.
[hr]
Marcia Fortunato says, "If you've spent any time with a little one, you know that most of them go through a stage of constantly asking questions. Recently I babysat my two-and-a-half year old grandson for a couple of days and by the end my head was spinning – why? How come? What's that? Why? Why? I felt like it had been a constant game of Twenty Questions! This design with questions scattered around the page was inspired by that time with my grandson."
"This was actually a very simple page – a few pieces of paper, letter stickers, and some pens, plus my photos. I wanted to repeat the Whys and question marks, and this patterned paper with triangular blocks made it easy since it gave defined spots to fill. To experiment I first tried the lettering in a block that I knew would be covered by the photo. Then I wrote the first words in pencil and traced over them with marker. Once I had done a few, I finished the rest by free-handing the letters with the Sharpie pen."
Christy Strickler says, "This is the story of how our new kitten got her name."
"My handdrawn paper is a subtle repetition of cats' heads in the foundational piece just below the photo."
To create my own hand-drawn patterned paper:  
I first drew four cats by hand.
I scanned the cat image, then use Photoshop and a program called Photoscissors to isolate just the cats.
Essentially, I created a digital stamped image of what I had drawn.
I then created a 8.5 x 11″ document in Photoshop and repeatedly stamped with the digital image I had created.
Jana Oliveira says, "This is an art journal page that conveys how grateful I am for my family.  I took the picture on Father's Day."
"I like geometric shapes because I think they work when your subjects are men but I have a tendency to go for more geometric elements over feminine ones regardless. So triangles, dots, and stars are patterns I often incorporate in my layouts. I also included a hand drawn phrase (Love you) to make it more personal.
To create my own hand-drawn digital pattern:
I used a Wacom Intuos Art Pen Tablet and drew the patterns and words in SketchBook Pro desktop version.
I put each drawing on its own Photoshop layer and saved  it as a psd file.
After drawing and saving the drawings in a psd file, I saved each individual drawing in a png file.
Finally, I used a product from Wendy Zine called Smart Paper Templates which lets you replace her smart files with your drawings or images to create your own patterned paper.
Marie-Pierre Capistran says, "This traveler's notebook is telling the story of my house hunting trip to Prague. This spread specifically tells the story of the day we went to find our new house."
"I don't have many supplies on hand while in the process of moving and traveling, so creating my own patterns helps me embellish my notebook. I used my small watercolor palette with a water brush (the ones doe qhixh you can put water in the barrel) to paint these houses on the right page and the title on the left page. I started by sketching the houses with a pen, and I drew over them with a permanent marker. Finally, I painted each house slightly, making sure I didn't use too much water since this paper is not made for watercolors."
"To get inspiration for the different houses in my patterned paper, I drove around and I snapped pictures of houses I thought were interesting and beautiful."
Kristy T. says, "I created my hand-drawn patterns using watercolor pencils and waterproof marker pen. I drew the ovals directly onto the background paper and lightly added water with a fine tipped paintbrush. The stars, flowers and swirls were also drawn using watercolor pencil and blended with water.  You can dab off excess color and water using paper towel.  After the paper was dry I added the black pen."
"The patterns were inspired by the theme of the page, the stars on the umbrella, and some of the journaling.  I used to doodle flowers and swirls when I was younger, so they were a familiar pattern."
TIP: When starting to experiment with hand drawn patterns, try on small pieces of paper first.
Summer Christiansen says, "This page records a photo I took of my kids on their last day of school"
To make my hand-drawn patterned paper I used
this tutorial by Julia Rothman
.  I hand drew my pattern and then scanned it into Adobe Illustrator. Then I drew some more with my wacom tablet and pulled the finished product into Photoshop to add to my page.  My process was to draw, cut and flip, and then cut and flip again, and then tape it all together.