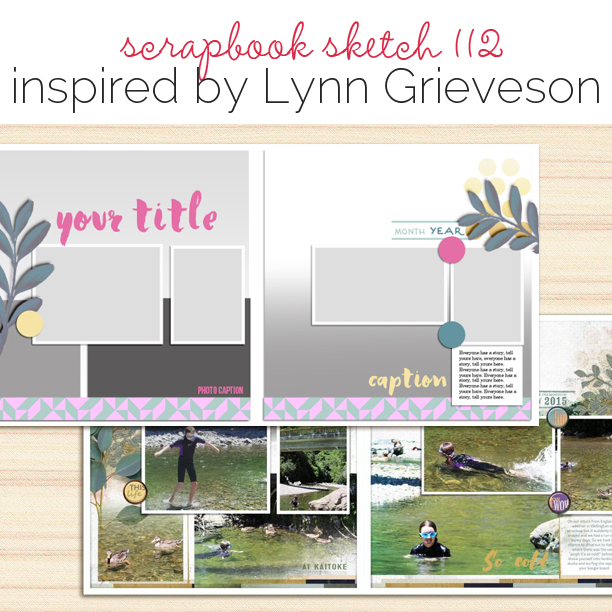 This free scrapbook page sketch comes from a page made by Lynn Grieveson for the "Loving the Double Wide" class in the Get It Scrapped Membership, where members have access to a library of over 100 layered templates and page sketches, searchable by # of photos and layout type.
Lynn says, "I love the freedom that a two-page spread provides for combining several photos and conveying a sense of movement across the spread—something that also makes it ideal for outdoor or sports layouts."
download template and previews
Get over 150 more sketches and templates with a GIS membership
[hr]
More inspiration…
Looking for more examples of how you might use this sketch/template to inspire your next page? Here are a few inspired pages from our Get It Scrapped Creative Team.
Terry Billman says, "This layout captures a family day of golf in Waikiki. My grand daughter, Cami, loved taking pictures with her grandpa. The blended photo background and horizontal and vertical photo placement allowed a pictorial representation of the highlights of our family golf outing.  Rather than having a blended photo on each side of the page, I blended one large photo of the mountains spanning the entire background of the layout."
Karen Poirier-Brode says, "The page is about a fun adventure during my trip to Fort Worth last summer when fellow CT member and friend Ronnie Crowley and I went to Dallas to meet another scrapbooker, Jennifer Wilson."
"I chose this sketch because it allowed me to set the mood with photos as well as to highlight other photos. I rearranged some elements to work better with my photos. I even snuck in my signature touch of a tiny photo with paper clip. I liked the bright yellow in this kit not only because it worked with these photos but also because another layout I made from this trip features bright yellow."