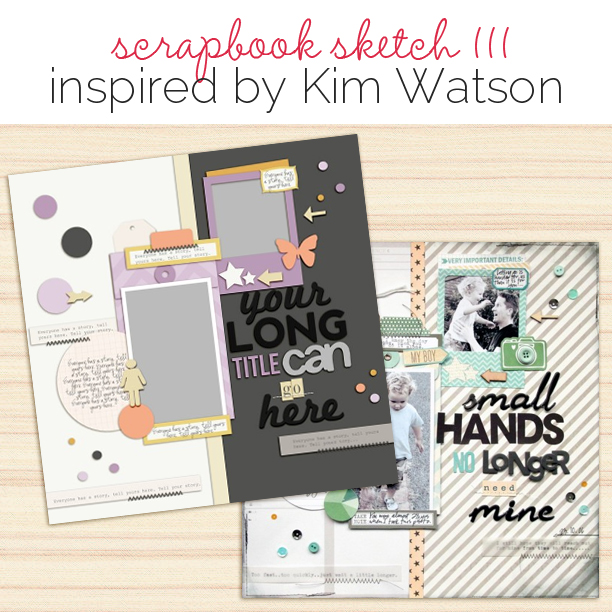 This free scrapbook page sketch comes from a page made by Kim Watson for the Story Play class in the Get It Scrapped Membership, where members have access to a library of over 100 layered templates and page sketches, searchable by # of photos and layout type.
The over-sized title and element scatters make for instant charm, while the split background has the potential for adding visual punch to your next scrapbook page.
Kim says, " Her I've supplemented my six-word memoir with snippets of journaling scattered around the page, almost like emotions bouncing around my head. They are short flashes of prose, my thoughts on the matter of not being needed as much.
download template and previews
Get over 150 more sketches and templates with a GIS membership
[hr]
More inspiration…
Looking for more examples of how you might use this sketch/template to inspire your next page? Here are a few inspired pages from our Get It Scrapped Creative Team.
Karen Poirier-Brode says, "The story of this page is our first Christmas with our great-grandson and the hipster sophisticated style of how his Mom dressed him for the visit."
"I leapt at the chance to use this sketch by Kim Watson because I love her designs. I've used this sketch before, in fact, for a page I made last month. I wasn't worried about the two pages looking similar, and I rotated the background. I think it's important to try sketch designs and templates in different rotations as good designs often work in alternate orientations."
Kelly Prang says, "I was drawn to the mixed alpha and fonts in the long title here and I also really liked the split background in the sketch. This page is about my son's oyster eating while we were on Spring Break this year.  He tends to be a pretty picky eater, so I was impressed that he ordered and ate raw oysters two different times while we were in Key West. I modified the background, following the 'rule of thirds' with the two pieces instead of going half-and-half as in the original sketch."
Devra Hunt says, "I like that the style of this sketch offers options for a serious or a whimsical page, as well as an interesting photo and embellishment placement. One day while my boys were having an after-school snack, my younger son walked over to his brother and gave him a huge, unprompted hug. I didn't vary from the sketch. I chose to omit the journals strips and focus on more scattered embellishments instead."