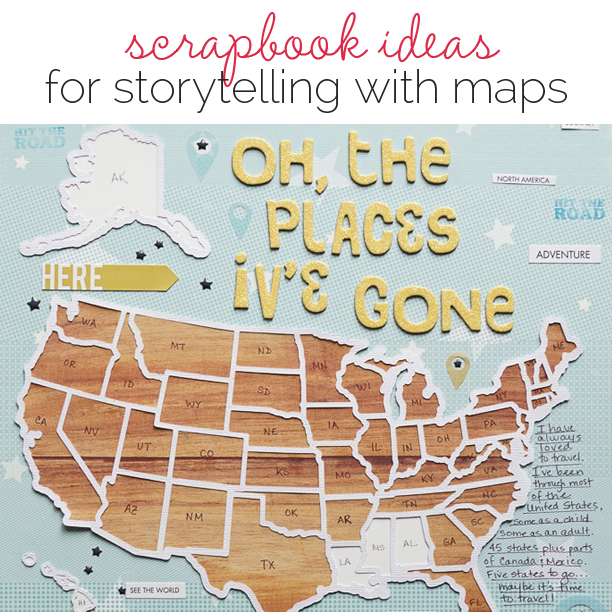 Infographics combine images and figures and limited text to efficiently convey information- -and even tell stories–in today's informationpacked world. We've shared many graphic approaches to visual storytelling here–like Venn diagrams, pie charts, infographics, and timelines. Today we've got ideas for using maps. 
[hr]
Sue Althouse says, "This page is the introductory layout of our recent trip to Pennsylvania. I chose a no-photo, infographic design and limited my text to short journaling strips for a single page overview of our entire trip. The pages that follow in my album will include photos and more detail about each location."
Heather Awsumb says, "My page is about a road trip I took to all my favorite places in Lesotho before I moved back to the US. The map shows all of the places that I visited and the path that I took around the country. It gives the viewer an idea of how far and how long I traveled and where exactly I went. I used a screen shot from Google Maps. There is a built-in screen capture function on the Mac so that is what I used to make it, but there are other tools out there that could be downloaded."
Marcia Fortunato says, "As a child, my family traveled a lot, always by car, and as an adult I have continued that. My layout is about the many states that I've traveled to and/or through during my lifetime."
"Rather than trying to use photos, I used a map of the United States as my focal point to tell my story, filling in all of the states to which I've traveled. I wanted each state outlined, so I adapted a Silhouette cut file and used it to cut the map and background from card stock and patterned paper."
Jennifer Kellogg says, "This page tells the story of the day that six online friends met – some for the first time. We came from California, Connecticut, New Hampshire and several places in Massachusetts to spend the day together in Boston."
"The list journaling tells the story of our trek through the city. Boston was just as much part of our day as the photos we took. The map of Boston is just as important as the focal photo. When we go back and remember this day we can track all the places we had been on the map.  I knew I wanted a map as part of this page. But I wasn't sure how to get it there. Some things I tried: screenshots of the map on my phone and mapping out a route on Google Maps, but I didn't like those. I finally decided on a picture of the tourist map of Boston that i found online."
Marie-Pierre Capistran says, "The story of this page is that after being in our 'new' home for not even two years, we are moving again, this time, overseas."
"I found this map using Google. I typed 'world map' and chose the one I liked best. I made a screen capture of the map, opened it in Photoshop and resized it to fit a 12″ x 12" canvas. I printed it with my wide-format printer. I really felt like letting the map speak for itself. Maybe it's because of how I feel toward the move, but I didn't feel like adding many embellishments. So I simply watercolored a little bit on the black-and-white map. I journaled my heart out right in the middle of the page and added my title and a few support elements.
Audrey Tan says, "On this page I reminisce about our life in the UK. We currently live in India. We used to visit various parts of the UK during short breaks."
"I found a picture of us on vacation during the spring break, and I used a map of England and Wales on the background for emphasis. These days, we tend to visit other countries near us for short breaks."
Katie Scott says, "I had a bunch of photos of my grandmother in the 1940s in Harvey, New Brunswick. Many include photos of her in front of cars, and, while I didn't have a story for these photos, I had recently done genealogy research and discovered that her grandparents settled that area before there were any roads at all. I thought that using several map patterned papers would add to the overall story. My background paper showed a North Pole view of the world; I was able to cover up the Santa Claus on the paper but show the Eastern Canada part of the map paper."